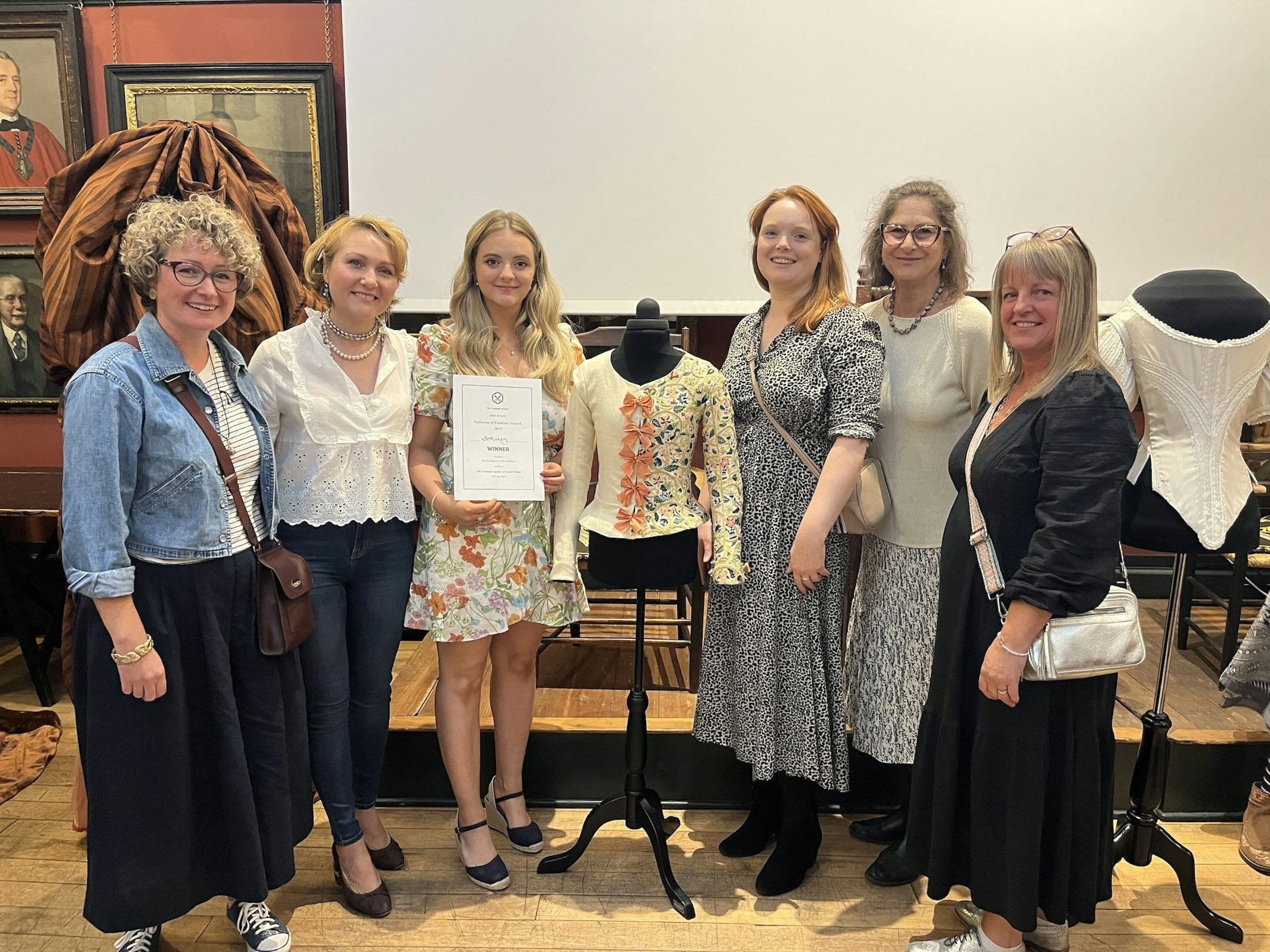 BA (Hons) Costume graduate Beth Lacey has been named the 2023 winner of the Costume Society Patterns of Fashion Award.
Her victory marks the second year in a row that an Arts University Bournemouth (AUB) student has clinched the award. Last year, Milly Whitefield took home the award for a 1625-1630 men's doublet.
"The Costume Society's Patterns of Fashion competition is hugely prestigious and recognised internationally as a celebration of students with a passion and talent for reproducing historical costume," explains BA (Hons) Costume course leader Sarah Magill.
"Named after Janet Arnold, whose publications are key texts for costume students and within the costume industry, this competition allows students to explore the materiality of historical clothing through deep research into cut and construction."
Beth re-created a 1610s jacket owned by one Margaret Layton, the original of which sits in the V&A Museum. Comprising intricate embroidery and detail and, as Beth says, more than 500 hours' worth of work.
"When they called my name as the winner, it all became a bit of a blur," she explains. "I felt completely overjoyed; not only because of the importance of the award I was receiving, but also because the project that I'd devoted four months of my life to, and become so passionate about, had been equally important to other people.
"This competition was always something that I wanted to take part in, and knowing the success of AUB applicants year after year pushed me even further to produce the best work I possibly could. Continuing AUB's success within the competition feels really great, and the continued success of AUB applicants every year really is a testament to the Costume course."
The BA (Hons) Costume team attended the Costume Society's awards ceremony on Saturday 15 July, where Beth and the other finalists' work was judged by BAFTA and Emmy award-winning designer Michele Clapton, of Game of Thrones and The Crown fame, and her assistant designer Alex Fordham. Beth explains that both judges interviewed her after the ceremony and praised her work.
"They were very interested in the embroidery techniques I'd learnt to be able to complete the jacket, and impressed by how quickly I'd learnt them. They also loved the contrast between the plain linen side of the jacket and the incredibly decorative embroidered side.
"The research I'd conducted to ensure the work I produced was as historically accurate as possible was also recognised. They congratulated me on my knowledge of the subject and problem-solving when it came to being unable to source metal teardrop spangles, which I ended up making myself."
Beth was not the only BA (Hons) Costume student from AUB to make the Patterns of Fashion final this year. Classmate and fellow graduate Remi Gene Lever received Highly Commended status at the same ceremony, for a 1660s bodice.
These victories only add to AUB's legacy of success at the Patterns of Fashion Awards. Alongside Beth and her 2022 predecessor Milly Whitefield, past winners include Shelley Venables, who won in 2020; Katherine Betteridge, whose own version of the same Margaret Layton jacket secured the award in 2015; and Caroline Lloyd all the way back in 2007, when AUB was still known as Arts Institute Bournemouth.
Milly Whitefield (2022) – Winner
Shelley Venables (2020) – Winner
Matilda Tambini (2019) – Finalist
Kayleigh Steel (2019) – Finalist
Jennifer Miller (2018) – Highly Commended
Katherine Betteridge (née Newbury) (2015) – Winner
Caroline Hall (2012) – Finalist
Caroline Lloyd (2007) – Winner