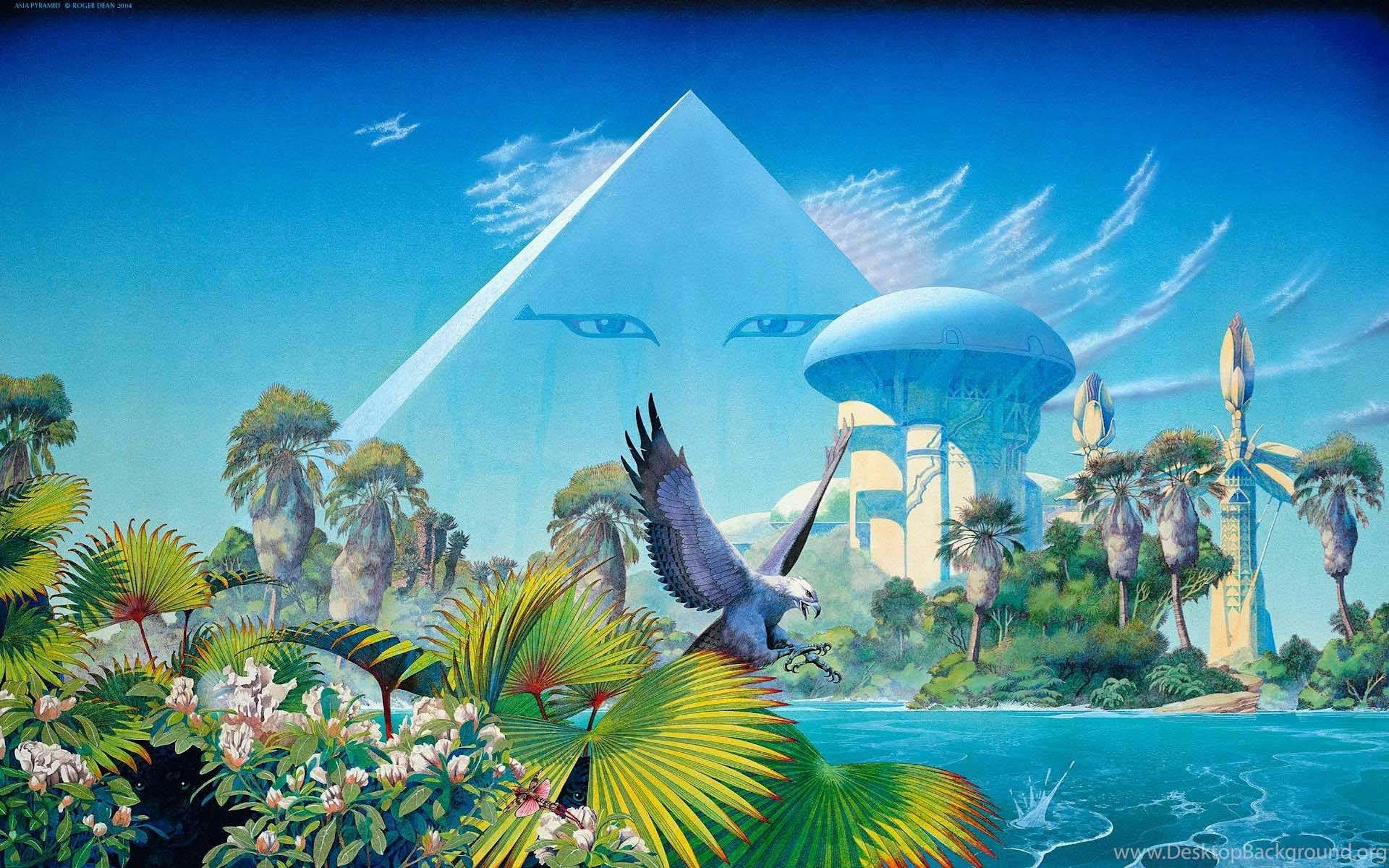 Perhaps best known for his work with multiplatinum-selling rock bands Yes and Asia, acclaimed artist and set designer Roger Dean tuned in to speak to a group of AUB Illustration students.
The second-year BA (Hons) Illustration students joined a session led by Senior Lecturer Sharon Beeden, which explored Roger's extensive body of work from the 1960s to the present, including seminal works for prog-rock giants Yes and Asia.
The artist, who has also created a number of sets and interior architecture designs, took students on a journey across his work, which, straight after his tenure studying Design and Architecture at the Royal College of Art, began with a commission to redesign the interior seating for famed London Jazz Club Ronnie Scott's in 1968.
Dean, who initially trained in Furniture Design at Canterbury School of Art amidst the art school rebellions of the 1960s, soon began to hone his craft: "Arts Schools were being seen as increasingly 'out of touch', with a strong emphasis on form-following-function. By studying Furniture Design, I could kick out against this, and I realised that this would let me do the things that I wanted.
"I already had skills in draftsmanship rather than painting, so I viewed myself very much as a designer, and design is definitely a process. My work explores balance too, as I believe that this works a lot better than symmetry in creating interesting images."
"But don't follow the rules! I spent a lot of money on a very expensive easel, and it sits behind me in my studio while my work is actually done on stepladders with grips to hold the canvas in place! It just took too long to adjust!"
Students were also invited to explore Dean's mesmerising and fantastic moon-base designs, which, with mental health at their core, hypothesise a habitable and sustainable environment for human life on the moon.
Questions were also asked about the importance of line, colour palette, influence and style. Roger's top tips for illustrators were to continue to look deeper into the world around them, continually drawing sketches, crafting ideas and exploring the world, and to invest in durable, good quality bound sketchbooks.

Inspired by the works of Rick Griffin, whose work adorns the cover of The Grateful Dead's iconic 1969 album, Aoxomoxoa, Roger also talked to students about the importance of typography, which should be "readable, but not recognisable" in order to complement imagery, or contrast where needed.
The artist also gave time to critiquing a range of work for student summer project, 60 Sounds of Summer, which he praised as impressive and creative. Roger spent time exploring the work of students over Instagram, including Pavlena Mateeva, whose alternative album covers for surf rock bands The Surfaris and Sublime shared identity and meaning through effective juxtaposition of image and text.
Pavlena said: "It was incredibly interesting to hear about Roger's career path - where and what he studied, his architectural project about what makes people feel comfortable and how it can create a sense of tranquillity in a domestic environment.
"Especially interesting to me was to hear about how he designed his first album cover. Getting insight about the importance of designing unique fonts, his work process and even what kind of paper he uses was all really helpful. I felt very inspired after he shared his incredible work with us and talked about the importance of drawing by hand."
Speaking about Roger's comments on her work, she added: "Having Roger critique my work and offer some friendly words of advice has been fantastic. It means so much to hear from such an established artist and it made me even more driven to continue working hard and creating more! I am really lucky to even have the opportunity to be talking and exchanging ideas and thoughts with someone like him.
"I'm so happy that being in AUB creates these amazing opportunities for us as students to learn from the best! Roger Dean is a hugely inspiring person, and I am really happy that he recognised my work and gave me pointers and a lot of food for thought. Now I am even more inspired and encouraged to create and share more of my work!"