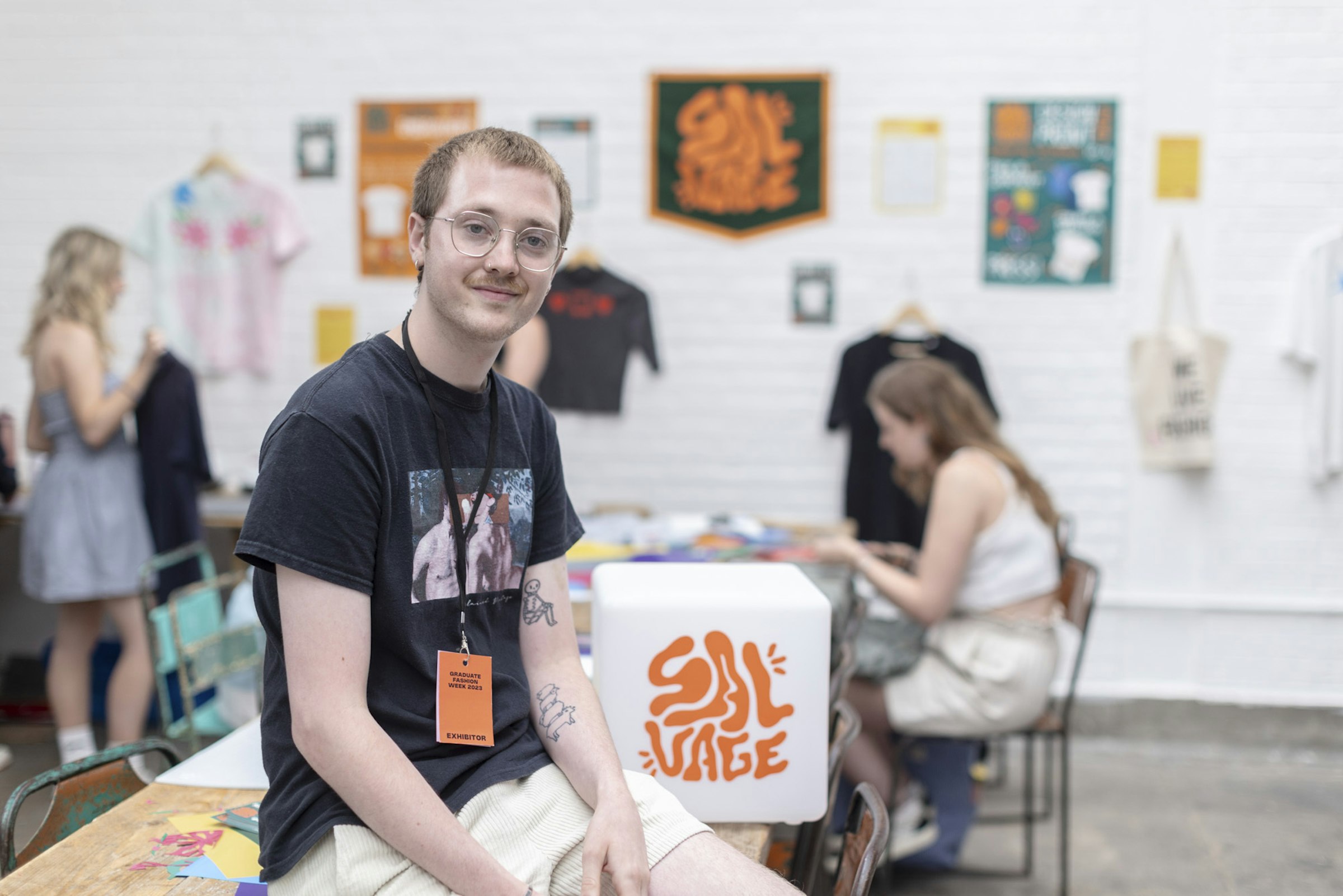 Graduate Fashion Week (GFW) hosts the largest showcase of fashion student talent from universities across the country. Including those studying on Arts University Bournemouth (AUB)'s own BA (Hons) Fashion and BA (Hons) Fashion Branding and Communication courses.
For Fashion Branding and Communication student Ed Earl, GFW this year has brought wave after wave of successes. Starting off with an invitation by the fashion week organisers to have a stand of their own, based on their final major project.
The project, named Salvage Collective, revolves around reworking clothing, with a focus on reducing charity shop wastage.
"A lot of people don't realise that not everything that goes to a charity shop gets put on the shop floor," Ed explains. "A lot of it gets put in these rag bags, which are sold for £1 per kilo, regardless of what's in them. Eventually, down the line, it ends up in landfill.
"When a person donates to charity, they might be doing it for one of three reasons. They might be thinking it's great for the environment; they might think it's good because it's making the charity money, and that they're giving the garment a new life with someone else. But none of those are the case. The charity isn't making much money off the garment… it's still ending up in landfill, and the charity isn't reselling it. So, we take those garments for our workshops."
At a typical Salvage Collective embroidery workshop, visitors can patch over a hole or a stain in an existing garment. Thereby building a more meaningful relationship with that garment.
Ed and the mission behind Salvage Collective quickly turned heads at GFW. After showcasing on the event's Instagram, they were eventually given a stand of their own for the week. There, Ed promoted his work, do live workshops with people, spread awareness of the mission and ultimately make connections. An opportunity Ed describes as "Amazing."
"We were listed as a brand partner to the event. They had a list of partners on all their branding, like size? and Vans, and then my logo was just next to them. It was as if we were being seen as a real company."
The wastage problem in the fashion industry is already notorious. But Ed says that the issue is getting worse, not better. And it's not just a problem for the industry, but also the consumers.
"If someone has a garment with a stain on it, they throw it away instead of reworking it. Or, even if they give to charity, it's still ending up in landfill. I was talking to the Head of Sustainability at a big company at GFW, who said they give a lot of dead stock to charity shops. They didn't realise that when that stock goes to the charity shop, they're unable to sell it.
"There's hidden wastage behind charity shop donations and that's mainly where we focus. But it's also about changing the consumer relationship with clothes. The idea that you've got this outfit that you really love and you're willing to spend time to rework it and take care of it. It makes you think about your own wardrobe, your own consumption.
Ed also says part of Salvage Collective's mission is to raise awareness of this wastage without preaching, "This is destroying the environment! This is hurting people!"
"I don't think people respond well to that," they explain. "Especially our generation. If you keep getting told negative-negative-negative, you switch off. I want people to do good and enjoy their time, while making an active difference."
Not only were Ed and Salvage Collective shortlisted for the New Business Award at GFW; they were also selected out of around 12 students for the Vivienne Westwood exhibition.
Moving forward, Ed is stepping into the role of president of AUB's Student Union (AUBSU) for the 2023/24 academic year. However, they assure us that Salvage Collective will continue, whether on a reduced programme of workshops or doing different events.
"Salvage Collective isn't just a physical thing," they say. "We have our Instagram, which is where we promote things. While I settle into the new job, it might be that we promote more online, with competitions and tagging events.
"We're already planning to do some Salvage Collective events as part of AUBSU, at Open Days and so on."
Visit and follow Salvage Collective on Instagram for more information.