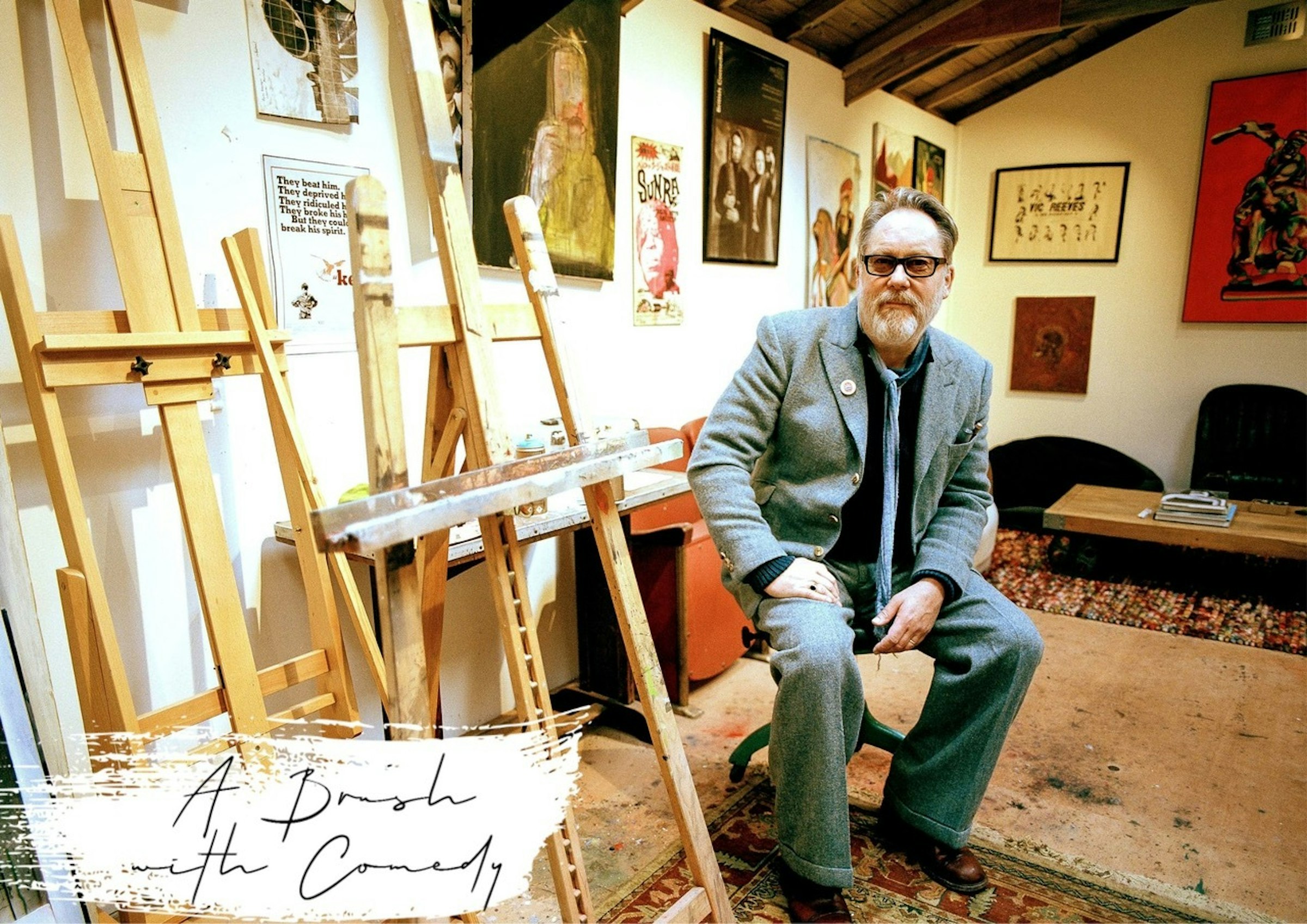 The documentary, which features comedians Spencer Jones, Simon Munnery and Miriam Elia, began as a crowd-funded student film, exploring the connections between comedy, art and the conflicts that arise between them.
Louis also chose to interview his father Jim Moir, also known as comedian Vic Reeves, as part of the documentary. Jim, who is perhaps most well-known as one half of comedy duo Reeves and Mortimer, is a prolific artist who has exhibited work at the Royal Academy in London.

Video content warning: strong language
Louis said: "I made a documentary short film as my AUB graduation project, and that became the start of an exploration of two themes, comedy, and art – A Brush with Comedy. We were nominated at the RTS Awards and other short film festivals, and I sent the film to various production companies as I wanted to expand on the idea.
"I know that I've been very privileged to have had a dad working in TV, so I knew how things worked, and I ended up taking the film to a small production company called Studio Pow, who saw how myself and Alex (Page, Producer and fellow AUB alumnus) could take the film further.
"StudioPOW gave myself and Alex a modest budget to make the film as a feature-length documentary."
The project came back to life just before lockdown, with Louis and his team interviewing comedians with inner artistic conflict who had begun to explore further the connection between art and comedy.
"It's strange being in a professional environment with someone you're so close to, it's a strange dynamic, because you're in charge but you're in a very familial environment. I'm quite nervous as it's quite a personal film and subject matter, and I'm in the film, so I'm kind of putting myself out there too!"
Speaking about his time at AUB, Louis said: "AUB really instilled the importance of storytelling and how vital that is in filmmaking; it is all that it is really. It's a nurturing and positive environment that really instilled those skills in me, which really gave me the confidence to get this film made.
"I had such an amazing time being at AUB for four years as a Foundation student first; it's a great, great place, and what it continues to do as an arts institution is so important."
StudioPOW produces a varied slate of content, including the multi award winning features Funny Cow, Cordelia, and coming soon the Brian Epstein biopic Midas Man. The team have also produced true crime documentary series The Never-Ending Murder of Nicola Payne.
A Brush with Comedy will air on Sky Arts (Freeview Channel 11) on Wednesday 19 April at 22.00.