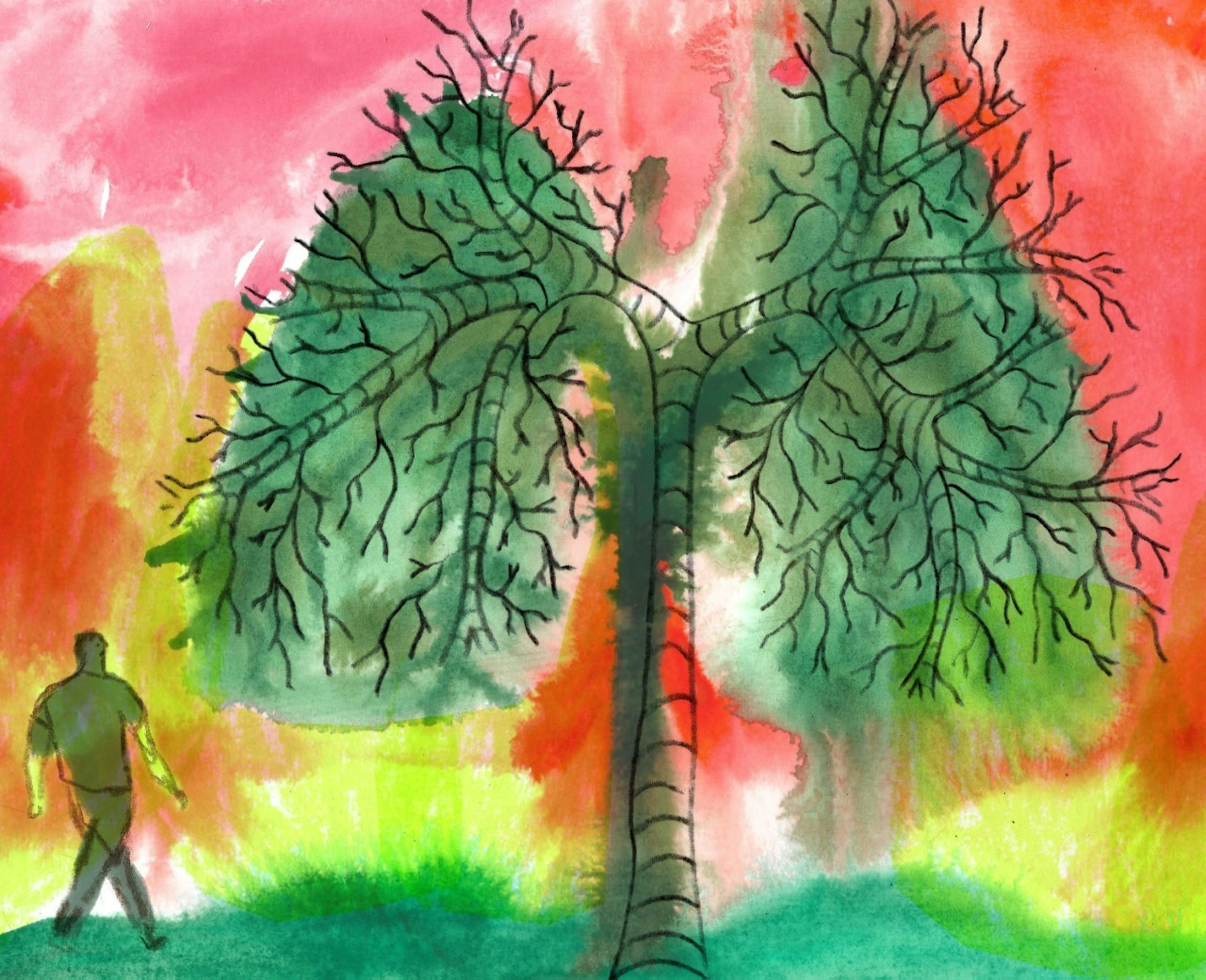 Jenny Tarr is an artist who recently graduated from MA Illustration. Her experience of progressing from Arts University Bournemouth, to spudWorks in Sway and Dorset County Hospital shows the benefits of AUB's engagement with external partners. By collaborating with organisations in Dorset, Hampshire and further afield, AUB supports graduates to find commissions and build their careers.
Jenny studied BA English Literature and then went into the editorial department of a publishing house. She says, "I've always loved stories, but when working in-house at Quercus Publishing, I realised that I was more interested in the front covers than the content!"
She opted to follow her interests by completing the MA Illustration course at AUB. Looking back on her experience, she says, "The year was everything I'd hoped for and has taught me how to sustain a self-fulfilling creative practice. I created two children's books during this year, and also developed an editorial string to my bow."
Since leaving AUB last month, Jenny has started an internship as part of the Graduate Launch Pad at spudWorks in Sway, to further develop her portfolio. With support from the creative community at SPUD, she's currently working on a project about breath for Dorset County Hospital in Dorchester.
SPUD, an award-winning charity based in the New Forest, creates opportunities for people of all ages to engage with art, architecture, design and the environment, producing new work as a catalyst for exploration, debate and public understanding. Their mission is "enabling the well-being of communities through collaboration in arts, architecture and education."
For the past 10 years, SPUD has worked with AUB on a number of projects, including several with high-profile outcomes such as the Exbury Egg and the Observatory artist studios. SPUD's relationship with AUB has delivered collaborative projects, work placements, residencies, exhibitions, talks and opportunities in the Graduate Launch Pad at spudWORKS.
Jenny's artwork will be installed in the Respiratory Ward at Dorset County Hospital as part of the refurbishment of the clinical space. The arts programme at DCH is led by artist and curator Suzy Rushbrook, who works part-time as an arts manager in the NHS.

Arts in Hospital is a small, charitable organisation based at Dorset County Hospital that aims to enhance the healing environment, raise patients' spirits and give pleasure to all who are concerned with their welfare. It's part of a national network of hospital arts programmes that supports patients and staff through art projects that have medical and social benefit. At Dorset County Hospital, the Arts in Hospital programme engages the wider community, programs temporary exhibitions and maintains a permanent collection of over 700 artworks.
The director of Civic and Cultural Engagement at AUB, Dr Anna Farthing, was previously Arts Programme Director at University Hospitals Bristol and Weston NHS Foundation Trust. Having been a founder member of the NHS National Performance Advisory Group for Arts, Design and Heritage in Hospitals, she's keen to develop further links between the arts and healthcare and build on the evidence base for how creative activity can support wellbeing. AUB will be hosting future events on this theme, where everyone will be welcome to share their experiences.
For more information about SPUD and spudWORKS, visit their website and find them on Instagram.