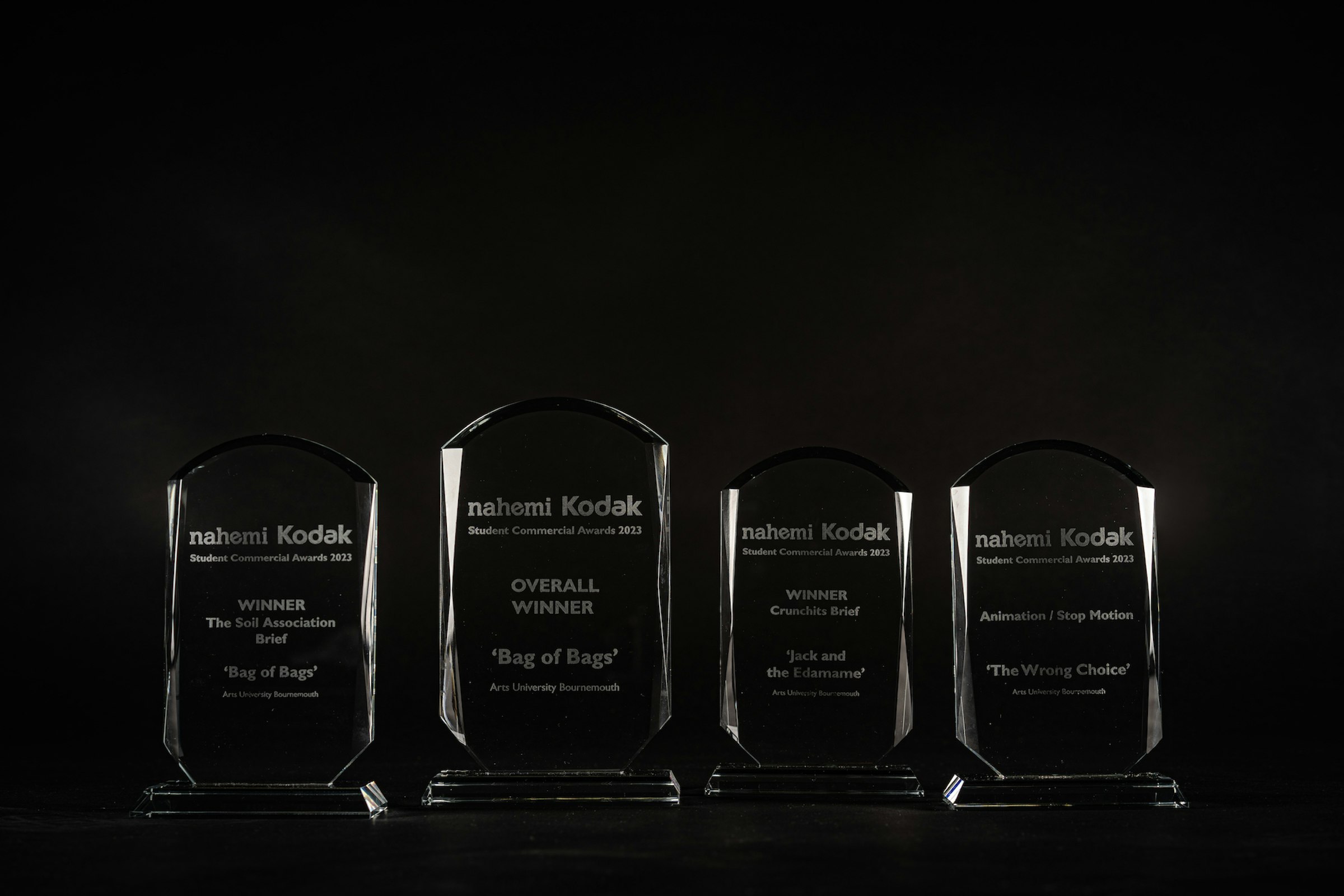 When it comes to designing courses at Arts University Bournemouth (AUB), boosting employability and providing industry exposure are top priorities.
The National Association for Higher Education in the Moving Image (NAHEMI) hosts the NAHEMI-Kodak Awards. All film schools in the country are invited to join, meaning competition is fierce and entries flood in for each brief.
Entering the competition is part of a module in the last year of BA (Hons) Film Production at AUB. Meaning it counts towards students' final marks while replicating the challenges they'd face in this area.
This year, AUB students scooped up an impressive six awards, including Overall Winner and Best in Brief.
A different part of the film world
Mark Sheldon, Senior Lecturer for BA (Hons) Film Production, worked as a commercial film director before joining the AUB team. His extensive experience in this area made him a natural fit to teach the Short Production Project unit in the third year of the course.
"This unit has been historically connected to the NAHEMI-Kodak Awards for over a decade," Mark explains. "It's a unique opportunity for students as it exposes them to a different part of the film world – commercial filmmaking."
Replicating industry
The NAHEMI Awards is a national competition, sponsored by Kodak, and the briefs are set by agencies in London. To replicate the industry, the students have a tight turnaround of just 10 weeks. During this time, they answer the brief by coming up with ideas, finding a location and actors, shooting, and editing.
This year, 18 film schools competed, racking up a total of 56 entries. Kodak provided every production with a roll of film.
The panel of advertising agencies and film directors give out three awards per brief – first, second and third. Additional awards are given out in categories including Best Cinematography, Best Animation and Best Production Design. Plus a separate award for the overall winner.
The awards also include a screening, which is held in London at the Westminster School. The very same cinema where The Lumière Brothers first projected their films in London.
Six awards for AUB students
At the 2023 awards, AUB stole the show, winning the following:
Overall Winner: Bag of Bags for the Soil Association.
Best in Brief: Bag of Bags for the Soil Association.
Best in Brief: Jack and the Edamame for Crunchits.
Best animation: The Wrong Choice for the Soil Association.
Third in Brief: Nothing to Wear for the Soil Association.
Third in Brief: Plastic Fan for Adidas Women's World Cup.
Mark says, "We came away feeling pleased but embarrassed that we'd won so much. It's a fantastic achievement for the students. The Best Overall especially. Out of all the film schools that submitted, to be considered the best entry is a great accolade."
An exciting opportunity
Being able to integrate a competition into an assessable unit is unusual. Not only is the unit part of students' degrees; it also gives them exposure to industry.
"Some students will say they have no interest in getting enrolled in the unit," says Mark. "They tell me they're artists and don't want to work in the corporate world.
"However, many of them tell me it's the best thing they've ever done as it gives them a new perspective."
But Mark encourages students to get involved:
"It's fine if students do it and discover it's something they don't want to do. That's the beauty of it. It gives them the chance to experience a different part of the industry."
Unit survey results revealed that 91% of students were 'satisfied with the learning experience', and 88% said it was 'stimulating and motivating'.
Calling aspiring film producers
Considering studying Film Production at AUB? Mark wants prospective students to know this is exactly the sort of project you'll have the chance to work on.
"Often people see our graduate films showcased, but this unit is one of the other things we offer that helps us broaden our offering," he explains.
There are thousands of people working in the film industry. All with different jobs. Many don't get recognised in the way that people expect. Students at AUB get experience in different areas, whether that's making commercial films or creating music videos.
"We're opening students' eyes to the opportunities and showing them that can work at any level, in any part of the industry."