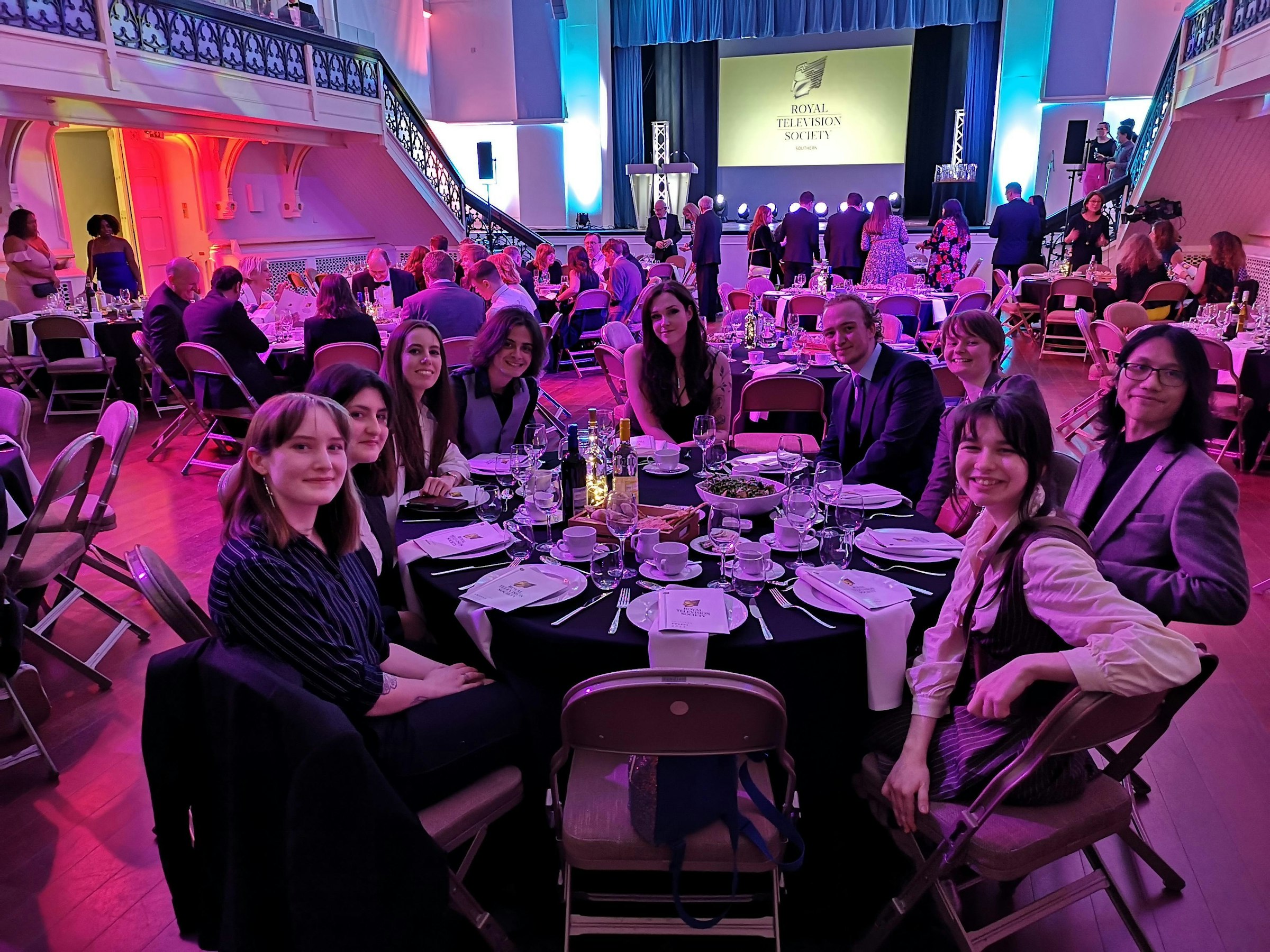 Arts University Bournemouth (AUB) celebrated success with wins for animation, film production, drama and documentary at the RTS Southern Awards 2023.
With three out of three nominations for BA (Hons) Animation, it was more the question of which production would win, rather than if.
The judges chose Dadaland as the winner, with Moonseeker and Undertaker both receiving glowing reviews at the ceremony, which took place on Friday 21 April at the Guildhall Winchester.
It was also a big night for BA (Hons) Film Production, taking home the award in two of the three categories they were nominated in. The Cubicle won Best Student Drama and P Is For Paradise the Best Student Factual award.
Local studio Love Love Films, which employs a number of AUB graduates, also scooped up the award for Best Short Form Production for Paper City.
Vital exposure for AUB students
When BA (Hons) Animation students return for their final year, students pitch a story idea to their peers and the favourites are made.
Students work together just as they will in industry. Someone does the layout and background design, while another student nails the script or focuses on bringing characters to life – it's a team effort.
After the students have graduated in summer, Dorian Terkelsen, Production Manager for the BA (Hons) Animation course, releases the films out into the world, sending them to a roster of around 100 festivals and judging panels.
The Royal Television Society's regional award ceremony is one of the major events for AUB – there are four categories of student awards which are presented between professional awards.
Even getting nominated is hard. To secure three out of three nominations in animation is almost unheard of.
Freedom to explore ideas
Although the films all come from the same course, every animation created at AUB feels different as students have the freedom to tell stories based on their interests and issues that matter to them.
"We don't have a house style which is one of the reasons why I think our films do so well. Out of an animation cohort, we have films that might be perfect for a kids' festival but then some address more serious subjects."
All three animations – Dadaland, Moonseeker and Undertaker – use a hand-drawn style. However, they all explore very different themes.
Moonseeker tells the story of a grieving father who discovers magical creatures that can, when the moonlight hits them, allow people to see their dead loved ones. It explores coming to terms with loss beautifully and sensitively.
Undertaker explores a different side to death. A girl accidentally caused the demise of her family as a young child and is struggling to continue to live with the guilt. Set in the Victorian era, it has a very different feel and features flashbacks.
The winner Dadaland is something completely different again. It unravels how people who use digital spaces to escape often get stuck in a just as sinister place.
The Royal Television Society panel described Dadaland as, "A witty and well-conceived animation that stands out for its engaging environment and character designs. The animation is well executed and features a satirical parody of today's social media platforms that is both relevant and humorous. The characters are nicely designed and their interactions with the world around them make for a fun engaging experience."

Celebrating the AUB community
"Of course, the highlight of the event was winning, but also seeing others from AUB win in their category was brilliant. You get a real sense of what it means to be part of the community – we enjoy each other's excitement."
The Cubicle was the winner of Best Student Drama and P Is For Paradise won the Best Student Factual award.
P for Paradise explores a father and daughter's journey into the past as he faces a life-threatening Parkinson's diagnosis. Nina Caprice, director, was joined by her father on stage as she gave a touching speech while receiving her award.
The Cubicle explores sexual harassment and abuse, and the team were proud that an AUB film was able to successfully raise awareness around such an important issue.
Dorian says, "I still get nervous when they read out all the AUB nominations, not just for animation. It will always be a highlight and I'm always so happy on behalf of my colleagues.
"At the end of the day, we're all AUB. If they win, we win.
"It's important to AUB as an institution too. People out there might be thinking about becoming animators one day. They see our films at festivals and feel inspired to join us and become part of the next generation of creators with our support."