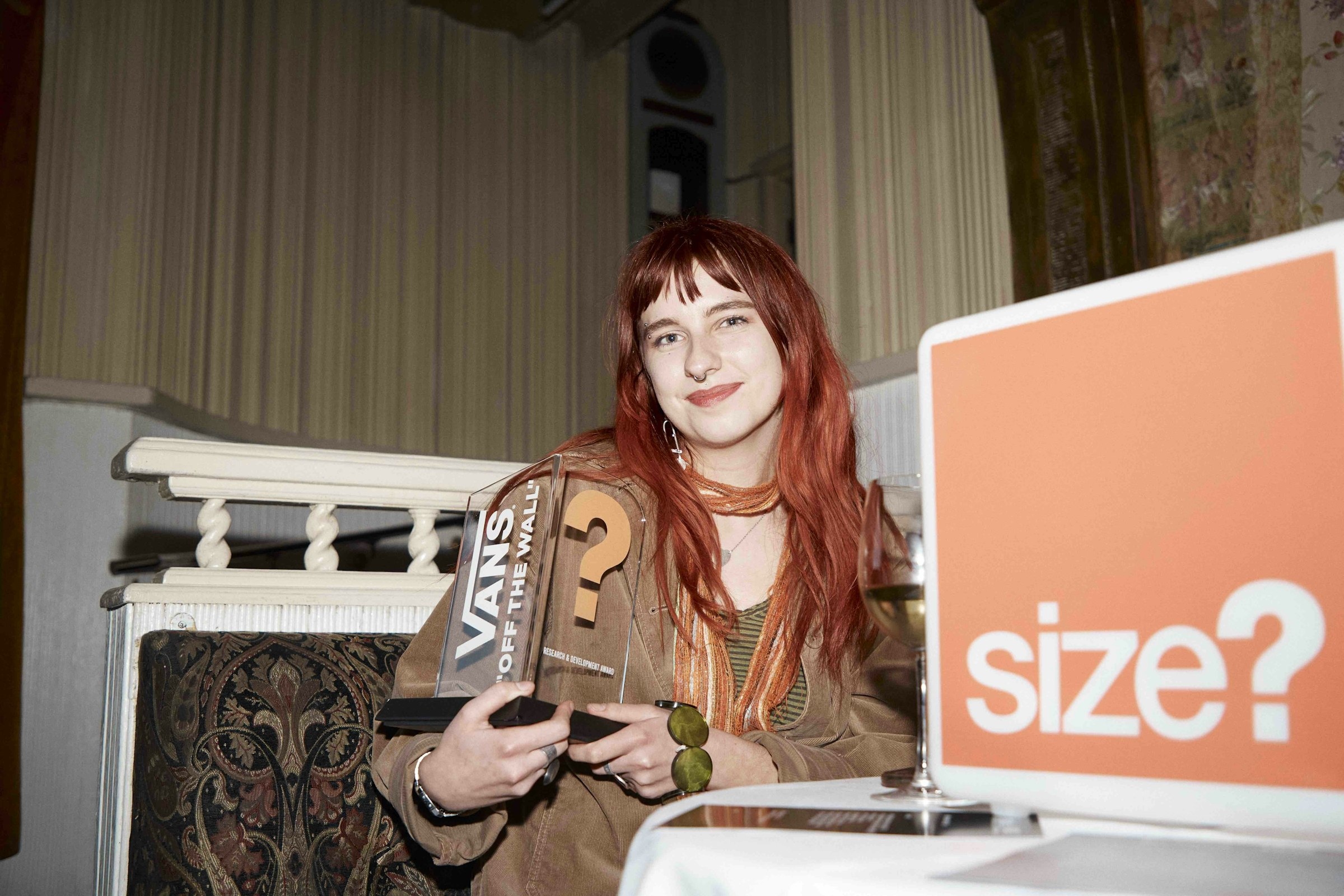 BA (Hons) Fashion Branding and Communication students from Arts University Bournemouth (AUB) have won four awards at the size? Syllabus Awards 2023, supported by Vans.
Katie Batterham, Evie Quazi, Lena Matkevich and Lucy Colquhoun have picked up four of the nine awards up for grabs at the shoe retailer's inaugural Syllabus Awards.
Held at The Box in London's Soho, the Awards were hosted in collaboration with skate label Vans and Graduate Fashion Week. Awards focused on key industry themes, including research, styling, creative direction, and sustainability.
Katie Batterham was awarded the Research & Development Award for her design Project Prompt Blank, which offers an accessible community hub and platform where people can creatively experiment in a post-pandemic virtual space.
Winning the Visionary Award, Evie Quazi's Sound Soles looks at how sneaker culture creatively fuses with music, using playlists, personalities, and music breakdowns to explore custom shoe stylings.
Lena Malkevich's project Scarf Knit Kit, which wins size?'s Breaking The Mould Award, focuses on how knitting can improve mental health, inviting customers to create a scarf from scratch that matches with a new (or old) set of Vans shoes.
Incorporating an immersive weather installation, the Off The Wall Award winning Element by Lucy Colquhoun taps into fresh trends like Gorpcore, putting brands at the forefront of trending streetwear movements with a pop up shop at the iconic House of Vans in London.
BA (Hons) Fashion Branding and Communication Course Leader Esther Yarnold said: "The creative collaboration between AUB and size? demonstrates the significant interaction between the university and key industry contacts.
"Fashion Branding and Communication at AUB have been working with size? since 2020, exposing our students to the experience of working on an industry-ready live brief with a different client each year, allowing them to gain knowledge of industry requirements and expectations first-hand, and the opportunity for direct client feedback on their work.
Esther added: "Well done to all our students for their well-deserved nominations and award wins. I would also like to pass on my thanks to staff members Laura Walker and Charlotte Crozier for their hard work on the project, as well as Dan and the team at size? and Grace and the team at Vans for their time with our students and putting on such a fantastic event!"

Dan Langhorn, Senior Talent (Influencer) & Community Manager at size?, said: "It's been a hugely successful year for the size?syllabus and AUB partnership, driven by the exceptional work produced by the students involved.
"The proposals and concepts presented for Vans and size? were of a level high enough to be seriously considered as viable and original activations for both brands that would set them apart in their field, and the accolades won by AUB at the inaugural size?syllabus Awards reflected this.
He added: "To say these ideas were also put forward by a student cohort only half way through their university journey, we have no doubt that many will go on to have great success within their final university years and also careers within the industry."
Working directly with the UK's most creative universities, size? syllabus is a collaboration with AUB's Fashion Branding and Communication course, offering live briefs and industry-level access, guidance, and critique.
Taking part gives students a unique opportunity to gain invaluable knowledge at one the world's leading streetwear retailers. size? syllabus offers universities and their students to gain coverage, as well as having input on up-and-coming campaigns with some of the world's biggest brands.
Read more about BA (Hons) Fashion Branding and Communication at AUB