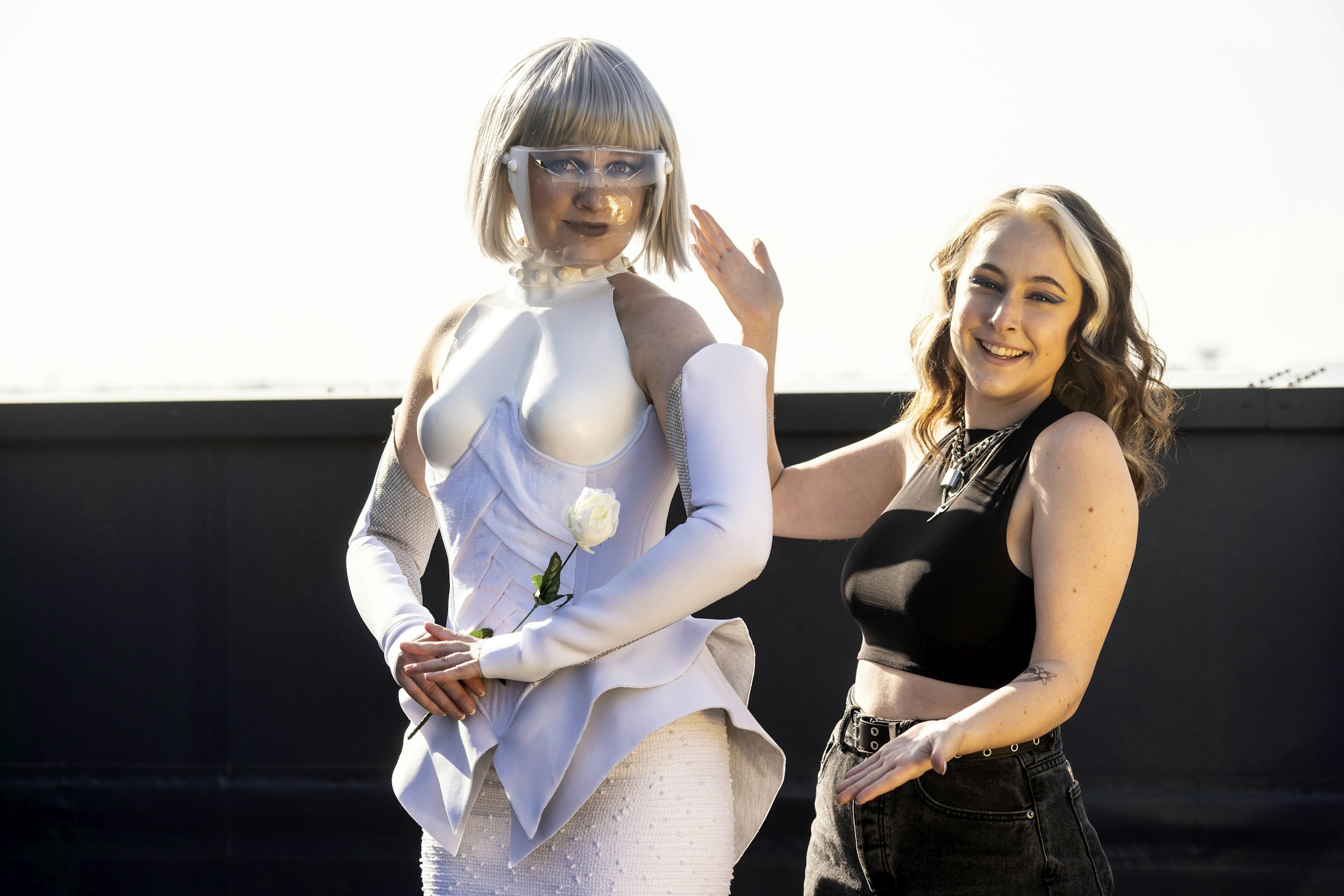 Arts University Bournemouth student Kathy Haynes has won BBC Three's new costume making TV series Stitch, Please!
Presented by drag artist and RuPaul's Drag Race UK winner Blu Hydrangea, the show sees eight contestants battle it out across four episodes to crown four winners. In each episode, two contestants compete over a creative costume brief which is then judged by a special guest judge.
The AUB BA (Hons) Costume and Performance Design student was encouraged to take part after she saw the production team's casting advert looking for cosplayers keen to showcase their talents. 'Cosplayers' dress up as fantasy, film or video-game characters at comic book conventions, often making their own intricate and eye-catching garments for the hobby.
Kathy said: "Over summer last year, I was helping a friend with a documentary he was making about cosplay, and he sent me the casting call for the show. I'd always loved Sewing Bee, but I'm not focused just on sewing, I'm a bit craftier and I like building armour and things, so the show's casting call for costume makers sounded perfect for me."
Now studying in her final year at AUB, Kathy's skills developed while at university have helped to hone her talent, including work in set design and software skills in packages like ProCreate and Photoshop.

Kathy said: "At AUB, they really pushed me design-wise, because I already knew how to sew and construct costumes to a certain level-but now I feel like I know garments inside out and I can draw the costumes that I want to make."
The creative brief for Kathy's episode was for a Hunger Games inspired costume made with a budget of less than £100. The Hunger Games is a dystopian sci-fi film set in 2312, with an oppressed population ruthlessly forced into taking part in a televised 'fight to the death'.
Speaking about her winning costume, Kathy said: "I was really excited about the brief because despite having a budget of £100 and 12-hours making time, there was just so much that I could do. Design-wise, the costume could be luxurious, utilitarian or even armoured. I chose to be inspired by the Peacekeeper characters, who have really interesting insect-like armour.
"I spent three weeks practising my corset work, as well my pattern work to prepare, but one thing I didn't practise was the spine at the back of the garment because I could not afford to waste my materials, mostly sourced from the Dorset Scrap Store. The pressure got to me last minute, and as you see in the show, I've glued the attachment onto wet paint and that was definitely a mistake!"
"You always watch TV shows and wonder how much work goes on behind the scenes, especially for people preparing to take part. Now I know and it's a lot! It was daunting balancing preparing for the show whilst also trying to keep up with my coursework, but it was a really fun experience, and I'm really glad that I took on the challenge!"
Will Hargreaves, Senior Lecturer in Performance Design and Film Costume, said: "We are so pleased for Kathy with her amazing success on Stitch, Please! Kathy is a wonderfully creative design student who is always looking to challenge herself and learn new skills. Coupled with an extraordinary attention to detail and a sense of style, this makes Kathy a really strong all-rounder."
Mandy Barrington, Senior Lecturer in Costume, added: "Kathy's talent in 3D costume came to the fore on this project, and she has produced a dynamic costume for this competition. Kathy's reimagining of the Hunger Games aesthetic is original and dramatic, and her determination and work ethic were evident throughout – this is a credit to her and her course."