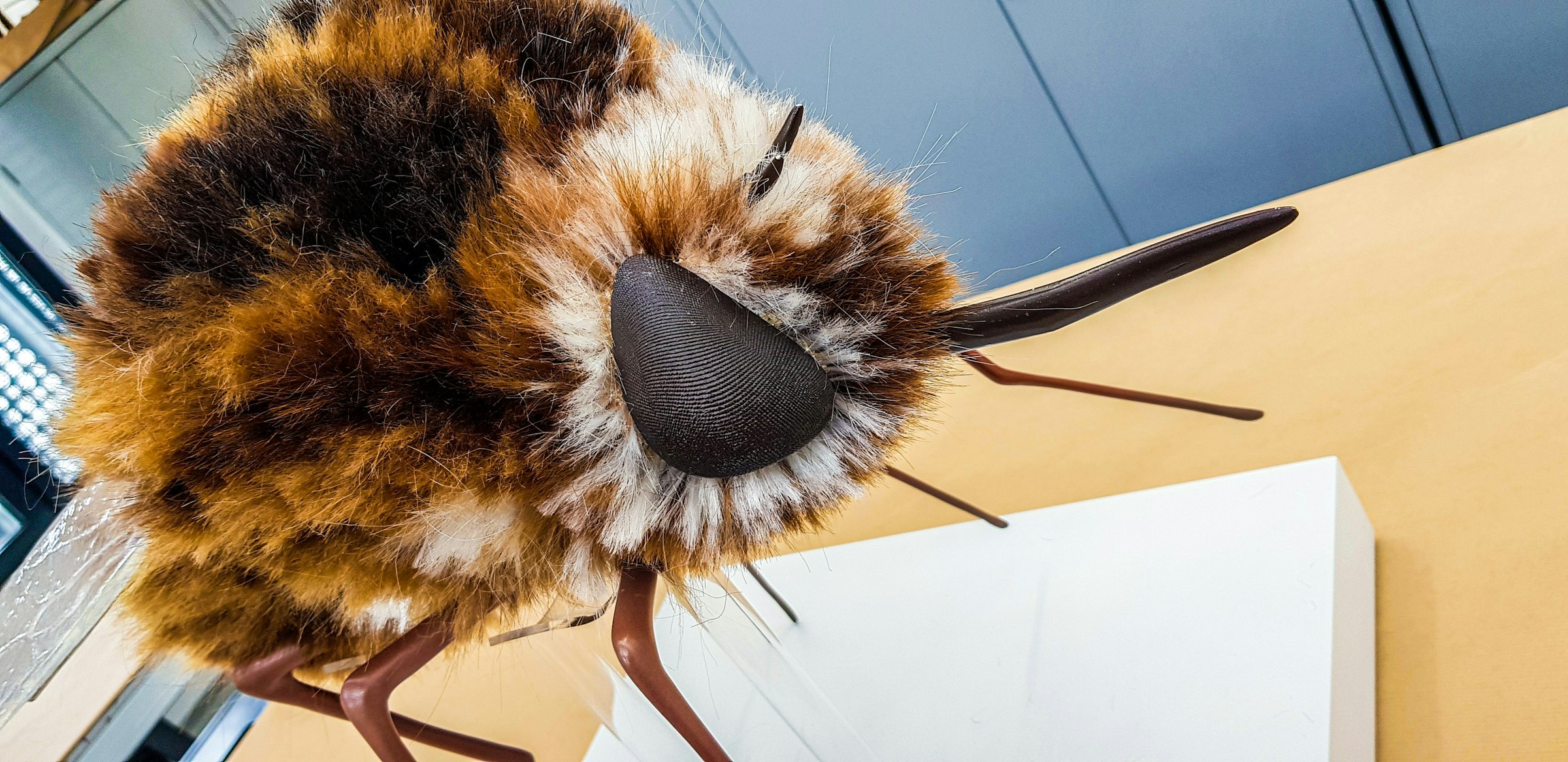 Contrary to popular belief, the Heath Bee-Fly is not actually a 'bee' at all. Once plentiful across Dorset's natural heathland environments, the bee-mimicking fly is now scarcer than ever and under threat of extinction due to increasing urbanisation and habitat loss.
But now, thanks to the work of AUB Modelmaking alumnus Keren Early and wildlife conservation charity Back from the Brink, it's hoped that a whole new generation can learn about and study the unusual insect and its story; perhaps changing the future of its species in the process.
Keren, who graduated AUB's BA (Hons) Modelmaking course this year, has been working with the Dorset-based conservation team to protect the insect, which now only lives in the heathland of East Dorset.
The fluffy Bombylius minor feeds on nectar in flowers like Wild Thyme and does not dwell in garden environments like its larger and much more common relative, Bombylius major. Keren first became involved through a collaborative project between AUB and the organisation; where she was able to combine her model making skills with a passion for nature and wildlife.

The Modelmaking graduate first began research on the fly, studying both its anatomy and movements in heathland environments, before creating a 25:1 scale model of the fly using a range of different techniques and methods to add detail.
Keren said: "During the making of this model, I tried many new processes such as using liquid resin, hair punching with synthetic hair, and welding. I found the hair punching particularly hard due it being a very time-consuming process which was quite tedious at times!
"Doing this brief with Back from the Brink has inspired me to know more about where I now live in Bournemouth. To plant flowers that encourage wildlife and protect the populations of the Bombylius minor by educating the people around me."
She added: "I really enjoyed working with the Back from the Brink team on this project, they have been amazing and very helpful!"
Aemelia Roe, Outreach Officer at Back from the Brink, said: "Earlier this year, the Dorset's Heathland Heart team commissioned a student project, working in collaboration with Arts University Bournemouth, to make a scale model of one of our priority species. This was done with the objective that the finished species model would be used by us as a valuable teaching aid and interpretation piece for public events and activities.
"We were really pleased that student artist Keren Early chose to create a scale model of the Heath bee-fly, an endemic heathland species. Sadly, this species now appears to be confined to the heaths of East Dorset which supports some of the best remaining fragments of lowland heath in the UK, but it has previously been recorded in the New Forest, the Isle of Wight, the Isle of Man, and the coast of West Wales."
She added: "Thank you so much to Keren for all her hard work, even all that hair-punching! It was really worth the effort as the finished piece looks brilliant."
The Dorset Heathland Heart project is working with conservation organisations locally to protect valuable habitat on which these species depend and to raise awareness of their conservation needs through education and citizen science.