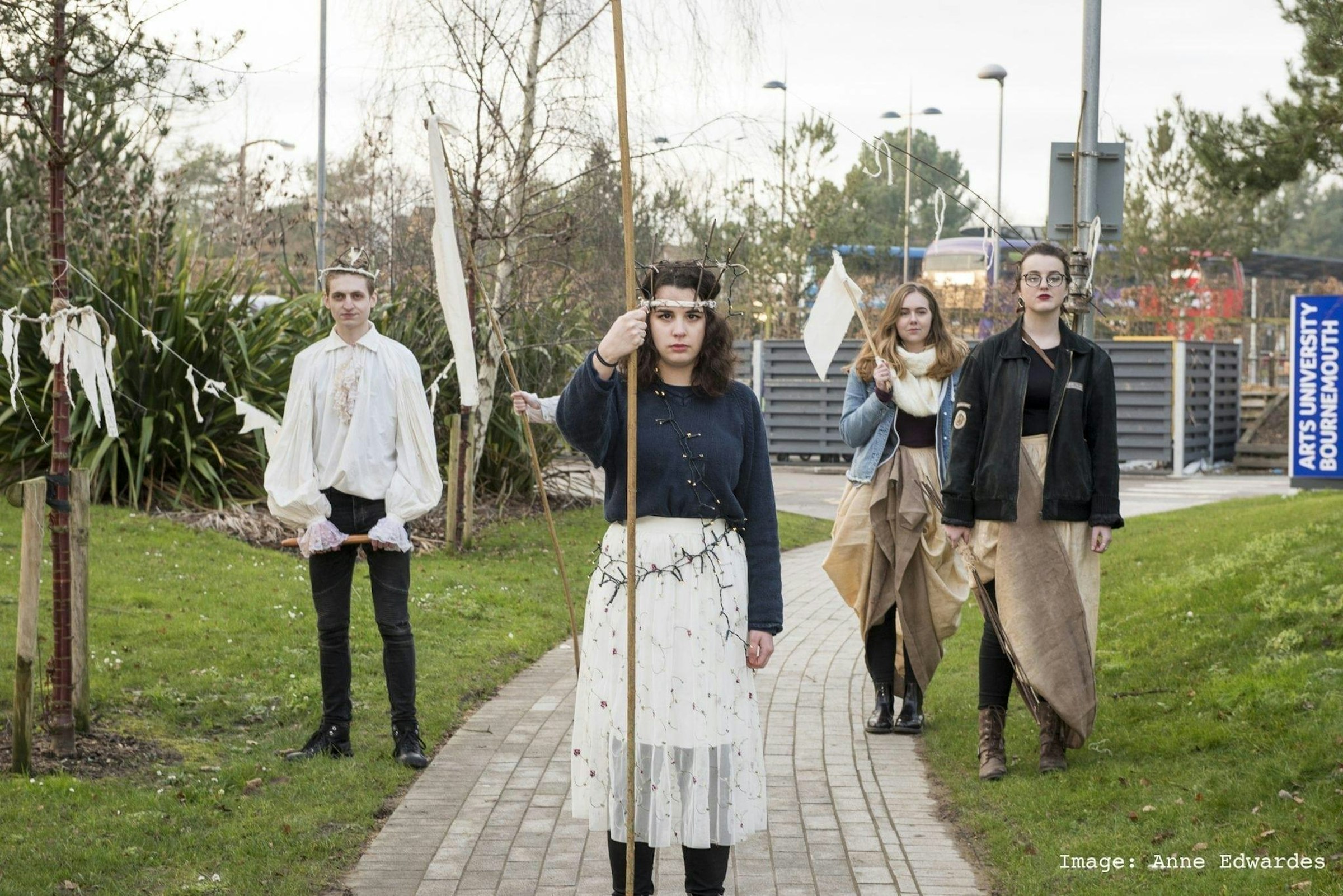 In January 2018, second-year students from BA (Hons) Costume and Performance Design, Ba (Hons) Acting and BA (Hons) Creative Events Management all took part in a 10-hour residency exploring outdoor performance in the landscape.
Led by Lorna Rees, Artistic Director of Gobbledegook Theatre, and Heidi Steller, scenographer and printmaker, the project encouraged student collaboration and their engagement with the surrounding landscape.
100 STUDENTS INVOLVED
This year's workshop followed a short residency hosting 18 students in 2017, which took place in the woods surrounding Slade's Farm. In 2018 the project expanded to accommodate 100 students.
The theme of this year's 'Explore' workshop was influenced by the Dorset, Devon and Somerset tradition of the Wassail. Traditionally, whole village communities would come together and visit each corner of a village or orchard. They would play or beat improvised instruments loudly to drive out evil spirits, and offerings of cider and toast would be made to encourage a good harvest.
Using themes of ritual, harvest, rebirth and renewal, students were encouraged to think about the evils that currently plague the world and create a performative response to spaces allocated throughout the university campus.
RAISING KNOWLEDGE and UNDERSTANDING
Lead Artist, Lorna Rees, has this to say about the project:
"Raising knowledge, understanding and, for many, just the possibility of working outdoors for students is a really useful thing. Encouraging people to see every site as a performance space, a site for their own creative endeavour is exciting.
Giving students 'permission' to perform in public space is a somewhat political act and we should enable others to discover how energising and exciting working in unusual places can inspire them. We are the custodians of our world and by recognising our landscapes and exploring them perhaps we will be more inclined to look after them."
DRAWING ON HUMAN SKILLS
Students were also urged to look past their core disciplines as theatre designers, actors and event managers and promote the idea of themselves as artists by considering their broad portfolio of skills, both personal and practical. They drew on their skills in language, community and belonging, as well as talents in singing, music and visual creation.
Giorgia Garancini, student on the BA (Hons) Creative Events Management course, says of the event:
"I believe projects such as these are a great opportunity for all involved. It allows people to step out of their course and experiment with parts of the creative process they wouldn't necessarily do or ever get to experience."
LOOKING TO THE FUTURE
We are pleased to announce that two, soon to be graduating students, Giorgia Garancini and Mimi Attenborrow, who took part in Explore 2017 and 2018 are to be commissioned to create an outdoor performance in Inside Out Dorset Festival. Demonstrating a dynamic approach and commitment to both workshops, we are excited to see what this next creative endeavour will bring.

Image credits: Anne Edwardes