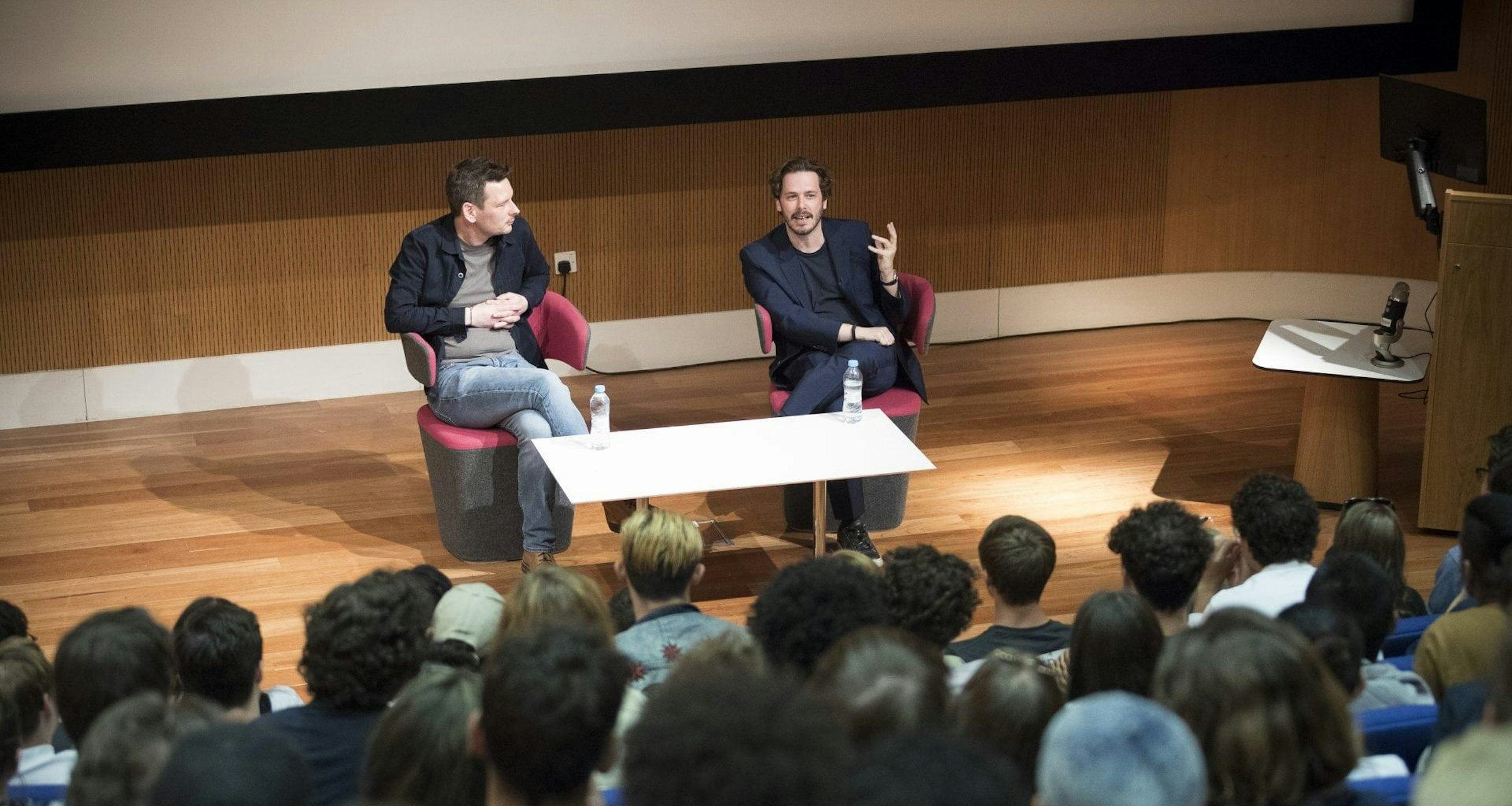 Wright was born in Poole and grew up in Swanage and Somerset. He speaks fondly of his childhood days, telling students "some of the earliest stuff I made has an escapist element to it, because I grew up in Dorset and Somerset". He studied a National Diploma in Audio-Visual Design at AUB (Bournemouth and Poole College as it was then) between 1992-1994, before going on to make his first feature film, A Fistful of Fingers, shortly after in 1995.
Whilst on campus, Edgar provided a question and answer session to a packed theatre of budding BA (Hons) Film Production students – not surprisingly with reservations booking up within two minutes! He shared memories of his times in Bournemouth as a student, of sunny days spent "hiding in the editing suites, whilst everyone else was at the beach", and "hearing a song in a Bournemouth bar and imagining a scene to go with it" – a song that would later feature in Baby Driver.
After his time spent with students, we caught up with Edgar to ask those all important questions every film student was dying to know.
How was your campus tour? Did you enjoy it?
The old building is basically still here, and most of the rooms I used to be in are completely different. Most of the time I used to spend here was in the library and Portakabins outside, which are completely gone now. They've been replaced with fancy new buildings! Most of it is how I remember it though, – the hallways, the stairs, the old lecture theatre which is now the gallery. I remember that very well.
In that lecture hall we used to watch movies, and I even showed one of my movies there when I was 19. They used to hold film club in there.
On your way here I heard you went to drive past one of your old houses? What was that like?
Yeah! We were driving past it anyway and I was like, I used to live right here!
Was that a student house?
Yes. When I first moved here I was in a B&B in Boscombe, with all male students and one family, not the owners. It was strange, like 12 male students and a family in this B&B. That was quite amusing and weird. Then I moved to a house in Charminster, and then my second-year I was in this place in Meyrick Park.
But we used to go to the cinema a lot. We'd go to Westover Road, Poole Lighthouse and Tower Park.
Have you got any particularly fond memories of your time down here?
As well as the syllabus, I very quickly figured out how to make my own movies down here. I remember being back home in Somerset on the holidays filming, then I'd be back here trying to get into the edit suites to edit them all the time. I think eventually I got the key somehow! I was here long after hours, there was this one vending machine. I ran out of my student grant quickly and I subsisted on this diet of Snickers and cheap coffee! I was so skinny, I just wasn't eating properly at all. I do not recommend that at all!
As well as the course itself it was also about the socialising, you know, we used to go to the cinema a lot, the various clubs and cheap student nights.
I don't remember seeing too many bands here, I don't think I had the money. I remember seeing Suede at Poole Arts Centre, but think that was the only band I saw here. There was a place, I don't know what it is now, but it was called The Hot House. Does that place ring a bell? It was near the Boscombe bus station. The first time I'd ever been to a club, I must have been about 19, they were playing Indie music. All of the other clubs were playing cheesy, club stuff – then I went to this place and was like Oh! This is cool. They were playing Pulp and The Pixies and stuff. I remember that being something I hadn't had growing up.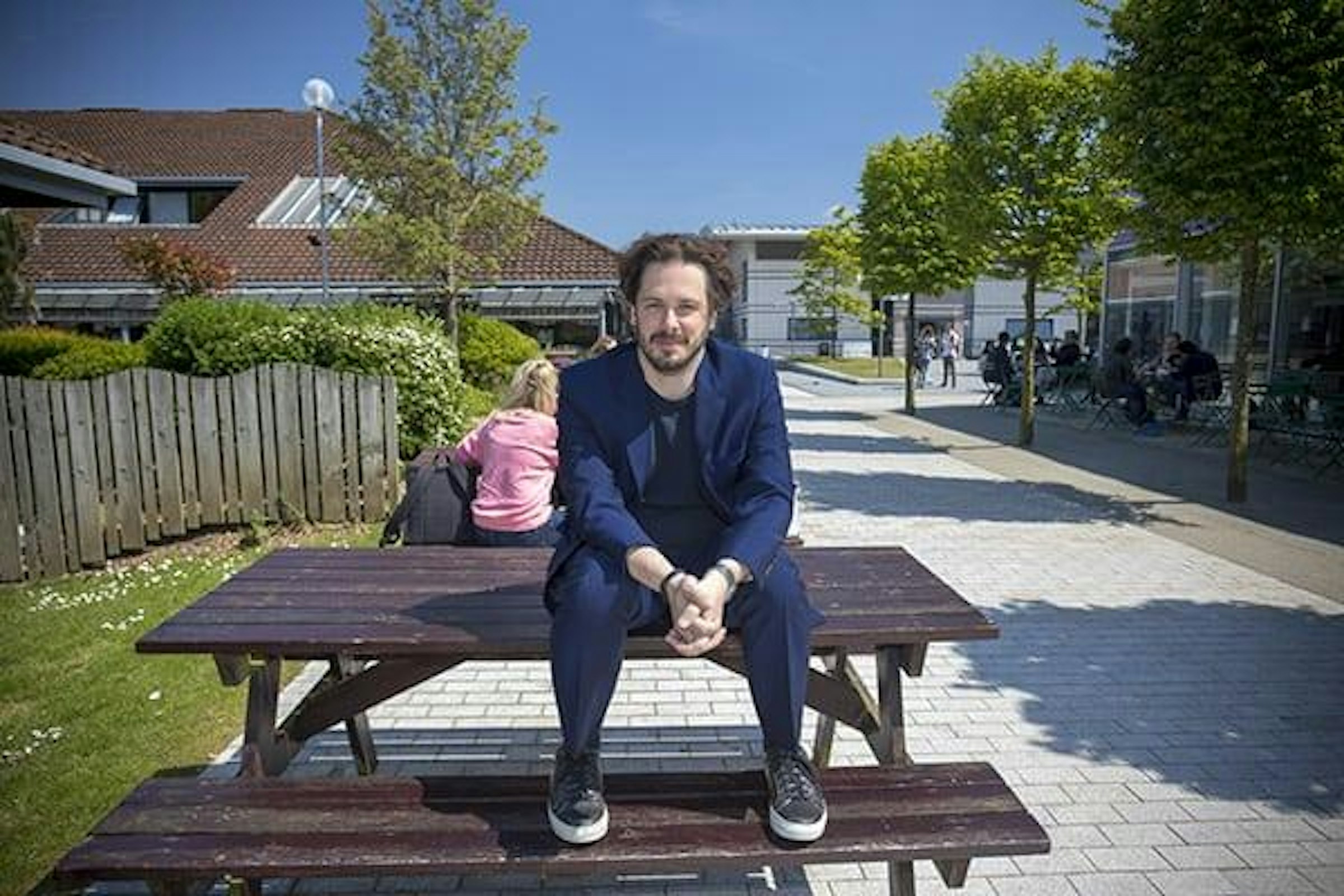 Can you tell us how it all started for you? How did you get to where you are today?
So I applied for the film course here – twice – and was denied both times!
The second time they told me to go away, work in the industry for five years then come back. Back then, you had to go onto the course under a specific skill. So I was applying to be a director, at the age of 18. They'd always say you're too young.
So that summer, I made a film in my hometown with my school and college friends. I didn't use actors, I had my school friends and money raised from a local businessman, and a lot of people from Bournemouth came and worked on it. We were all sleeping on floors at each other's houses. It must have been June 1994, we made it in around three weeks.
Then I moved to London to edit the movie, sleeping on floors, editing the movie with no money at all. When we were trying to get the movie finished I got a job at London Weekend Television as a researcher on a clips show, Beadles Hot Shots. Then the film was done, 18 months after we shot it. It got released in one cinema – The Prince Charles in London. It got reviewed everywhere, and some of the reviews were really bad, like awful! And a couple were good. A couple of the key ones like Time Out and Variety. But there were enough good ones that people went to see it.
It was around that time that I became friendly with Matt Lucas and David Walliams, they were both on the stand-up scene at that point. Matt was the same age as me, 21, David was like 23. And David was friends with Simon Pegg, they had gone to University in Bristol together. So backstage at a Matt and Dave gig, I met Simon. I bonded with him because he had done a stand-up in his set about Somerset – and I had moved from Dorset to Somerset, – all the 'sets'! When the movie came out, Matt and Dave went to see it, and they recommended me to direct their first TV Show which was on the Paramount TV channel. I was still 21 at this point. The next TV Show I did on the same channel had Simon Pegg and Jessica Hynes in it. And that eventually led to Spaced. It was all about timing and luck, tenacity and talent as well, I guess.
If I had stayed here for another two years doing the film course, would I have met Matt and Dave in the same way? And Simon in the same way? Probably not.
What are Matt and Dave like to work with?
They're great! I'm still very good friends with them, – I'm even seeing Dave tonight! We're all very good friends. But at that time it was funny, we were all so young. It was amazing working with them, because even at that time and it was their first TV show, they all knew what they wanted to do. So you realised if you wanted to get something done you had to be really strong in your opinions, what you wanted it to be and look like.
Doing that with them and seeing them do everything so confidently was really inspiring for me. Three years later doing Spaced, I could really go at it all guns blazing.
You mentioned earlier in your talk to students that you knew Jon Hamm before Baby Driver, but you didn't know the other actors. How did you know Jon Hamm before?
I met him the first time he hosted SNL. I was friends with Bill Hader and I went to see SNL being recorded. He was the host that night, so I met him after that. That's very Hollywood, right?!
As a Director, what does a typical day look like? Is there a typical day?
It completely depends on what stage of production you're at. When you're shooting – it's that weird thing when you do it for like three or four months, every two years, the most intense you've ever worked. The rest is just different. It's a very odd job. Especially as I write as well, so that can mean an entire year of writing, then making the movie, then an entire year of editing and press. So what I actually do as a director maybe happens like once every two or three years. And it's the most intense period of hours and hard work.
What's it like working in the film industry at the moment?
There are so many different facets to it. There's a funny irony that there are more Hollywood films being made in the UK than in LA. So it's very different now to when I was starting out, back then people's main ambition was going to LA and making films in Hollywood. It's not quite like that anymore because most of the Hollywood films are being made in other parts of the world.
And what do you see as the challenges facing the industry today?
Things are constantly changing, in terms of the different platforms. What people go and see at the cinema, because of the streaming platforms, it's harder to get people to go and watch a movie at the cinema. Smaller movies, more modest movies have gone away a bit, or their equivalent is on TV now. So that's definitely changed, and not necessarily in a positive way, the majority of films that do well at the box office are the ones that people want to see on the big screen.
I hope it changes and there are more diverse movies that reach a bigger audience.
You've had a few cameo roles, what's been your favourite?
Usually, it's through someone you know in the movie. So sometimes they're just really random. Like, I'm a voice in the animated movie, Sing. But that literally entails the Director emailing me one day asking me to do this one line on my phone! So I'm standing in my kitchen, and I ask, do you want English or American accent – and he wants both. So it's the weird thing of standing in your bedroom with your iPhone, pretending to be a goat.
You're the goat!
Yeah, I have like one line.
Oh, and the other one – me and my brother did a cameo in Star Wars, that was literally because our friend was directing it. So he said come on down and visit. And he was like, do you want to be a rebel or resistance. I wanted to be an imperial, first order – better costumes! But on that day they were only shooting resistance stuff. So because of that, my face is out. I guess if I'd have been first order I would have had a mask on, but you can see me for like a split second.
It was just funny sitting there with all the gear on, watching C-3PO do his lines!
And finally, what's your one piece of advice for the future filmmaker?
You've got to be extremely tenacious, and not give up. And when you find people you like working with, keep working with them, be loyal. I've been working with some people for 10 years.