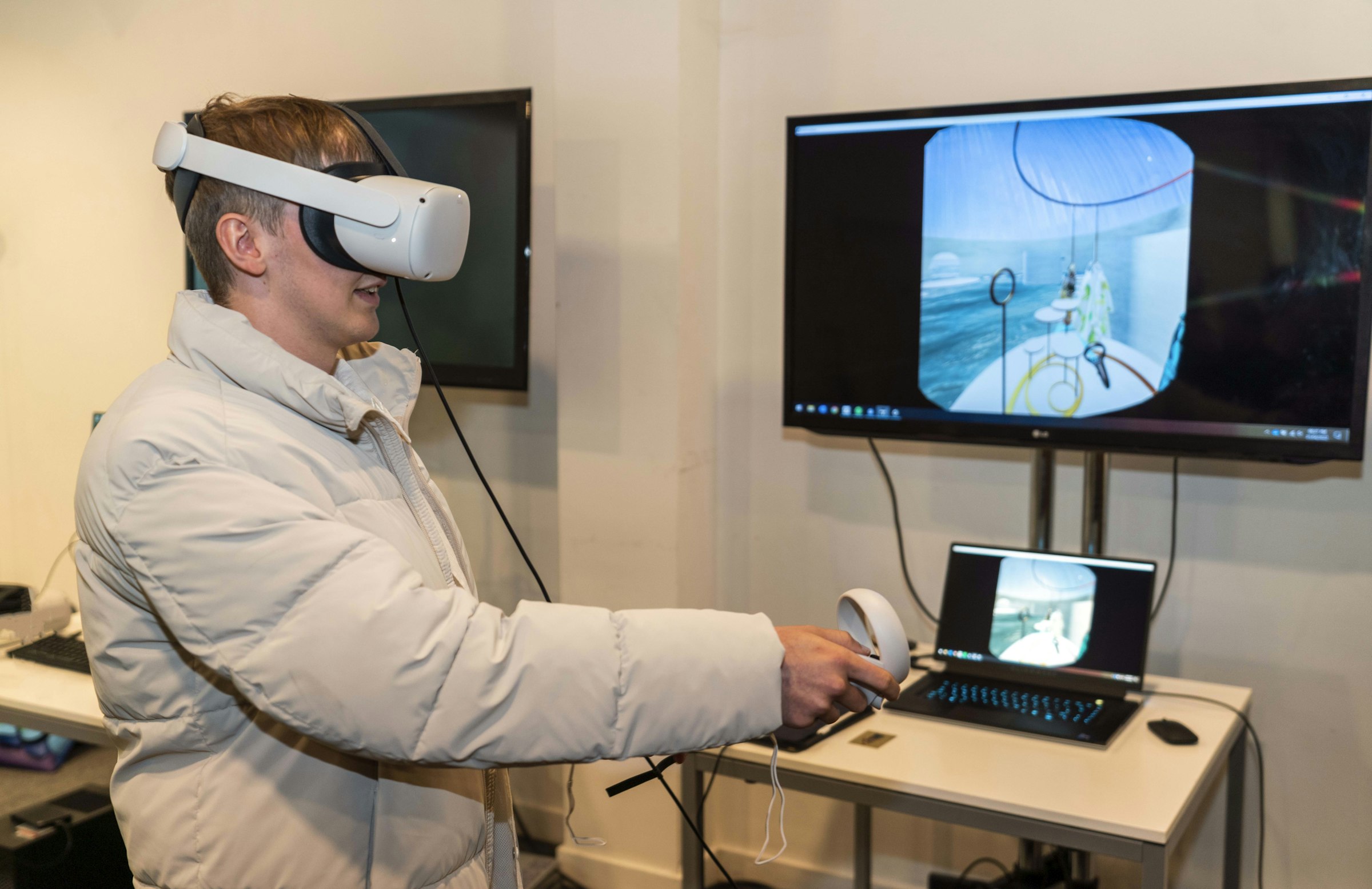 Members of the public, Fashion students and industry professionals have attended an immersive event at AUB exploring the tech future of the fashion industry as part of the University's Body Beautiful: Diversity on the Catwalk exhibition.
Virtual prototyping, digital pattern cutting and Augmented Reality (AR) were among the areas discussed by a panel of Fashion students and academics, including final year Fashion students Zach Fornelius and Alex Petrou, as well as Senior Fashion Lecturers Penny Norman and El Crehan.
Penny said: "We've been using digital technologies at AUB for a long time to improve sustainability through practice, sending our graduates out to re-educate those already in the industry. In recent years with the pandemic, people have had to speed up their adoption of digital practice out of necessity.
"Our student projects have authenticity, as they have started their projects for sustainable reasons, but the heights that they are taking their work to with VR and AR is ground-breaking and different."

After a presentation talk and lively discussion, the audience were invited to explore a range of digital fashion projects and applications on display at AUB beside the Body Beautiful exhibition, including student Alex Petrou's AR application, which allows users to 'wear' digitally overlaid garments.
Alex said: "I'm experimenting with AR inside of menswear fashion design – I do virtual try-on's where you can digitally wear a garment using a camera device like an iPad, smartphone or AR glasses. You're able to 'wear' the garment, see it on the side of you and some businesses are already using this so that customers can imagine a garment on them before purchasing it.
"With digital garments, there's no fabric, so there's zero waste. Our industry produces so much waste in the world, it's dying rivers blue and it's so bad for the environment."
Kyra Gibson, AUB's Graduate Innovation Intern exhibited her final graduate collection showcase in a virtual showroom space using a virtual reality headset called Oculus Rift. After putting on the headset, visitors were immersed in a completely digital environment that can be explored by body movements.
Kyra said: "This is a project I've made to showcase my final graduate collection made here at AUB, and I've put together this virtual space so that you can move around and look at the garments in here; there's a virtual fitting room, and some of my garments are hung on a merchandise display wall.
"Fashion is one of the dirtiest industries with the amount of waste it produces, so using new digital technology is reducing the sampling process and a lot of companies are getting these programmes implemented within their workflows."
Final year BA (Hons) Fashion student Zach Fornelius, explained to visitors how the department is leading the way in the application of new digital software within the industry. He said: "The main program we are using is called CLO3D and it's created for the fashion industry, so it simulates different fabrics and you can 'sew on' different pieces.
"I've used this throughout my entire prototyping phase and it means I can be more sustainable because I'm not using as much fabric and I'm doing all of my prototypes digitally; I do one final physical twirl and then I go on to make my garments.
"I then take the digital prototypes into a program called Unreal Engine, the same program used in films The Mandalorian and the new Batman movie, to make my showcase, so it's a very cutting-edge and powerful technology."