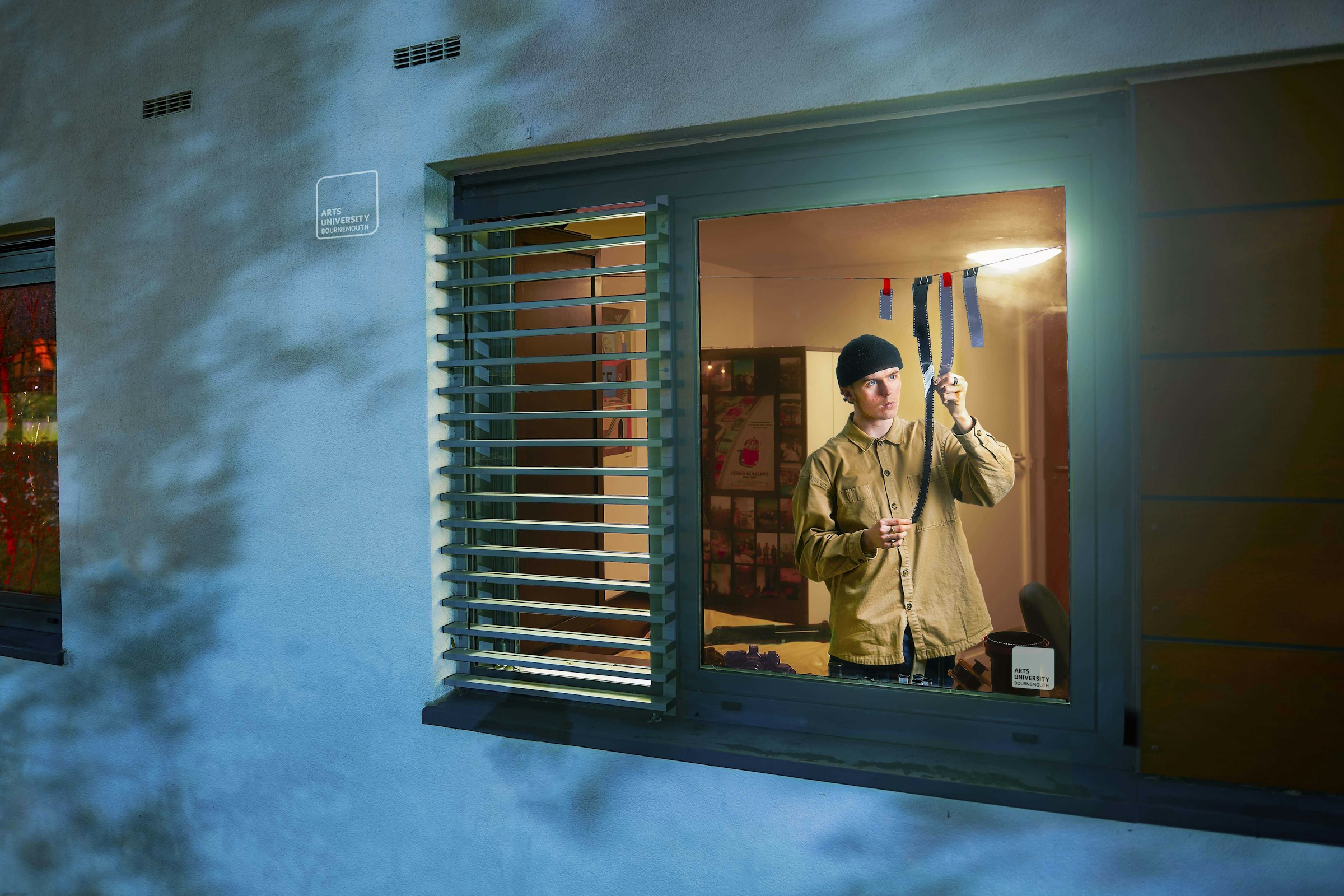 BA (Hons) Commercial Photography student Gabriel Bush has highlighted the resilience of students who continue to create new work despite lockdown conditions.
Gabriel, who is in his final year of study at AUB, has been photographing fellow local creatives as part of a collection of images looking at how Bournemouth's students continue to develop their skills and work during the global pandemic.
Speaking about his images, Gabriel said: "The series showcases student artists and creators who've adapted their creative practices to their living spaces while in lockdown. The series displays the resilience of creative students who have found themselves unable to access facilities that would've been much more available before the pandemic began.
"During the pandemic, young people and particularly students, have received criticism for spreading the virus. I wanted to counter this to create a positive body of work, showing how we've worked so hard while confined to our homes."
He added: "For many people, bedrooms, living rooms and dining areas have been the designated centre space for creating new art over the past few months. I wanted to capture these artists through photographic imagery and show that while times are tough, AUB students persevere whatever challenges face them.

Gabriel's work has attracted admiration and fascination from those working across the university, with AUB Vice Chancellor Professor Paul Gough particularly interested in the adaptability and resilience of university students across the town.
Professor Gough said: "Gabriel's work firmly embodies a spirit that runs through all creatives at AUB, whether this be for study, practise, fun, or for professional development. Especially in these uncertain times, art is a medium that we all understand, appreciate and gravitate towards.
"Though lockdowns have affected access to facilities for artists across the country, it's been incredible to hear from and see the work of so many of our students who've continued to adapt, and in many cases thrive creatively, despite the situation.
"Gabriel has been so inventive in difficult circumstances. In fact, he has asked to visit the temporary fine art studio that I use in a spare room with the washing machine, brooms and brushes. He's more than welcome!"
He added: "Congratulations to Gabriel on a fantastic body of work that really demonstrates just how much art continues to take place in Bournemouth, whatever the conditions. We're really looking forward to showcasing the entire series."
As part of the university's NoMatterWhat campaign, AUB will release each image through its social media channels to mark the continued progress out of lockdown, with the full series featuring around 14 artists across a range of different disciplines. Gabriel then hopes to enter his work into a number of regional and national competitions.