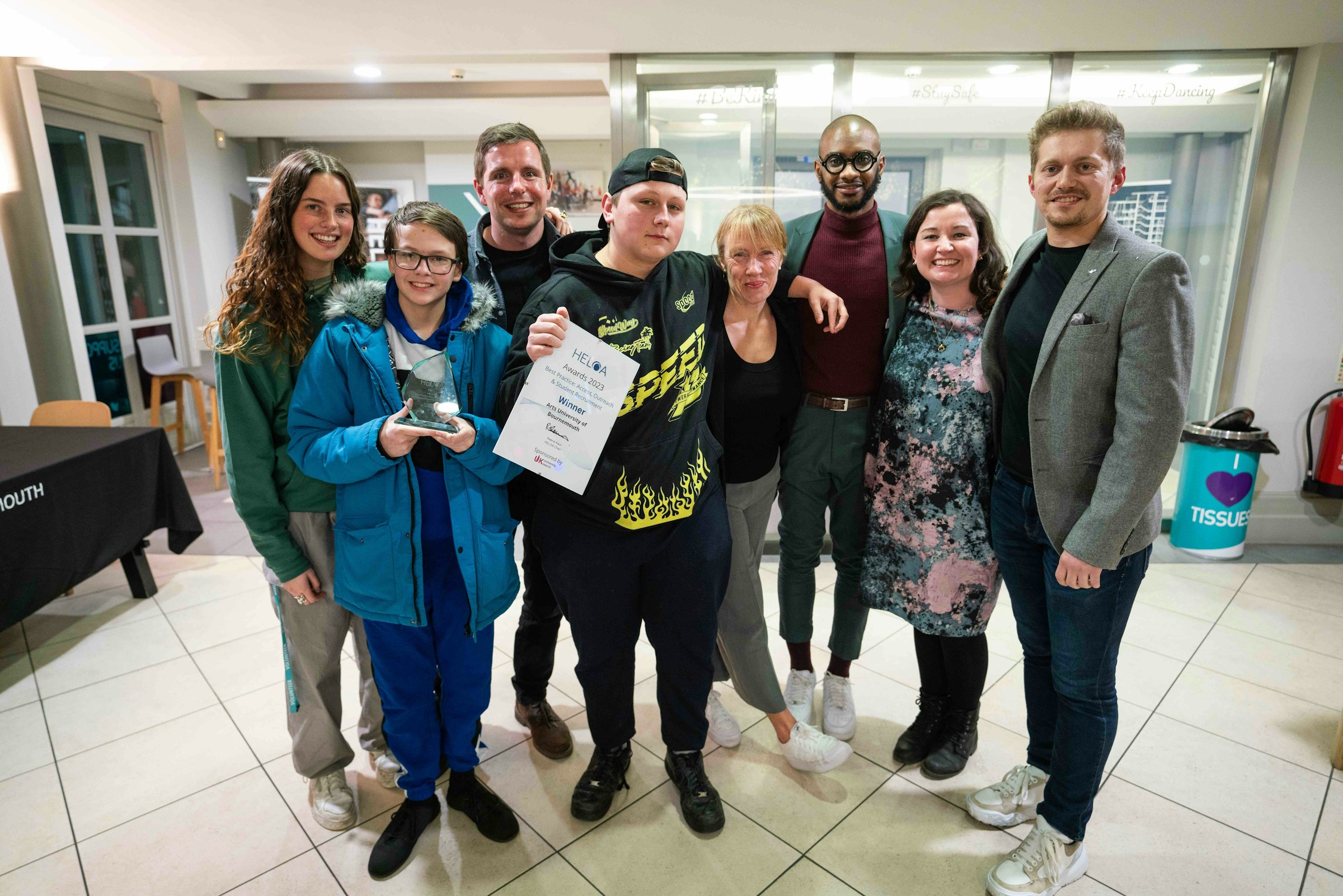 A film exploring Arts University Bournemouth's Being a Boy access and participation project has premiered at Pavilion Dance South West
An audience of young people, educators and higher education professionals gathered at Pavilion Dance South West in Bournemouth to mark the release of a new documentary exploring AUB's Being a Boy project.
The Being a Boy project is a new pre-16 Access and Participation initiative to support working class boys at AUB. Activity was developed to meet the challenge of supporting boys' educational attainment on a local and national level in the 2021-22 academic year.
The documentary follows a session from the initiative taught by AUB tutor Ashley Hickson-Lovence, who led a group of young boys for a session exploring expression and individuality through Creative Writing.
The published author, whose 2022 biopic Your Show has featured in The Guardian's Book of the day, used the evening to share a powerful and moving passage around the tragic loss of a childhood friend to knife crime.
Ashley said: "It was an absolute pleasure to facilitate a fabulously fun-filled day of words, stories, ice cream, rap music and jokes. It was incredibly special.
"I was born and raised in a single parent working class city home in London, and it's because of my own background that I'm incredibly passionate about inspiring the next generation of talented boys, regardless of their 'credentials' on paper in the eyes of society."

After screening the documentary, audiences were shown a short dramatic dance film in which a young male participant from the Being a Boy cohort joined BA (Hons) Dance Course Leader Jane White and AUB graduates Jenna Tostevin and Lawrence James in an expressive performance filmed on Bournemouth Pier.
Dr Alex Blower, Access and Participation Manager at AUB, said: "For the last decade, discourse on the substantial gap in rates of progression to higher education for working-class boys has been a regular focus of politicians, educators, and those with an interest in equitable access to educational opportunity.
"Being a Boy mobilises AUB's expertise to provide mechanisms for students to explore issues relating to masculinity, identity, and the educational success of young men.
"We're incredibly proud of the work of the young people who've taken part – the most important thing with all the work we do in Access and Participation is to platform these voices and the experiences of the real experts in their own lives; the young men that we're privileged to work alongside every day."
The group of young men also worked with Conrad Tracy, Course Leader for BA (Hons) Commercial Photography for photographic workshop Capture and Lorena Cervera, Senior Lecturer in BA (Hons) Film Production for documentary production session How to be a Boy.
Kate Venables, Being a Boy Project Lead, said: "When I say that I am so proud of the young men involved, I know I speak for the whole Access and Participation team at AUB. It was such a privilege getting to know the students and watch them explore the project themes using creative mechanisms.
"I'd like to thank everyone involved in the project and the new supporters that we've found along the way. An extra big thanks goes to Irene Smith and Michelle Bradnam from Iford Academy, Paul Stevenson and Deneen Kenchington from Ferndown Upper School, Claire Barnett from the Quay School and MYTIME Young Carers, for supporting young people to attend the workshops."
The University's Access and Participation team recently won two awards at industry body HELOA for its work to raise awareness of the under-representation of white working-class boys in Higher Education.