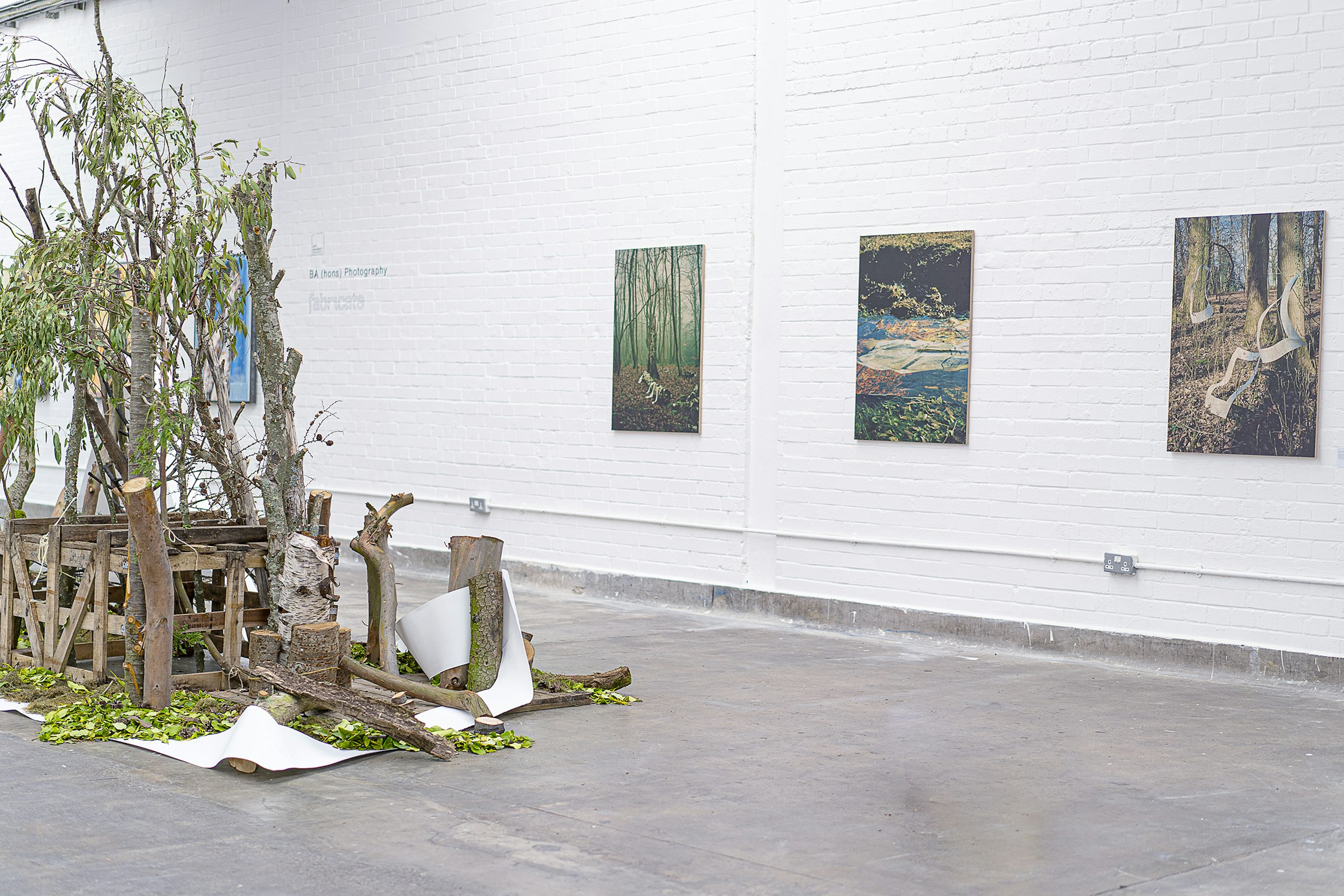 BA (Hons) Photography students from Arts University Bournemouth have taken their Fabricate exhibition to Old Truman Brewery in London, as part of the annual Free-Range summer exhibition, a celebration of photography and art.
Now in its 19th year, Free-Range takes over warehouse spaces at the Old Truman Brewery for three weeks, showcasing work from over 800 students, from 50 institutions.
Students from AUB exhibited in the second week of this year's exhibition. We caught up with some of the students exhibiting to find out about their work, how they found their time at AUB, and what their plans are for the future:
EDWARD BROWN
Can you tell us a bit about your work?
My work looks at the contrast between human and unhuman. A lot of my work explores technology and nature, I use a lot of humans contrasted against artificial intelligence and computerised effects, to create this very almost inhumane but very natural looking work.
My work is very varied practice, looking at Graphic Design, Fine Art and other disciplines.
How have you found your time at AUB and on the course?
I think the course is really good! I love how open and free you are to work in whatever way you want, even though it's a photography course. I just loved the freedom that you had to be able to experiment in any way you wanted, that you might not have got with another course.
Ever since first year I really tried to push the boundaries, pushing outside photography and the lecturers always really welcomed that.
In terms of AUB, I really enjoyed it! It feels so secluded from London, so you don't get influenced by things you might have if it was in London, there's no spotlight on you.
I had a really good time and have met so many amazing people.
What are your plans for the future?
I'm just working at home at the moment and then I start an internship in September, at SHOWstudio with Nick Knight, who is AUB alumni. I'm so excited for it, it's a dream come true.
Since first year I had always looked up to Nick Knight and always wanted to work for him and so I applied this year, went for the interview and was successful.
ADAM TURNER
Can you tell us a bit about your work?
My project came out of an interest in re-enactment, and how, performing past events in the present can become slightly strange when re-contextualised. Over the course of 5-6 months, I visited Poole Reenactment Society, a group that focused on Viking re-enactments, observing their intense and carefully choreographed rituals which strived for absolute authenticity.
Focusing on the repetition and tempo of their routines, I would ask them to re-enact their actions with and without their uniforms and weapons to expose an odd interchange of reality and fantasy.
How have you found your time at AUB and on the course?
Amazing! I'm going to miss it so much, because having that much support and having those facilities around you was just brilliant.
I wasn't actually going to go to university and then I looked round AUB, just as an option. I got taken round by one of the course leaders and I just fell in love with the course then, and just knew I had to be on the course.
The course has helped me develop so much creatively and it's just been a lot of fun. AUB has such an amazing community, it's so collaborative and that's great.
What are your plans for the future?
Luckily, I have just been offered a job London, through the video work I had done, in video production at Clerkenwell. So, I'm going to be starting that in a few weeks, straight in to full-time salary work.
EMILIA WONG
Can you tell us a bit about your work?
My work explores reality and how we as viewers conceive the perception of reality and space. The use of Perspex is it to imitate a paper drop in a way, but Perspex is a hard material and is solid, so it's nice to see the little drop and see how that flows and how the viewer interoperates solid materials.
It also looks at Bauhaus and how they also believed in making art, not to beautify objects, but to highlight the actual use and functions of it.
My project is called Studio 166: In my Conservatory at Uni. There's a set stage that you're looking at as a viewer and the mirror reflects behind the camera, to show what the viewer wouldn't see, to disorientate them in a way.
The use of hands is because I quite like handling Perspex, I made the Perspex sculptures myself, so I thought it was really important to keep the hands in there.
How have you found your time at AUB and on the course?
I'd say it's been the best three years of my life so far! I was quite nervous about moving to uni, as I imagine most people are, but it's just such a family orientated community, which is what I really love about it.
Not everyone is going to prefer a smaller to uni, compared to others, but I much prefer it. The lecturers and technicians get on with the students, rather than it just being a teacher/student relationship, which is so important.
It's nice that you can have a laugh and socialise with people, not just have a really official relationship with everyone.
What are your plans for the future?
I plan to go in to curating or managing artists in the industry. Preferably get any experience in the gallery industry, whether that's curating, or as a technician.
I've applied for a few jobs, which I'm not going to name, just in case I don't get them. Potentially an MA in the future in curating, hopefully in London, as that's where I plan on moving after graduating.
ELISE WOOTTEN
Can you tell us a bit about your work?
It's been an exploration between photography and sculpture, playing with the idea of a photographic print and pushing that to the sculptural limit. Then fluctuating between photography and sculpture, and then photography again, and then existing as frames, which act as a photographic image, in reference to the camera's lens. The sculptural pieces that are aluminium then represent the crumpled pieces of paper and the fragility of the paper.
How have you found your time at AUB and on the course?
It's been really, really good. I came in to the course with an idea of what I wanted to do in the future, working within curation at art galleries.
So, I've pushed my work to the limit within the course, and outside that I've been involved with BUMF Gallery and exhibitions.
It's taught me real world experience as well as photography skills.
What are your plans for the future?
I'm doing what I want to do, I have a job at Arnolfini gallery in Bristol. As I gain more experience, I may relocate to work in London.
Find out more information about BA (Hons Photography) at AUB.