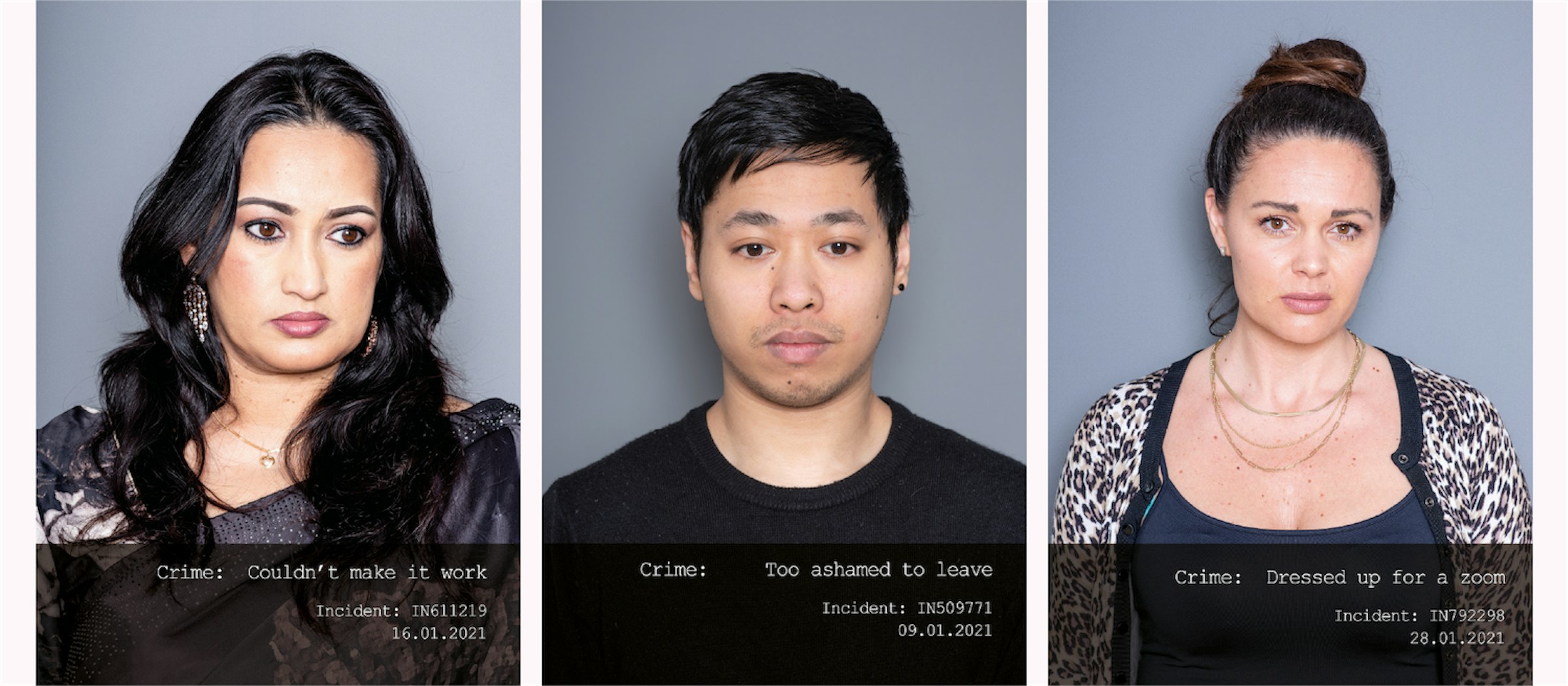 Content Warning: Sexual assault and domestic abuse.
MA Photography student Jayne Jackson has added brand-new pieces to her award-winning and thought-provoking photographic series 'Asking for It' for Sexual Abuse and Sexual Awareness Week (1-7 February).
The new images come in response to the rise of domestic and sexual abuse committed during lockdown. According to government data, one in five offences recorded by police during and immediately after the first national lockdown in England and Wales involved domestic abuse.

'Asking for It' was created to change opinions towards victim-blaming, in both historical and current contexts, with an emphasis on cases of sexual and gender-based violence. The first series of images, which Jayne exhibited last year, included mugshots of models posing as victims and holding boards detailing their 'crimes', such as 'let him buy a drink' and 'didn't say no'.
Jayne said: "The new images have been added to address real issues that we have seen since the pandemic began. There has been a well-documented rise in calls of domestic and sexual abuse helplines nationally and many court cases have been delayed, causing a backlog. This means that addressing victim-blaming by busting myths and engaging the public is more important than ever, not just to encourage more people to seek help but by directly impacting the outcomes of more these legal proceedings yet to happen. If the public as future jurors can identify and question victim-blaming tactics, survivors will get a better experience and higher numbers of perpetrators will be convicted.
"There are also pandemic-specific issues," Jayne continues, "such as having to isolate with perpetrators and an increase in county lines exploitation of children, as organised drugs gangs have been unable to operate in their usual ways. This is something I felt strongly about adding to the series as these children and young people are at a higher than ever level of risk from physical, emotional and sexual abuse, because of the pandemic situation."
Jayne is also using public opinion to inform her work, having created an interactive survey to invite people to judge if the victims should be partly to blame for the crimes committed against them. You can take part in the survey here: www.askingforit.net. The data will be used as part of a wider research project by Bournemouth University's Department of Psychology, led by Dr Peter Hills, who are working to produce a range of resources and learning tools designed to assist juries in making fairer and unbiased judgements.

Jayne has exhibited 'Asking for It' in The ECO HUB at the Poole Dolphin Centre and the Top Floor Gallery at Poole Lighthouse. The full exhibition is due to feature in the Atrium Gallery at Bournemouth University when restrictions allow.
Julie Johns MBE, an expert in domestic abuse, says: "Projects like Jayne's are important to open discussion about how lockdown, furlough and homeworking have created a 'shadow pandemic' of domestic abuse happening behind closed doors. Living with a perpetrator of abuse, without the normal safety routes of work or social contacts is a huge concern.
"In many cases, victims are likely to avoid 'dressing up' or anything that could be used as an excuse for perpetrator behaviour," Julie continues, "and risk accusations such as 'flirting over zoom'. However, many businesses are still expecting women to maintain a similar appearance and dress to that of an office environment. A person's appearance is never an excuse for abuse or victim-blaming. Any significant changes in appearance or behaviour, including becoming more withdrawn than usual, poor quality of work, missing deadlines, avoiding work calls, secrecy, as well as physical signs such as bruising or evident anxiety, could all be indicators of potential harm."
MA Photography Course Leader Paul Wenham-Clarke said: "I remember when Jayne joined the course and she talked about wanting to use her photography to explore social issues and hopefully make a difference. Jayne had been working as a professional photographer and wanted to use the course to refocus her approach and she has succeeded in that. She has won major awards and put herself on the map before even graduating.
"Projects like 'Asking for It' have the power to make a change by informing the public and challenging long-established views. In my opinion, art that makes you question the world around you is the best kind of art and Jayne's work certainly does that."
'Asking for It' was a Gold Winner in the AOP Student Awards 2020 in the People category. You can see more of Jayne's work on her website.