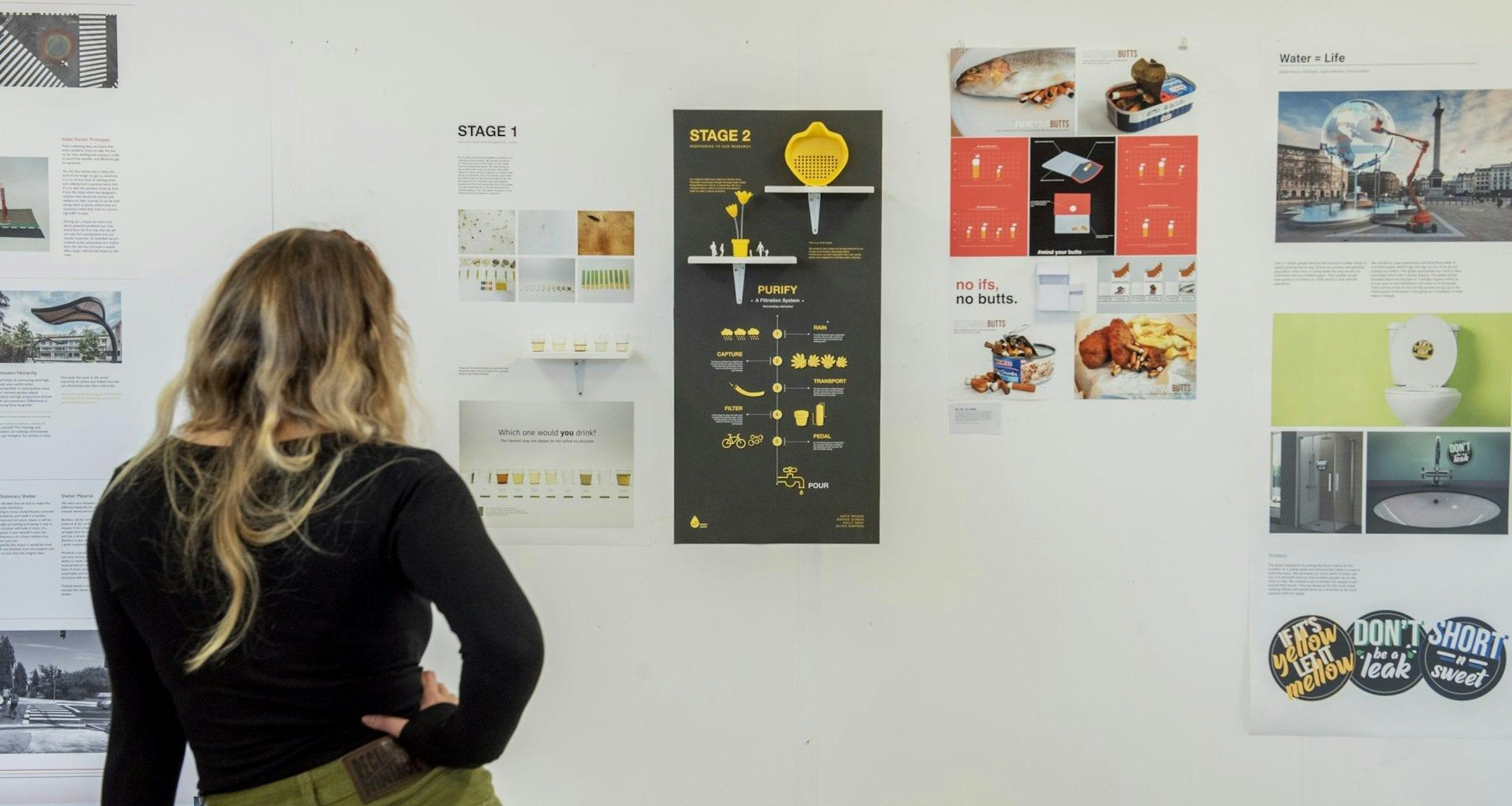 Students from AUB's BA Graphic Design course were tasked with using a group of five geodesic domes situated at Brownsea Island in October as inspiration for student work, resulting in an exhibition of work highlighting the environmental dangers posed by climate change.
The five interconnected domes, created by artist Michael Pinsky, replicate climate and pollution conditions in some of the world's most affected cities, including São Paulo, New Delhi and Beijing, were brought to Brownsea Island through a collaboration between AUB, Activate Dorset, Cape Farewell and the National Trust.
AUB's Graphic Design students looked at water pollution, using water samples from Brownsea Island which were examined for pH level and contamination, as well as industrial and solvent pollution 'Particle Matter', and the effects of 'fast' fashion on the environment.
The work came about through Alice Stevens, AUB's Senior Lecturer in Graphic Design and Founder of AUB Human, a space where the University celebrates social, ethical and sustainable creative practice by connecting designers, architects, filmmakers and creatives interested in bringing about positive change.
Alice said: "At AUB, our students and staff are using their skills to engage and address some of the most pressing issues that are facing the human race today. AUB Human explores how our university community is working together to make the world a better place, and this exhibition further exemplifies this effort.
She added: "Students were both amazed and appalled in equal measure by the Pollution Pods and Michael Pinsky's talk on campus, which demonstrated the devastating impact of climate change on the natural world.
"In bringing these issues to bear in assessed coursework at AUB, we recognise that our students; the designers and the creatives of the future, are at the heart of solving the climate crisis that we are facing across the globe."