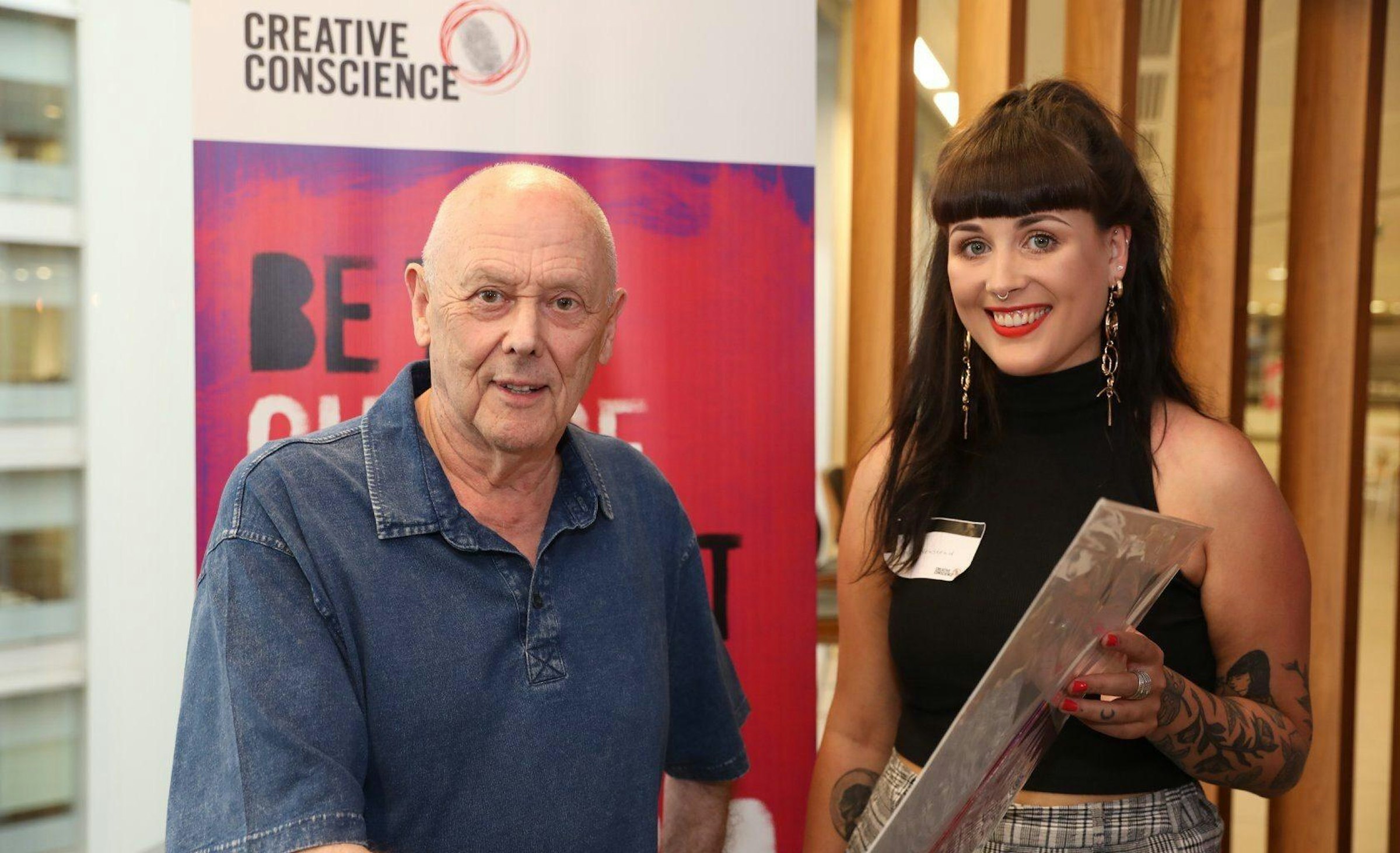 Arts University Bournemouth were delighted to attend the Creative Conscience Awards Night on July 9th in London. The event was held at the prestigious agency, AMV BBDO and attended by many industry professionals. Graphic Design students and alumni were delighted to achieve highly in the awards, winning Gold, Silver and Bronze.
Creative Conscience is a global movement that improves the communities we live and work in, helping to transform the wider world. We promote socially valuable, human centred design that enables and inspires people to change their lives and the lives of those around them for the better.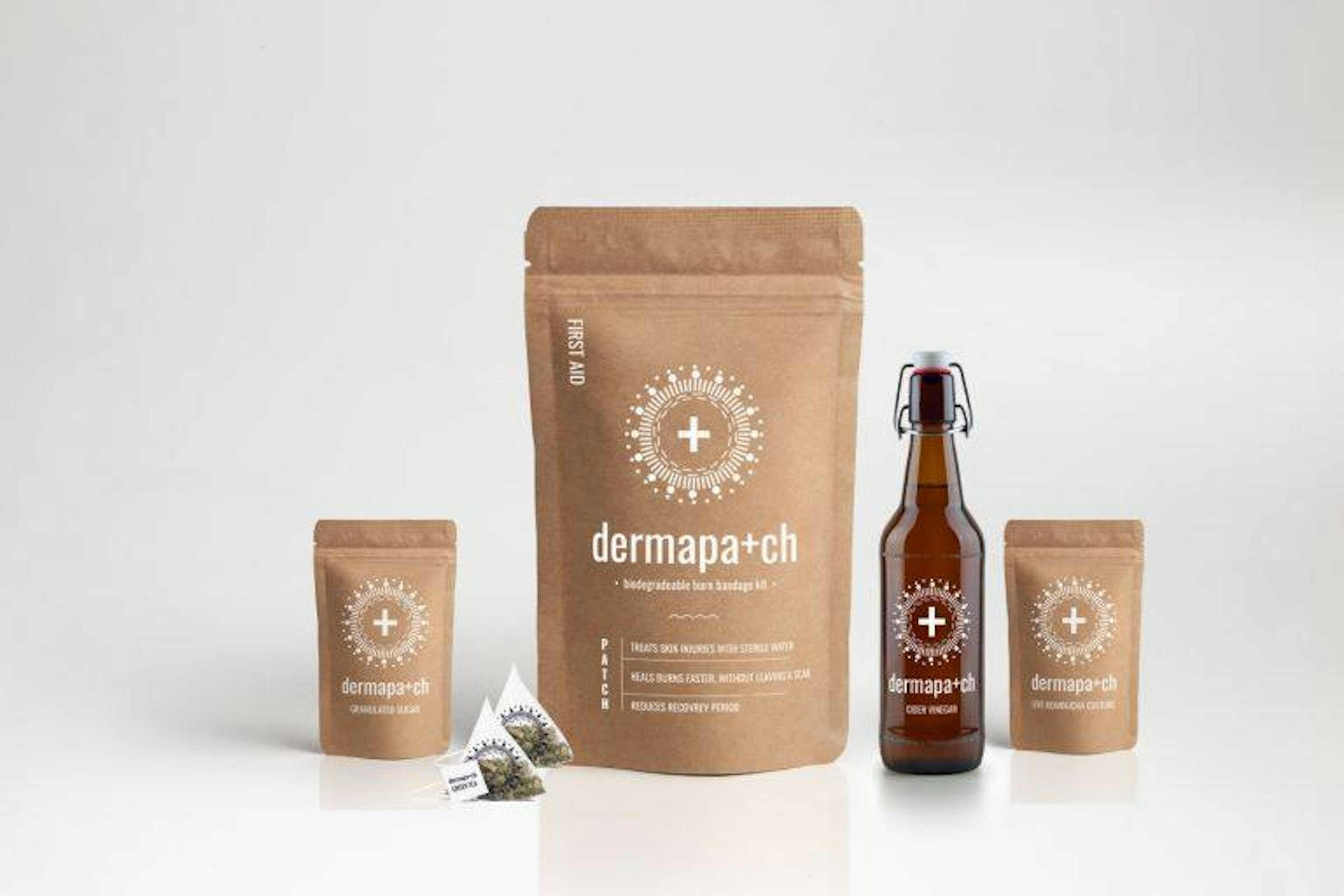 Graphic Design graduate Harriet Roberts received the Gold award for her project Dermapa+ch in the Product and Structural Design category.
Dermapa+ch promotes wound healing, in a practical and natural form. The patch can heal second-degree burns faster, without leaving a scar, and treats skin injuries using sterile water for immediate relief to the patient.
Harriet said: "Burning yourself is a very common occurrence, so much so that people don't provide the right treatment for the wound in order for it to heal properly, unless it is massively blistered. Running the injury under cold water relieves pain by taking the heat away, however, most people do not leave the burn under the tap for long enough in order to prevent scarring. In order for burns to recover well, need to be kept in a cold and moist environment and not left to air dry".
She added: "For this reason, kombucha is the perfect cool compress for burn victims. It can be saturated in clean sterile water and is ready to use on the skin for immediate relief. The bacteria used to make kombucha contain healthy attributes such as antioxidants and enzymes and the PH is well below the level that bad bacteria can survive ensuring the injury does not get infected. It has antibiotic and detoxification properties along with encompassing hyaluronic acid which keeps the skin plump and hydrated.
"The grow-your-own kit contains all the ingredients you need and explains step by step how to produce your own patch which can be used to advocate wound healing in cuts or burns to reduce the damaged tissue."
BA (Hons) Graphic Design student Steven Paul received the Silver award for his project Sol Buds in the Product and Structural Design category.
Steve firstly received recognition for Sol Buds by winning the prestigious Shine Award, an annual competition run by branding and packaging company, Coley Porter Bell. Steve not only won £2000, he was also awarded a three-month internship with Coley Porter Bell in London.
Steve was subsequently awarded 'Highly Commended' in the Dogs Bollocks Award and has just received Silver at the Creative Conscience Awards in the Product and Structural Design category.
Steve said: "Just one blistering sunburn during childhood can increase the risk of developing melanoma by up to 80% later in life. From my research I found out that most children get burnt every year! As a result of this I designed Sol Buds, a kid's 'stamp and spray' sun care range. The double sided, 'stamp and spray' bottles have the ability to stamp out sunburn with the accurate sun cream re-application indicating stamps. The water-resistant stamp uses photochromic inks (UV reactive) which take the guess work out of sun protection and provides an immediate visual indicator for when sun cream needs to be reapplied."
He added: "After winning my first silver Creative Conscience Award during the second year of my course in 2018, I realised I had a great interest in creating design that has purposeful social benefit. It gave me a real sense of achievement knowing that my design could have a positive impact on people's lives."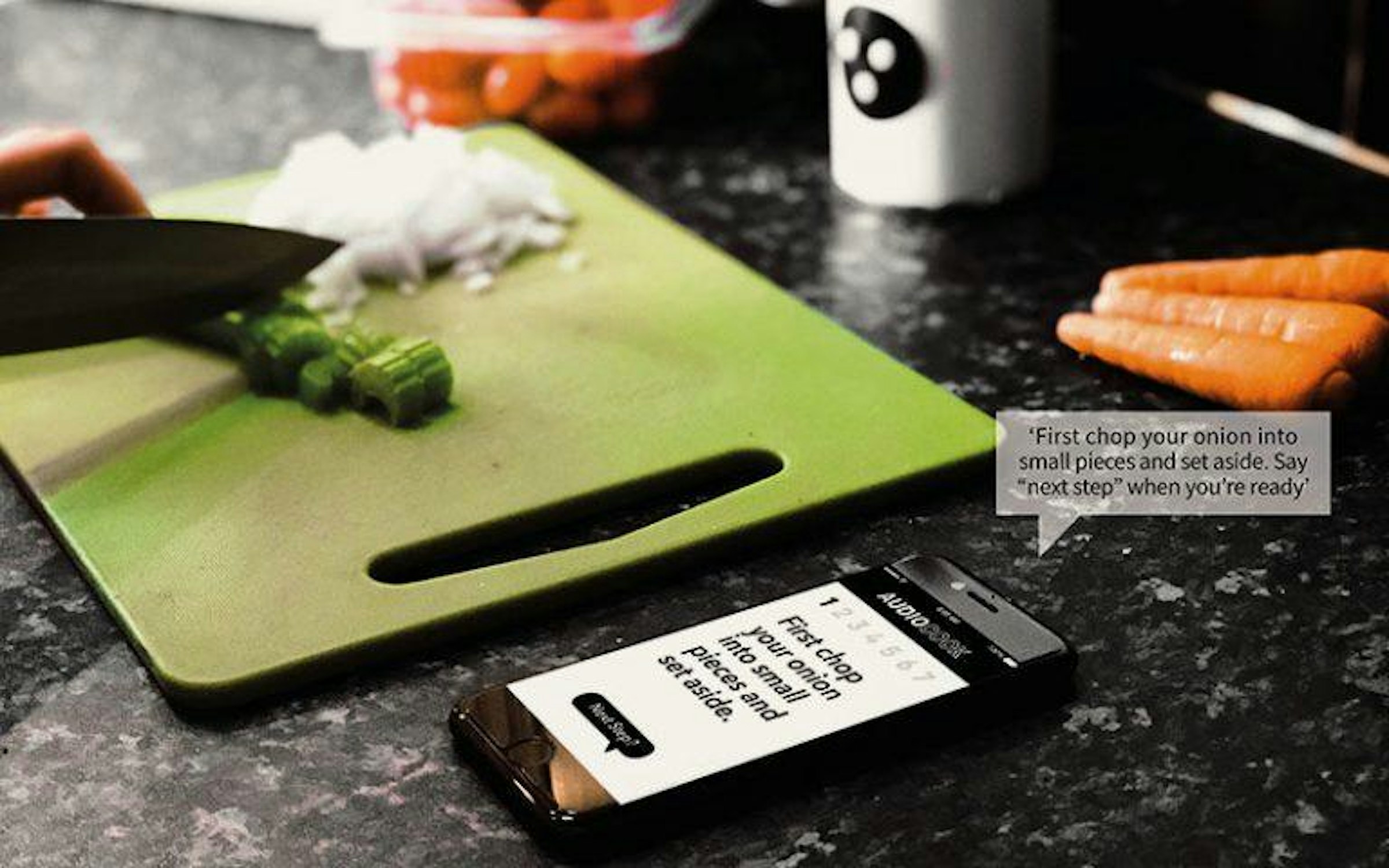 BA (Hons) Graphic Design student Dora Newstead received the Bronze award for her project, AudioCook in the Service Design category.
AudioCook is a recipe kit and app service designed for the visually impaired which features audio recipes and voice-controlled navigation for easy, eyes-free cooking.
Over 2 million people are living with sight loss in the UK, of which only 1 in 5 have received practical help with food preparation. Primary research with a group of partially sighted people informed Dora that there are too many obstacles surrounding cooking a healthy, balanced meal; so many people end up eating ready meals and following a generally unhealthy diet.
AudioCook offers home delivered, healthy meals that partially sighted people can enjoy cooking themselves at home using audio guided recipes and voice-controlled commands. The product makes preparing healthy, fresh meals achievable and enjoyable for the visually impaired and guides users towards regaining their independence, confidence and health.
Dora's work with a group of people who were partially sighted involved group discussions, prototype testing and teaching a cookery workshop. The cooking class informed her that with all the ingredients at their hands and with some guidance, the group were more than competent at cooking a healthy meal by themselves.
The group were incredibly enthusiastic about the idea of AudioCook, and were very excited about the idea that something like this could be created for them, and were surprised it had not been made already.
Dora said: "My motivation for this project came from visiting the Invisible Exhibition in Budapest. It was led by Julia – a woman who was visually impaired. She spoke to us about what it was like to lose your sight, before we were led into a pitch-black room where we were left to navigate around and simulate daily tasks such as crossing the road. The experience was so un-nerving and I had to leave early, and it really gave empathy for people like Julia and how hard and scary it must be to start losing your sight."
She added: "To be selected as a Creative Conscience is incredibly heartening. It has given me the confidence to continue creating socially valuable projects knowing that my work has been recognised. It is also incredibly motivating to know I have the ability to help improve the lives of others through graphic design, whilst simultaneously perusing my passion."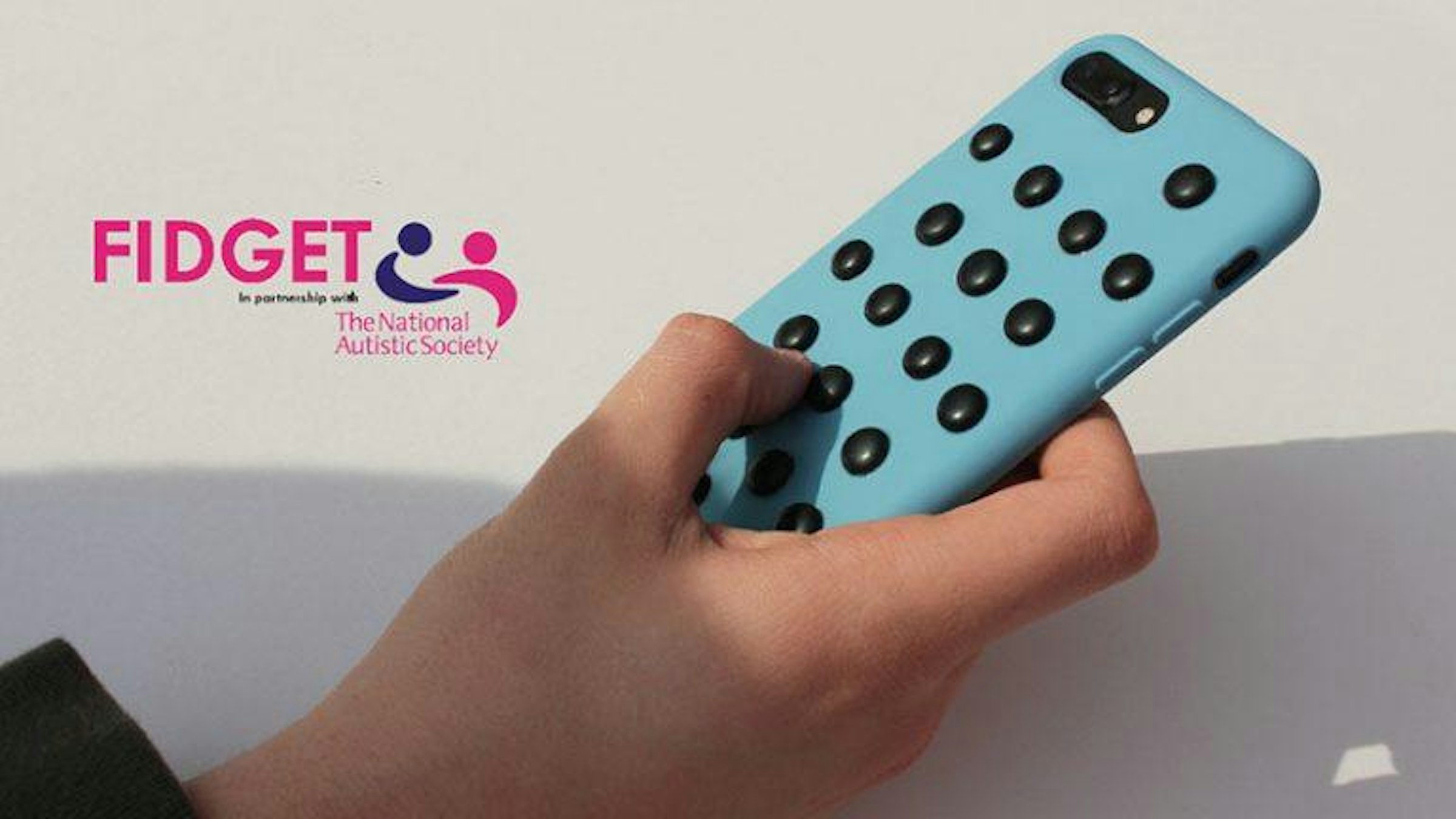 Georgia Wilkins received the Bronze award for her project Fidget in the Product and Structural Design category.
Fidget is a sensory phone case designed to manage anxiety. It is designed to assist young people with autism in potentially stressful scenarios. Sensory toys are becoming increasingly popular to aid focus and prevent distracting behaviour, ideal for young people with autism.
Finding discrete solutions to anxiety in public spaces can be difficult, but Fidget is easily accessible and can be used while listening to relaxing music on the go.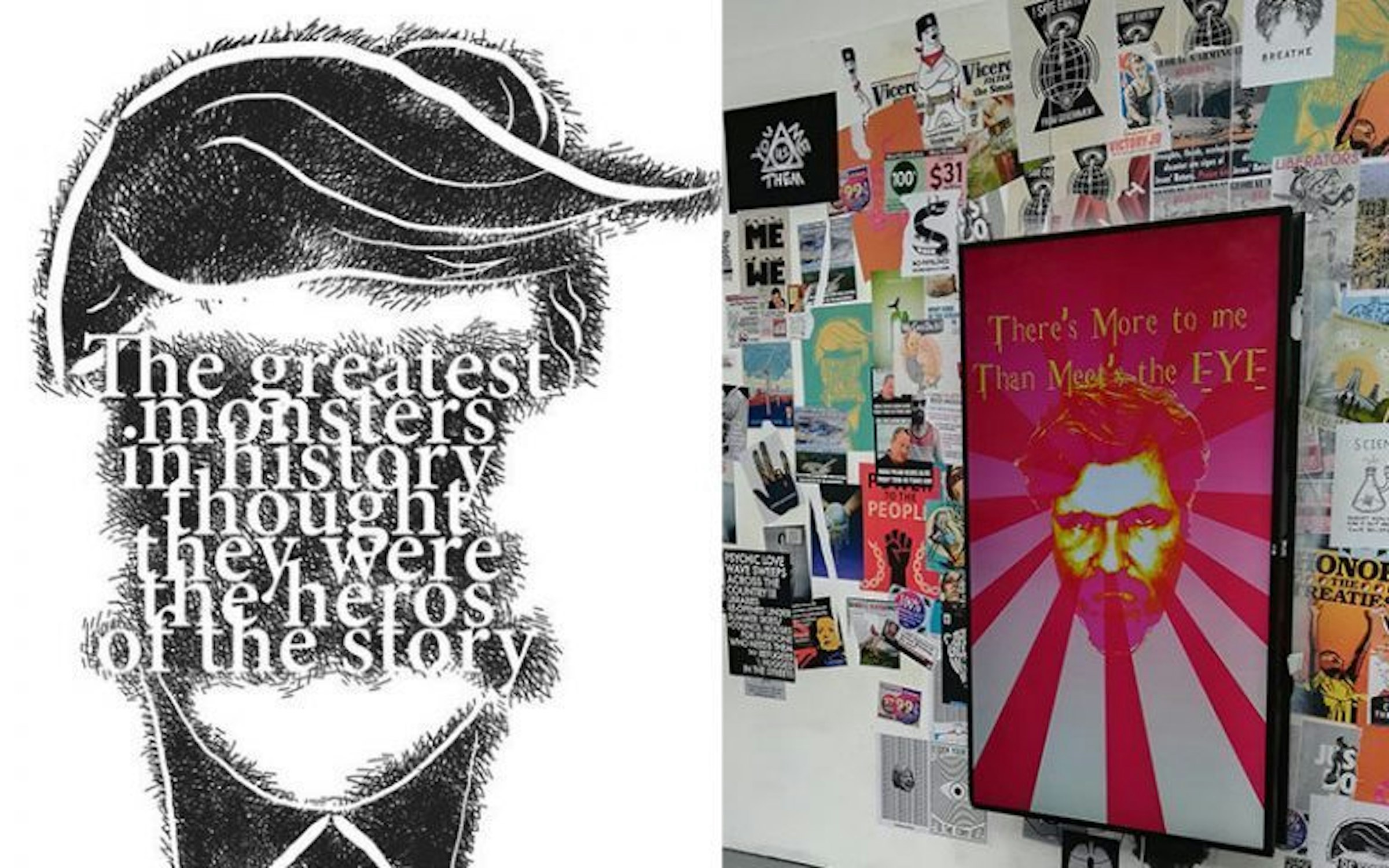 MA Graphic Design student JR Ryan received a Highly Commended award for his project Reset:AR in the Experience category.
JR received a Highly Commended award for his project, Reset:AR, a social network designed to de-programme individuals from the influence of propaganda and marketing affecting people every day.
JR said: "Reset:AR is a gamified augmented reality social network, similar to Pokémon Go, where verified editors create alternative propaganda content designed according to the principles of the Reset:Propaganda system."
He added: "Users engage with this content through their phones as an AR overlay on top of existing propaganda, revealing the true nature of the message or medium."