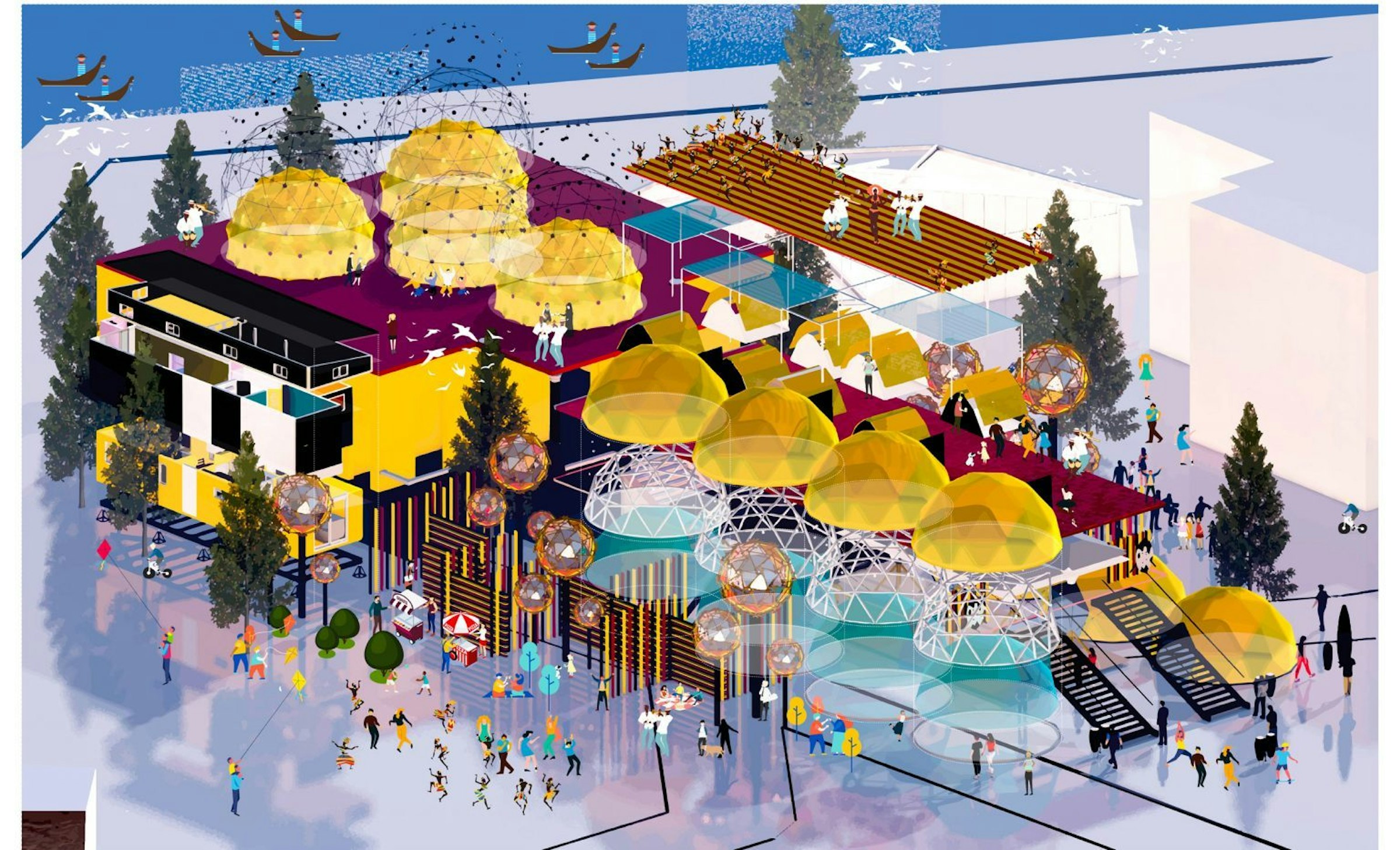 AUB M.Arch. student Joel Wallace Erabu has won this year's Nicholas Durbridge Award for Collaboration, after his design work for a travelling architectural show was praised by architecture and design magazine Dezeen.
The Ugandan postgraduate student, who has sought to see East Africa represented at the prestigious architecture and design exhibition in Venice, has won the university's top architectural prize after the debut of his architecture project Of Shadow and Colour at this year's Virtual Design Festival show.
Held throughout April and July by architecture and design magazine Dezeen, the world's first online Virtual Design Festival showcased more than 570 university student designs from across the globe, including entries from Austria, Jamaica, Lithuania, Denmark and Singapore.
Wallace's project looked at how a performance structure could traverse nations from Brownsea Island to Venice and Uganda, and was featured in the magazine's top 10 most interesting projects. His speculative structure would then remain as the Ugandan Pavilion at the Venice Biennale; commemorating the first time that the East African nation would be taking part.

Wallace said: "The aim is to incorporate my own national identity and cultural references within the design proposal, in the form of weaving techniques, fabrics, materials and the medium of dance.
"In creating a mobile theatre, it's my ambition to bring an increased representation of African culture to architecture. It's been great to explore AUB's link with the British Council, who I was able to work with to select schools in Uganda that could feature in my project."
Conscious of the environmental impact of construction and design work, Wallace also tries to create digital and virtual artefacts wherever possible, as well as using recycled materials like reclaimed timber.
Nicholas Durbridge is the founder of The Copyrights Group, which has been responsible for the growth and development of the Paddington bear brand since 1972. He judged Wallace on how his work had had a "consistently inclusive and collaborative approach in demonstrating how positive design can be in contributing and enhancing the world."
M.Arch. Course Leader Ed Frith, said: "Wallace has been part of a phenomenal cohort of M.Arch. students. Together they created Mutability, a workshop and installation in the British Pavilion at the 2018 Venice Biennale with AUB MA Fine Art students.
"Wallace's following Thesis Design for a Ugandan Pavilion, continued his multiple AUB collaborations; it is a tour de force of mutability, colour and performativity. We all look forward to its realisation at a future Biennale!"
Wallace intends to continue working on collaborative projects, as well as building invaluable connections with people like award-winning Nigerian architect Ola-Dele Kuku.

He said: "I am carrying on the spirit of collaboration & building connections with people like Ola-Dele Kuku, who inspired my project, and reflecting on how my vision can become a reality at the Venice Biennale 2021/ 22.
He added: "I've also found a new passion in the social media business model of architecture, which has cropped up from this new COVID-19 era."