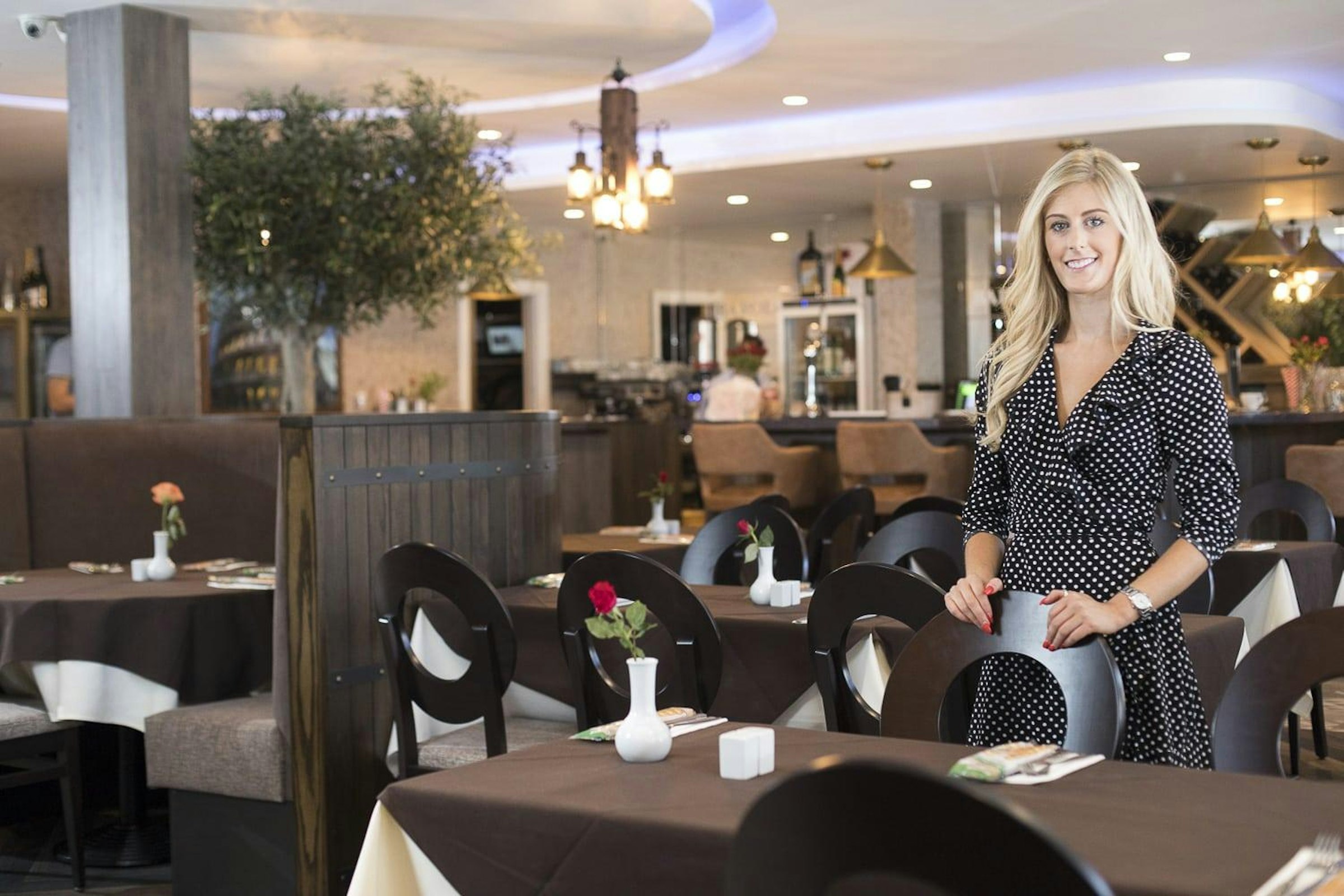 Since then Katie has gained experience with the Design Studio at Harrods and is a visiting tutor with AUB's BA (Hons) Interior Architecture and Design as well as teaching its Interior Design short course.
Katie now runs her own Bournemouth-based interior design business, KTM Design. We met up with her at one of her latest projects, the refurbishment of Ristorante Barolo, an Italian restaurant in Winton.
How long did this project take?
I started it in October. I got involved in the overall space planning, so working out how they could make the best use of the building meaning they could increase it to its full capacity. We've increased the number of covers in here by changing the layout. We've done this by getting in the booth seating and making sure it's really flexible. They have lots of birthday parties and Christmas parties here so it's about being able to do it so it can all be moved around.
So quite a complex brief then?
It was. They have such a strong client base, they wanted to make sure they still catch their existing clients, the more traditional, perhaps older people, whilst also making it quite contemporary and appealing to the next generation.
What's next?
We've just finished a big office in Poole and another one for an international fume extraction company. The latter is the global HQ for BOFA International and it won the Queen's Award so Prince Edward, Duke of Kent came down for its opening. But it's not just commercial as we're also doing quite a lot of high-end residential projects at the moment in Sandbanks and Canford Cliffs.
Do you prefer that?
No, I don't have a preference. Residential is more girly, it involves more fabrics for instance. With commercial it's more about helping the businesses, helping them make more money and increase their profile. But then with residential you really need to build up a good rapport with the client because it's such a personal thing for them and you're really helping their lifestyle. They're both very different. We also have a nightclub in Bristol that should be opening within the next couple of months. The Lost Paradise in Bournemouth is opening up a new Lost Paradise in Bristol and we also have some exciting hospitality and commercial projects in the pipeline.
And when you say "we"?
I've got a business partner, Tyrone Mings, who plays football for AFC Bournemouth. I've also got two interns from AUB at the moment. I've had four interns from March till now. I wanted to be an interior designer when I was 12 and I remember being 15 trying to get Year 10 work experience and getting constant rejections. It was the same in the first year, second year and third year, just getting constant 'nos' and I always said when I run my own company I would say yes to as many people as I can. And, if they're enthusiastic, it's lovely to be able to give them something back for it, so they know they're valued. There are so many placements where you don't get paid. They're things I feel really strongly about so it's nice to have them working with me.
They're from the BA (Hons) Interior Architecture and Design degree?
They are and I've got two more coming for the rest of the summer. It's great because they all email me saying 'our friends have done placements with you and they really liked it, can we do it with you?'. So that's good for the course. We have been doing a bar in Christchurch that's nearly finished and it's a project two of my interns have been focusing on. They're going into their third year and they're so good. They're really, really good students.
Finally, what's your one piece of advice to future creatives?
Frustration always precedes breakthrough.
Interested in studying BA (Hons) Interior Architecture and Design