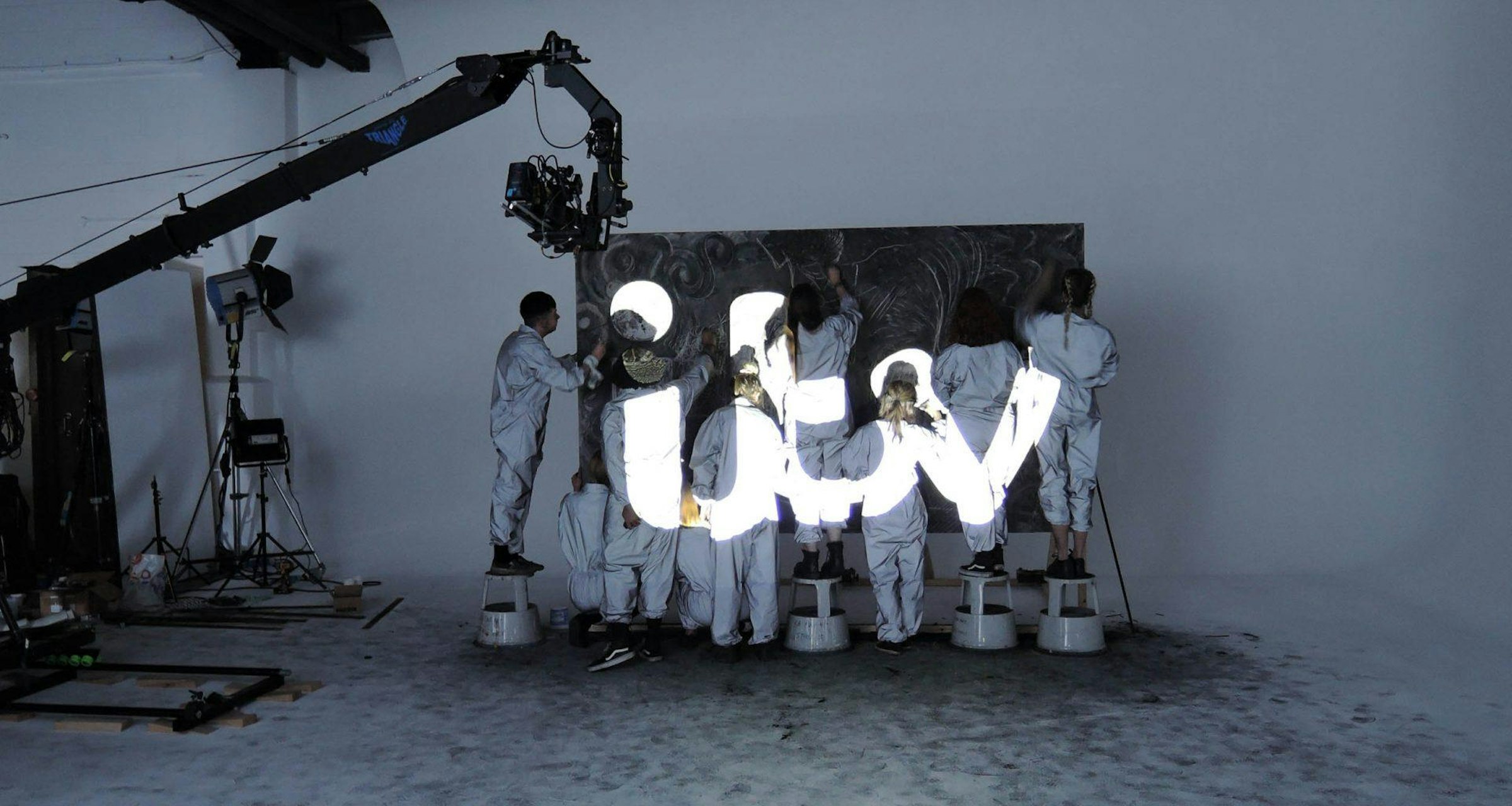 A group of eight BA (Hons) Fine Art students from AUB have been working with course leader Richard Waring to create a large-scale dynamic charcoal drawing of the ITV ident which will be shown to more than 38.5 million viewers on ITV1 from 5-9 August.
To complete the visual, a large projection of the ITV ident is beamed onto a 5 m x 3 m vertical drawing surface, with the students moving into this light in reflective boiler suits to draw with charcoal. The ident is then seen reflecting and refracting across moving bodies as students climb stepladders to add to the piece.
Course leader Richard Waring said: "This large-scale group drawing work is inspired by the collaborative nature of ITV and by the viewers vision and perceptions of space within the illuminated TV screen – the 2D picture plane.
He added: "It presents a team of students working together to achieve a goal that would be unachievable as an individual, showing that by working together people are stronger."
AUB Fine Art student Tilly Collins, said: "I had a really great time and I'm so glad to have had the opportunity to take part. It was a real pleasure to collaborate on a piece, with not only people from the course, but also the people from ITV. That fact that it's going to be on TV is just a bonus and makes the day even more memorable."
The intention of the work is to question how the individual artistry can be reshaped through a collaborative drawing process, using the 2D plane and medium of television to view depth through the art expressed on screen.
The work was commissioned as a result of the 'ITV creates' project, where ITV has collaborated with a number of artists across Britain throughout the year to create different versions of their television logo.
ITV Creative's Executive Creative Director Tony Pipes said: "Idents have been around since the dawn of TV and the way they have behaved has changed very little. We wanted to push against the prevailing convention that idents are set, the idea that they are moving wallpaper that last five or 10 years without changing.
"With this project, we've not only given a platform to some of Britain's best visual artists, but we've also found a way to continually entertain and surprise our viewers. This work reflects ITV as a 21st century broadcaster, part of the fabric of culture, as an endlessly creative organisation."
ITV's Director of Viewer Marketing Paul Ridsdale said: "Our current channel idents have been running for almost six years and whilst they have served us well, 2019 felt like the right moment for a change.
He added: "We think this new approach is fresh, distinctive and brings to life the energy and creativity at the heart of ITV. But above all else, we simply hope that viewers will enjoy this ever-changing look as they tune-in for their favourite programmes each week."
The ident was broadcast on the week commencing 5 August 2019 and introduced Good Morning Britain, Emmerdale and primetime news.