You are using an outdated browser. Most of this website should still work, but after upgrading your browser it will look and perform better.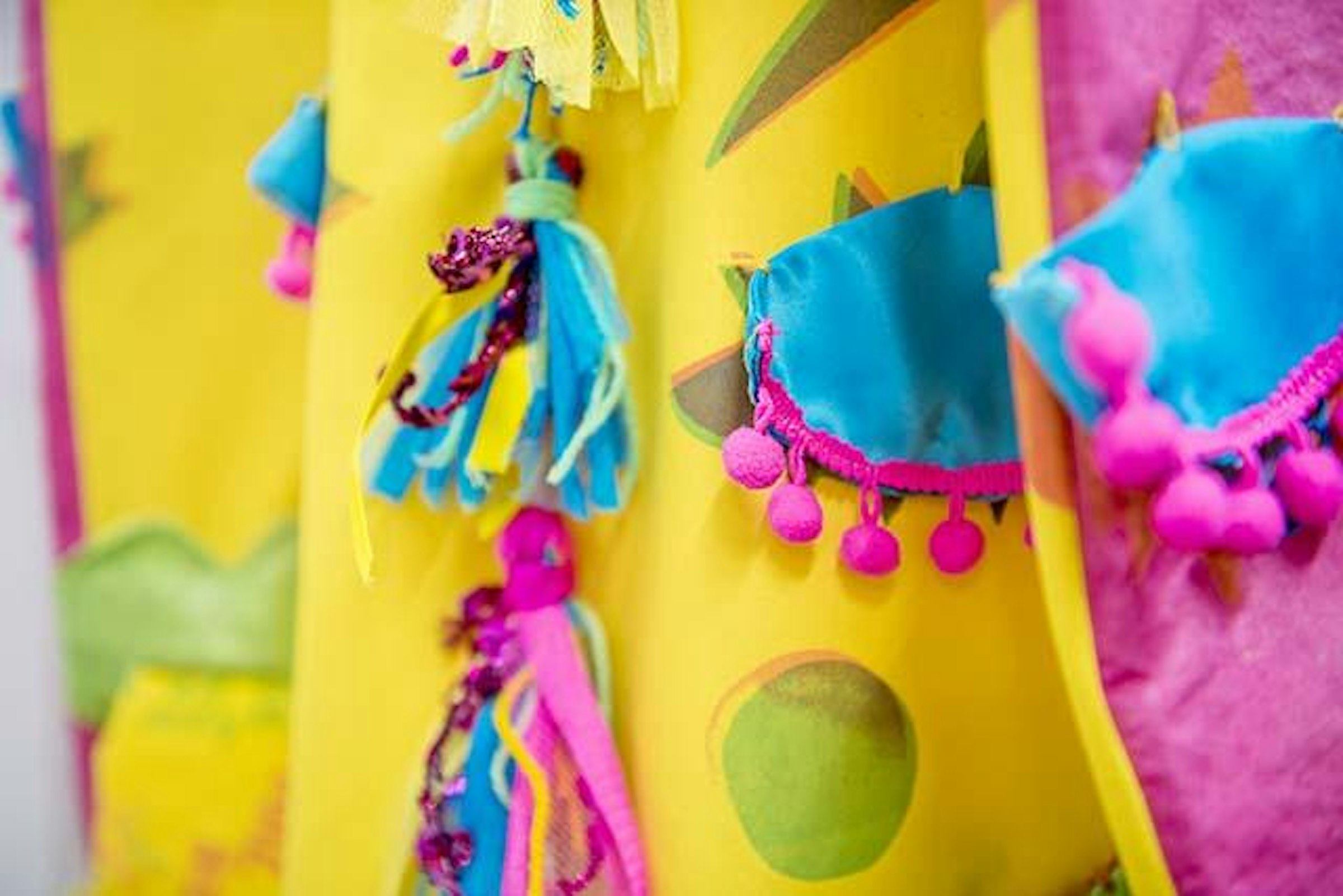 Fashion Design and Styling (stage 1)
Fashion Design and Styling (stage 1)
Ages:

12-15

Term:

Spring

Length:

8 weeks

Cost:

£219
Overview
This exciting course gives young fashionistas aged 12-15 the chance to develop their skills needed to confidently turn ideas into creative design concepts.
To book your young artist's place today, simply click the 'Book Now' button to be taken to AUB's secure online store, where you can complete your booking. You can also sign up to our newsletter for Saturday Art School updates.
What you need to know
When does it run?
Saturday 27 January – 16 March 2024

How long is the course?
What time are the classes?
Where does it take place?
Classes will take place on AUB's campus.
Your young artist will be taught in AUB's industry-standard studios.
Who's this course for?
This course has been developed for aspiring fashion designers and stylists aged 12-15.

Does my young artist need any qualifications or experience?
No. This is an introductory course, so your young artist doesn't need any previous experience, just buckets of enthusiasm!
I'm not sure if this is suitable for my young artist. Can I speak to someone?
Yes of course! If you'd like to discuss if this course is suitable for your young artist, get in touch with us: email saturdayartschool@aub.ac.uk or call +44 (0) 1202 363222.
Why should you choose this course?
This course is designed for budding creatives to be curious, playful, and eager to learn more about and immerse themselves in the world of fashion.
Your young artist will learn alongside up to 16 other like-minded youngsters, make friends, and have fun along the way.
At the end of the course, your young artist will leave with an increased confidence in their abilities, have a wealth of new skills that they can apply to their everyday life and beyond, and an excitement for future art and design studies.

How much does this course cost?
What's included in this price?
All course materials and resources
What should you bring to class?
Everything your young artist will need to take part in the course will be provided by us – no hidden costs!
Classes are practical, so wear clothes that you don't mind your young artists getting messy
About this course
On this fashion course, your young designers will explore the full fashion design process experience, from idea to styling the final concept. Their confidence will develop whilst experimenting with design, working on idea generation, and focusing on creativity while also developing their technical skills. At every turn their own personal and explorative approach will be celebrated and encouraged.
Budding designers will be introduced to key concepts in fashion design and will be encouraged to develop their own visual identity and showcase their creative voice through their fashion designs.
Your young artists will explore the fundamental skills and techniques needed in fashion and textiles and have the chance to experiment with a wide range of fabrics, accessories, and textile techniques.
Along the way your young makers will utilise sketchbooks to better understand colour palettes and fabric manipulation as well as record fashion shapes. They'll take part in practical workshops to translate ideas and consolidate their knowledge and put newfound skills to the test.

Explore key concepts in fashion design and promotion
Research and experimentation with colour palettes, fabrics, and textiles
3D experimentation making paper jewellery
Fashion illustration and drawing the fashion figure
Surface embellishment in beading, embroidery and patchwork and mono printing
Practical workshops in draping, sketching, deconstructing garments
Creating your own upcycled fashion piece
Please note: This is not a 'clothes making' course, students shall focus purely on fashion design and styling
Possess improved artistic and design skills
Have developed sound knowledge of colour palettes, fabrics, and textiles
Be able to use a range of different techniques to embellish their designs
Possess a fundamental understanding of the fashion skills and techniques required to develop the design process
Have increased confidence in their own skills
Have boosted creativity and imagination
Untap their potential and talent
Appreciate the importance of good time management
Be encouraged to experiment and explore their ideas
Appreciate teamwork and team building ethics
Feel inspired by the new skills they've learnt and from sharing ideas with new friends
Have the foundations to continue creating beyond this course
All students with 100% course attendance will be issued with an official AUB Saturday Art School certificate of attendance.
After this course, your young artist could:
We understand how important young creative artists are – they've so much potential, untapped abilities, and enthusiasm
Your young artist will study at a leading specialist university – we know what we're doing when it comes to providing unparalleled courses
We encourage your young artist to be themselves and explore their existing interests; as such we harness their natural style and flair to enable them to develop their unique creative voice
Our tutors are industry professionals, so they'll learn from the best
We cater for all abilities and have no formal entry requirements for this course, so there's nothing holding your young artist back
Your young artist will learn in a safe and encouraging environment where there's no right or wrong way to be creative
They'll learn 'by doing' and always feel fully included, respected, and supported
They'll benefit from our incredible campus and its industry-standard studios, and use state-of-the-art equipment and software to unleash their creativity
Meet your young artist's tutor