You are using an outdated browser. Most of this website should still work, but after upgrading your browser it will look and perform better.
We're delighted to have you join us at Arts University Bournemouth, and hope that your time here will be rewarding, challenging, creative and enjoyable.
Arrival and your first week
Welcome to MA Historical Costume at Arts University Bournemouth where we look forward to spending time working with and supporting you as you make great leaps forward in your learning and understanding of the creative sphere!
Starting at AUB
What's new...
All MA Historical Costume students will be able to access the studios at least one day per week, within their allocated 'bubble'- there are 2 groups and you'll have studio access for 2 days per week. There will also be lectures, seminars and individual tutorials on allocated days and these will be online. There will be designated workshops held on campus and you will be timetabled in your groups for these. There are also open studios every evening from 17.00-19.00 when you can access equipment. You'll be allocated an evening or series of evenings on a sign-up basis.
The first day on campus is on the 21 October. Please check your timetable on myAUB for the exact time and location.
Induction and your Timetable
You'll be emailed soon to enrol onto the course. It's important that you enrol by Monday 28 September so that we can set up your timetable.
Once you have enrolled you'll be able to set up your student login to access your email account and more information via the myAUB portal.
If you enrol before the 28 September then your timetable will be available through myAUB by Monday 12 October. This will let you know when and where to arrive on campus in the first week and the timings and how to access any remote learning sessions.
Back to Campus
Watch our 'Back to Campus' video to see what changes we have made in preparation for your arrival.
Explore more
Overview
We're delighted to have you join us at Arts University Bournemouth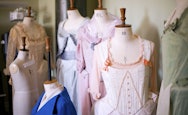 Preparing for your course
Welcome to the MA Historical Costume course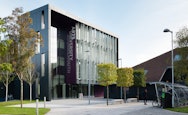 Next Steps
Find out the useful dates and contact before you start here