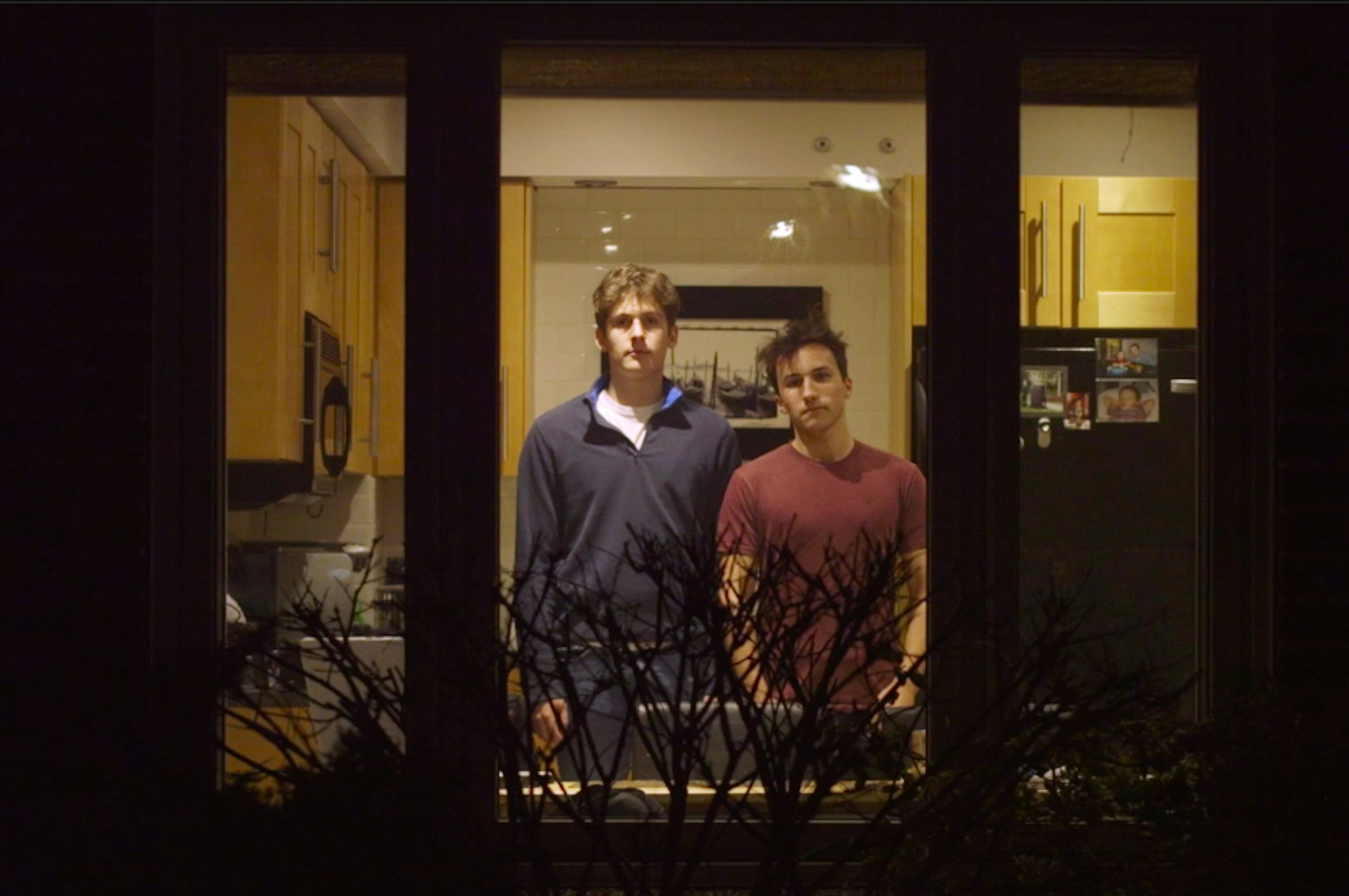 Graduating AUB's Foundation Diploma in Art, Design and Media in 2019, Charlie Hill is now studying Film at Ryerson University and is currently under similar lockdown conditions to the UK in Ontario, Canada.
Despite difficulties in filmmaking under COVID-19 restrictions, Charlie and fellow Ryerson film student Max Mezo decided to use the unusual situation to creatively showcase differences between households living at home in their neighbourhood during the pandemic.
He said: "Due to strict COVID-19 measures in Canada, Ryerson University has been completely online since March last year. I wanted to keep making films so I had to get creative and work around the lockdown measures."
The eager duo, who are both fans of alt-rock-indie-folk band The Neighbourhood Watch, approached the Toronto-based group with a view to shooting a lockdown music video to support the release of their third album, Lost in Bloom.
Charlie added: "During my time on AUB's Foundation Diploma, I met some amazing people and found my love for film. I discovered the Japanese photographer Shizuka Yokomizo through one of my suggested readings for the course, and I was instantly inspired to try something similar to her images of people she asked to stand in their windows."
After the band expressed an interest, the pair then managed to convince 27 households to take part in a socially-distanced shoot; asking them to dance and respond to a rolling video camera beside their residence's window.

Charlie printed flyers and distributed them across his local area to gain actors, but his efforts initially met without much success or interest. Determined not to give up, he then took his idea online, posting to a range of local social media community groups on Facebook, with a large response from those living nearby.
Speaking to local Toronto newspaper The Star, participant and local resident Andrew Weeks, said: "It was something to do to break the quarantine up a bit. They had posted online about it and my wife were kind of thinking this would be something fun to do, an experience and also to help out the guys because they're going through school and trying to make these videos.
He added: "Our kids are teenagers, so it was something to get them out of their shells as well. It was just something fun to do."
Speaking about his time at AUB, Charlie said: "I'll always look fondly upon my time at AUB and couldn't recommend the Foundation course enough for those who have even the slightest interest in pursuing art in some capacity. I still keep in contact with many of my peers from the course."
AUB's Foundation Course Leader Josh Read, said: "Charlie's film us a great example of what can be achieved during lockdown and many of or students are currently producing fantastic work under the same conditions. On the Foundation course, we encourage this innovative practice and creative risk-taking, giving our students the best tools for developing great ideas and outcomes under any conditions.
"Charlie's video portrays what we are all going through now and how we can all deal with the situation in our own individual ways, to overcome the distance between each other. "
Charlie is also working on another music video with fellow alumnus Nick Denisov, who studied BA (Hons) Film Production at AUB, who's currently under lockdown in Russia. For now, he and Ryerson filmmaking partner Max remain focused on completing their studies in Film at Ryerson over the coming months.