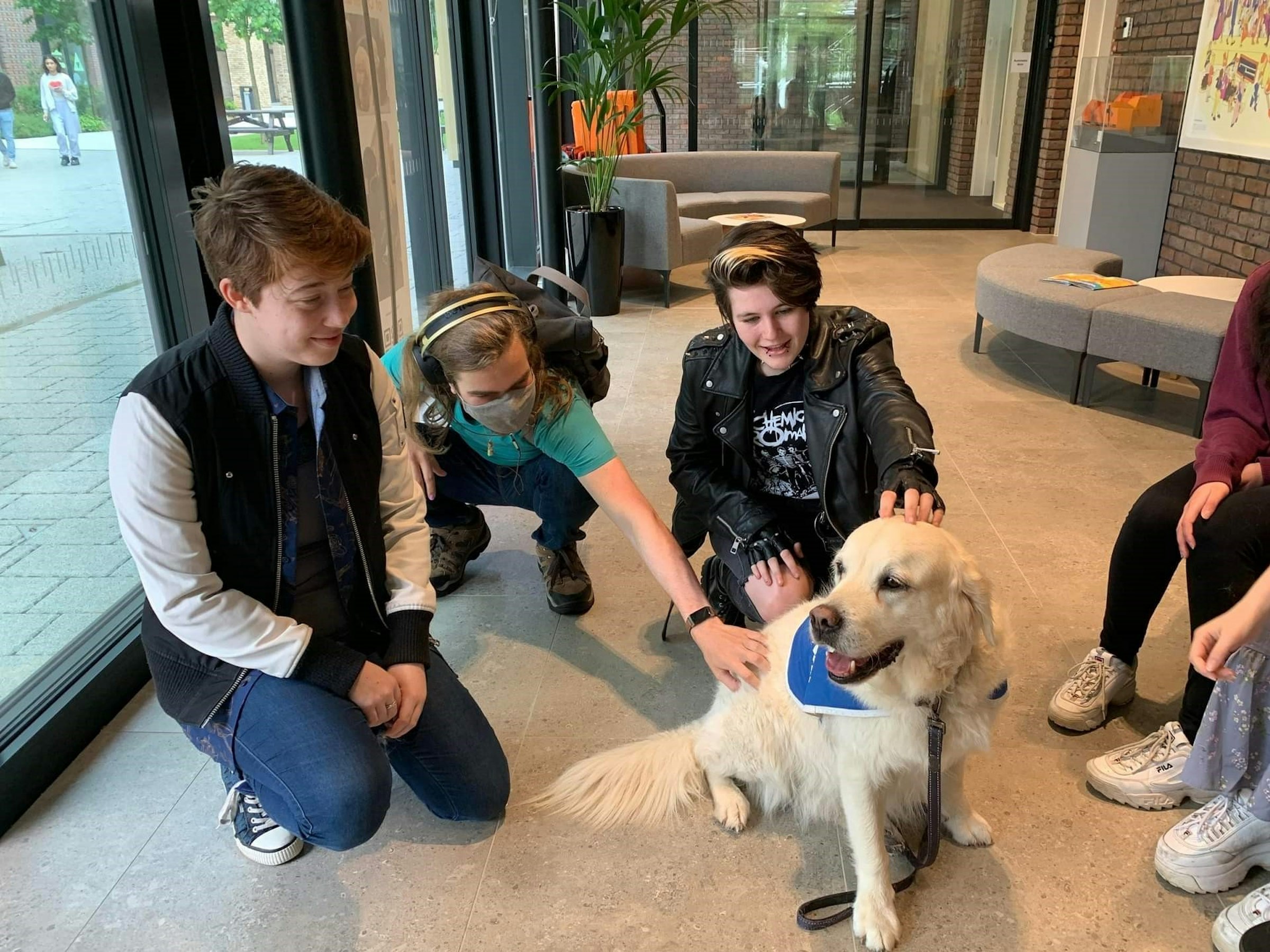 Staff and students from Arts University Bournemouth have enjoyed a visit from Dorset-based canine charity Helpful Hounds.
Helpful Hounds, which trains assistance dogs for use in a variety of situations, visited students at the University to support AUB's pastoral care activities, engaging students from a wide range of courses and backgrounds.
The drop-in session, which was held at the University's Campus Halls welcomed a steady stream of staff, students and visitors, including Minister of State for Northern Ireland, Bournemouth West MP Conor Burns, who was on campus to visit Vice Chancellor Professor Paul Gough.
Helpful Hounds supports families, adults and schools experiencing a range of neurodivergent conditions, disabilities and disorders, including Autism, Down's Syndrome and a range of mental health conditions.


Peter Rufus, Volunteer CEO at Helpful Hounds, said: "Helpful Hounds Assistance Dogs is always delighted to support Arts University Bournemouth and Bournemouth University and has, over recent years participated in events, Student Assignments as well as Cuddle a Dog/De-stress days for exams, and Freshers' week.
"Our Helpful Hounds Raffi and Lulu visited AUB during exam week and had a really great day. The presence of calm dogs combined with the opportunity for tactile communication with cuddling and stroking always has a relaxing and uplifting effect. Lots of smiles and relaxed attitudes were evident from the dogs as well as the students!"
Carrie Packer, AUB's Senior Student Services Officer who organised the event, said: "A key focus of AUB Community's programme is to help students achieve and maintain good mental health and wellbeing. We are really lucky to be able to work with various organisations to support our students with this, and Helpful Hounds are terrific.
"The dogs are calming company for the students, encouraging students to relax in their gentle presence. It was lovely to hear the students connecting and sharing stories and pictures about their own pets – there was definitely a happy chilled vibe."
She added: "Students have remarked that stresses can 'fall away' in the company of dogs, whose friendly and fluffy faces have definitely brightened up our campus!"
The charity receives no Government funding and trains its own specially-selected puppies that will go on to change lives and help people achieve their potential. After 18 months to two and a half years, the trained pups will then go on to be placed with a young person, school or adult.
To read more about Helpful Hounds Assistance Dogs, visit: helpfulhounds.org.uk