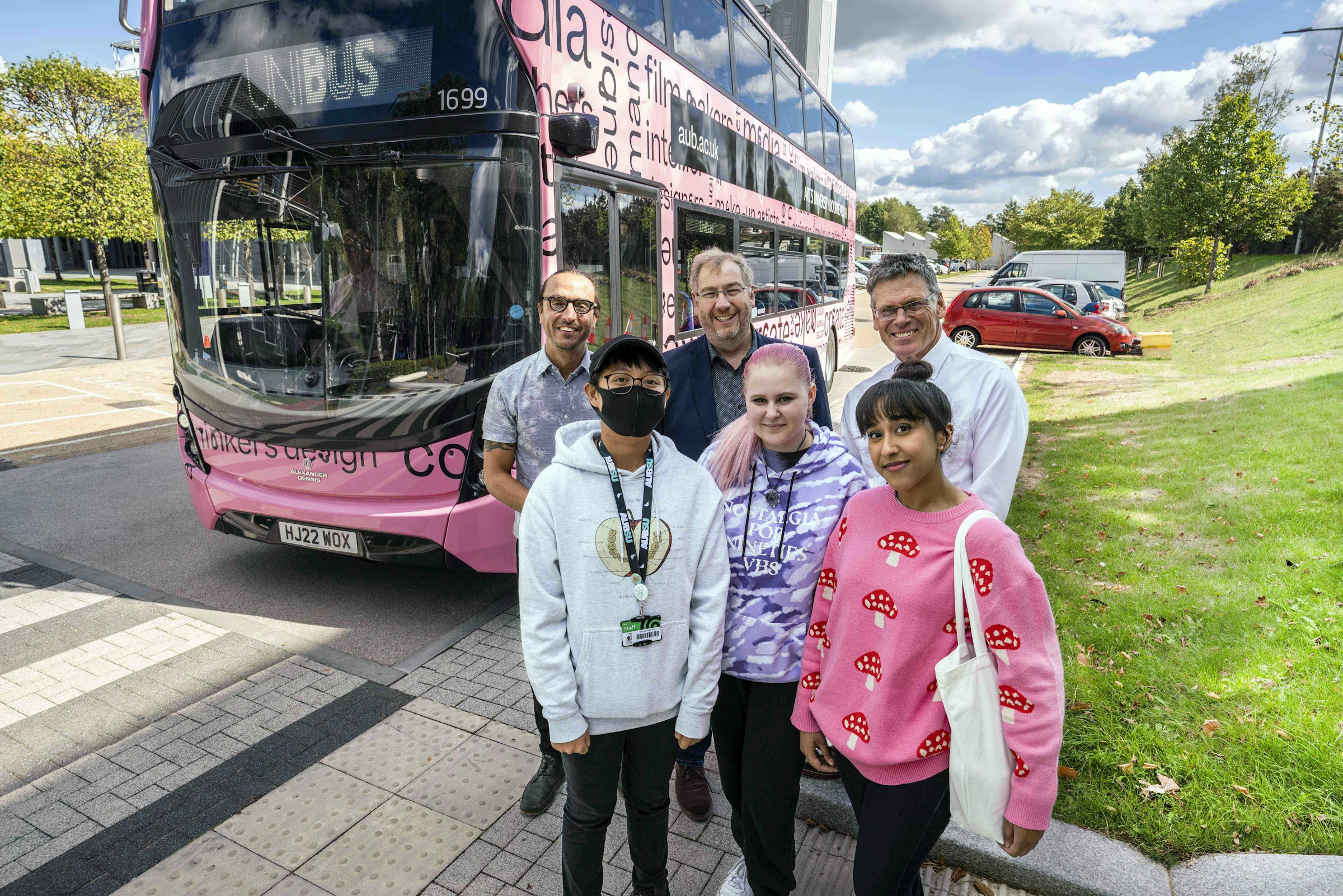 Arts University Bournemouth (AUB) and neighbouring Bournemouth University (BU) are continuing their partnership with Morebus with a fleet of new buses.
The Unibus service offers students, staff and the local community routes from Talbot Campus through to Lansdowne and onto Poole and Southbourne. Through vibrant and playful wingdings text, AUB's three new bus liveries explore creative industries enriched by AUB graduates, including fields of art, design, media and performance.

James Jackson, Environment and Sustainability Manager at AUB said: "AUB is delighted to continue working in partnership with Bournemouth University and Morebus to deliver a first-rate bus service for students, staff, and the wider community.

"Facilitating community movement, where self-propelled isn't an option and car journeys are reduced, allows a community to connect and improves well-being. The lower emissions from the latest Euro 6 buses will contribute to improving air quality and AUB's net zero ambitions in the immediate and long-term future."

Andrew Wickham Morebus Managing Director, said: "We're very proud of our continued partnership with Arts University Bournemouth and Bournemouth University, and of this latest investment in new buses to operate the Unibus route.
"I hope those who travel with us will agree that these impressive new state-of-the-art ADL Enviro 400 double decker buses - with USB chargers for smart devices, free WiFi and the very latest low emissions Euro 6 engine - offer a superior level of comfort.
"The aim is to make sustainable transport a more attractive proposition, in order to entice people out of their cars. One full double decker bus can take up to 75 cars off the road - and this investment is a huge step in that direction, as there will now be 15 such vehicles in the Unibus fleet."
Since launching its first Sustainable Transport and Travel Plan, AUB has been committed to investing in measures, initiatives and infrastructure to promote sustainable travel behaviour, including the introduction of university bus services, sheltered cycle racks and other cycle storage provision, as well as incentives such as salary sacrifice schemes and interest-free loans.
The University also hosts two Beryl Bike hubs on campus, outside of Campus Services (opposite AUBSU), and beside Campus Halls of residence.