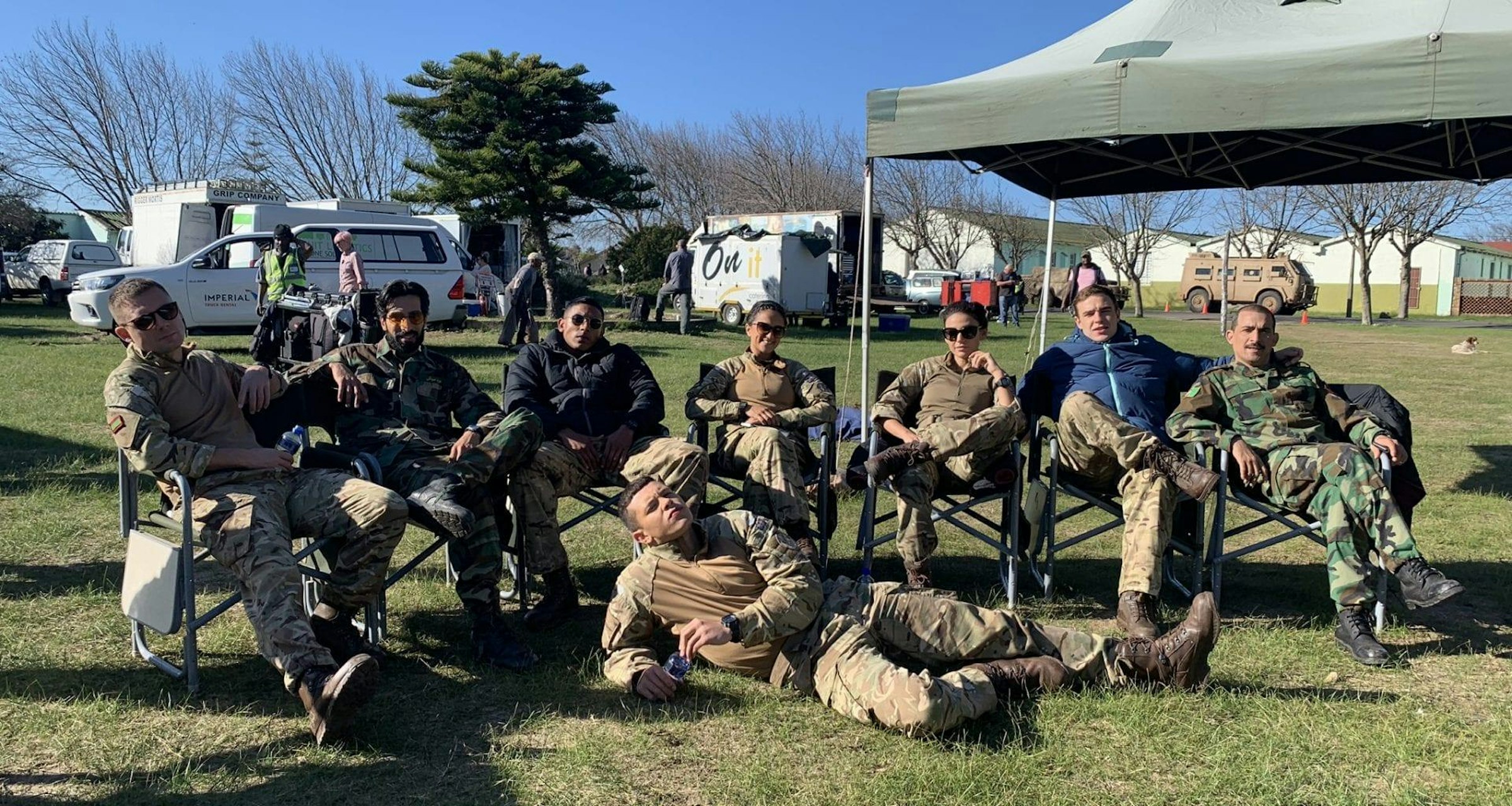 Things really took off for you with 2018's mini-series The Looming Tower, but what was it like transitioning to TV series Our Girl?
To be a part of a 6 part series is different, there's more work. In terms of professionalism both productions were on point. They're obviously two different stories, two different characters, but I was lucky because both productions were shot in South Africa, so I wasn't a stranger to the country, so it was nice to go back and be there again.
What's it like seeing yourself on TV? Are you used to it yet?
It's weird! I usually don't watch myself on tv; whenever my parents or friends are watching me I usually just walk out the room. I don't think it's something that I can get used to, but if I do watch myself on the tv it would be so I could assess my performance, see what I can do better, see what my strongest parts were, keep developing and keep strengthening those skills.
Is that something you learnt to do from your acting days at AUB?
Absolutely yeah, AUB gave me everything that I needed to get into the industry. They gave me a clear foundation of all the skills that the industry requires from me.
Have you found yourself using any specific skills from AUB while working on Our Girl?
Oh yes definitely, there are two techniques that I always use: 1 is that I make a character mind map, which is basically a breakdown of all of the small details of the character: what does my character like to eat? What's his past? Does he have siblings? How close is he with his siblings? Just to get a feel of the character and give me a chance to merge into one with them.
The other technique is making a timeline. On every production that I'm in, I always make a timeline, for example when we shot the 6 episodes of Our Girl, we don't start from episode 1 to 6. Sometimes we start from episode 5 scene 3, and then the next shot we take could be episode 3 scene 36, so making the timeline allows me to see where I'm at certain stages.
I write down things like what I wore or what I felt in the scene, emotionally, physically. It's a psychological thing, in order to play the character you have to live it, in some ways. Those are some of the skills I took with me from AUB.
What's it like working with a director, is it different at all to your time acting at AUB?
Yeah, it's definitely different; it's harsher and much more real. At AUB we were allowed to make mistakes – although you're still allowed to make mistakes here. I think making mistakes is really good; you can only learn from failure. But yeah working with a professional director is definitely different.
Did you feel prepared to work with a director in the industry post university?
Yes, absolutely. Professionalism, that's the first thing we were taught at AUB. How to be professional when you meet with directors or producers, how to behave, your manners. I wouldn't be able to know what to talk about with a director if I hadn't gone to AUB.
It must get pretty intense at times acting on set, what do you do in your downtime in-between shoots, or even on your days off in order to decompress?
With Our Girl I had a lot of days off, as I was out there for about three months. It does [feel like a holiday] which is dangerous, because if you fall into that mood it's very hard to get out of. We exercised a lot; we climbed a lot; we always went with a couple of cast members to the mountains and climbed. We'd always find something to do.
On set in-between scenes we read, again exercised, if someone had a football, we'd play football, we'd rehearse different scenes for different days, but most of the time we were just hanging out with each other really, just chilling or eating – you eat a lot!
From your Instagram and the Our Girl cast and social pages, it looks like the cast all get on really well – did it feel important to maintain a sense of camaraderie while shooting?
Yeah, I mean I must give a shout-out to Julia Crampsie who cast us. She's a casting director for the BBC, and she's brilliant because every single cast member that's in Our Girl all clicked from day one. I especially got on with Michelle Keegan, who I was kind of intimidated by at first because she's a big actor, so it was a bit scary but she was very genuine, kind, loving and warm.
Michelle was very helpful too; if I ever needed some help she would always be there as well as the rest of the cast who were just fabulous really. We felt like we'd known each other for 10 years; that's the kind of energy we had with each other. It's vital to maintain a healthy and peaceful work environment with the cast, and from all of the productions I've done I think Our Girl stood out for me.
Our Girl finished filming last June, have all of the cast managed to keep in touch?
Yes definitely, we all saw each other not too long ago actually – we had a screening for episode 1 two weeks ago, so we all got together. Sometimes we FaceTime each other and have a little chat.
Obviously because of this COVID-19 lockdown we won't be able to meet physically but yeah we're always on the phone, always chatting with each other.
Is there anything you've been doing since that you're allowed to tell us?
So right after Our Girl I flew to Georgia where I shot a feature film. I can't give the title away unfortunately yet, but that should be exciting.
Do you have any advice for acting students out there who are looking to make the move to TV?
I'd say to stay strong and to never give up. Although we're all going through this hard time during this Covid-19 lockdown, it's very important to stay positive and committed. It's not only affecting the arts industry, it's effected the whole world.
This will pass, I do believe that, and when it does, you should be prepared for the industry. Whilst you're sitting at home, spend your time wisely; strengthen your skills, meditate, exercise, read. Don't be afraid to contact casting directors or agents. They do understand what students are going through right now.
I've actually spoken to a few casting directors and they're being very generous to graduates, they do understand so don't be shy or afraid to contact them. Just don't get lazy! I've been in self isolation for the last 12 days, and I read stuff, do my research, do online workshops.
Do you have any final tips then on how to stay positive during this time?
I read a lot of scripts, to be honest. When I'm reading a script I can visualise it, and paint the images in my mind. Just stay positive! Have good energy, don't let yourself feel down.
Network, speak to your friends every day, we've all got phones so keep being active. And like I said, it's not just 'us', it's the whole world, it's every single industry that's affected by it. That's how I stay positive, I remind myself it's not just me, we're all in the same boat going through the same thing.
We've just got to wait till it passes and go from there.
Thanks Nebras!