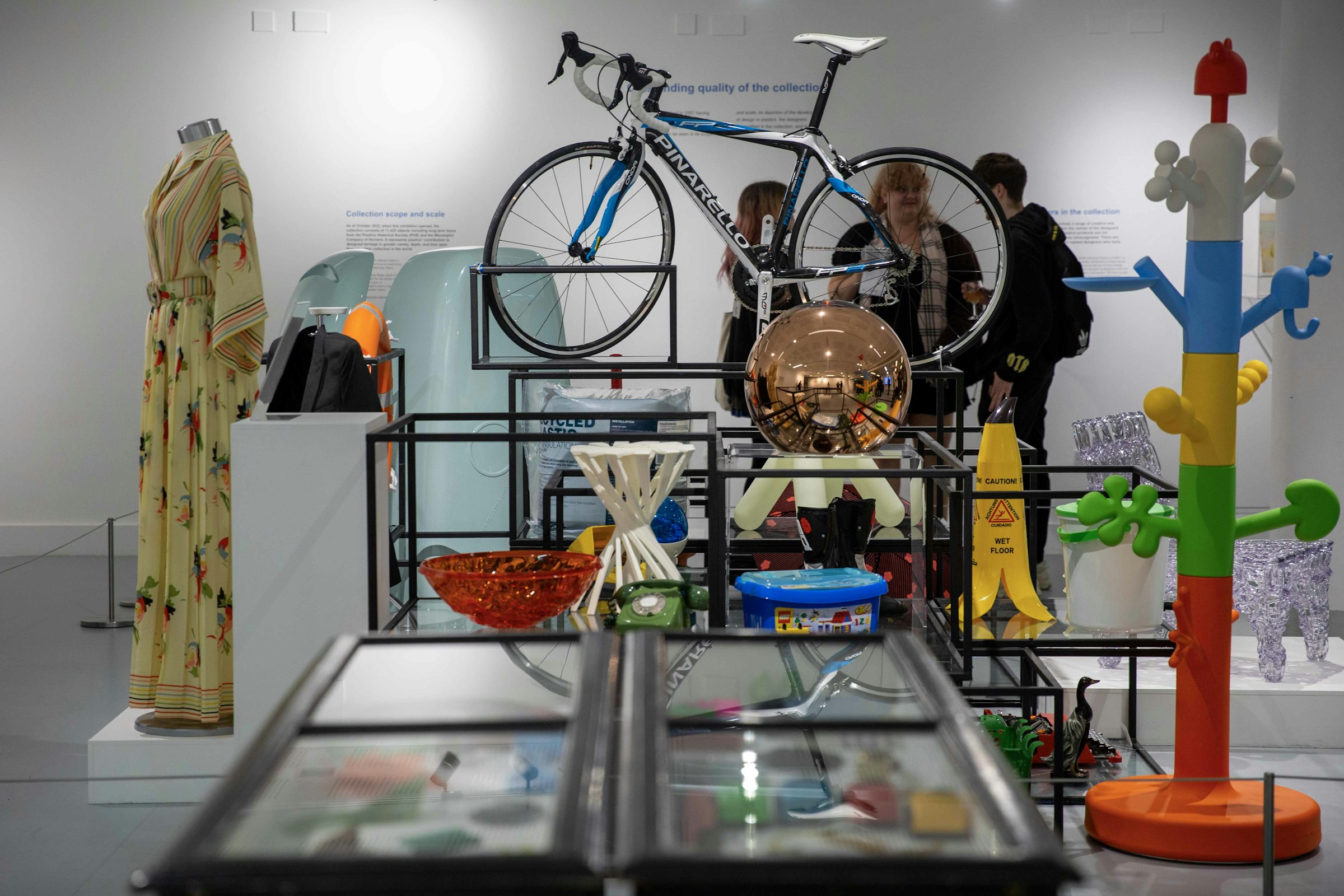 A selection of items from the Museum of Design in Plastics' Arts Council designated collection are on display at Arts University Bournemouth's TheGallery exhibition and art space throughout November and December.
Designated Design will celebrate the Designated status of MoDiP's collection awarded in January 2022 by Arts Council England. Named as a 'collection of national importance', the prestigious award recognises the significance of objects in the museum's care, as well as their quality and research value.
MoDiP's collection is the world's most comprehensive survey into how plastics have transformed the designed world. It uniquely charts the development of design in plastics from natural plastics to 3D printed objects and includes the work of many leading designers including Zaha Hadid, Kenneth Grange, Dieter Rams, Ettore Sottsass and Philippe Starke.
Curated by Professor Susan Lambert and Dr Louise Dennis, the exhibition provides a unique and outstanding resource for study and narration, encompassing a wide variety of objects, including items of synthetic clothing, a bicycle, Lego, furnishings, and cooking utensils.

Professor Lambert said: "Achieving Designation is a major landmark for MoDiP. It's wonderful to see the outstanding quality of the collection illustrated in this exhibition, which brings home how valuable plastics can be."
Also among items featured in the exhibition is a wall-sized vinyl mural created by local artist Bridie Cheeseman illustrating the important relationship between the museum and the university, including its links with the design industry, civic engagement, and academic research.
The exhibition was formally opened by University Vice-Chancellor Professor Paul Gough, alongside Executive Director of External Engagement, Dr Anna Farthing.
Dr Farthing said: "Plastics form an indelible part of our lives, and urgent questions are being asked about their sustainable use. Through the collections and the expertise held here at AUB, this nationally celebrated museum enables us to explore the complex, contested and multi-faceted role of plastics; from life-saving medical innovations to mass produced inessentials, and the effect of plastic production on people and the planet. MoDiP is available for everyone, both onsite and online, and is proving to be an invaluable resource for students, artists, researchers, and members of the public."
From 14.00 on Thursday 1 December, related seminar Designated Design: A plastics collection of national importance will take place in A025 Lecture Theatre on the University campus. The ticketed free-to-attend event will bring together three artists who've collaborated with the museum, and museum professionals with designated collections from across the South-West.
Speakers include Rosemary Harden, Curator at The Fashion Museum in Bath, Jo Elsworth of the University of Bristol's Theatre Collection, and Andrea Bishop, Director of Collections and Engagement at the National Motor Museum Beaulieu. Together, the group will be exploring new approaches to engagement, sharing experiences and outputs, and exploring the impact of designation on their work
MoDiP's collection stands alongside fellow Arts Council internationally recognised collections like Kensington Royal Palace's Royal ceremonial dress collection and the Ritual Judaica collection, held by London's Jewish Museum.