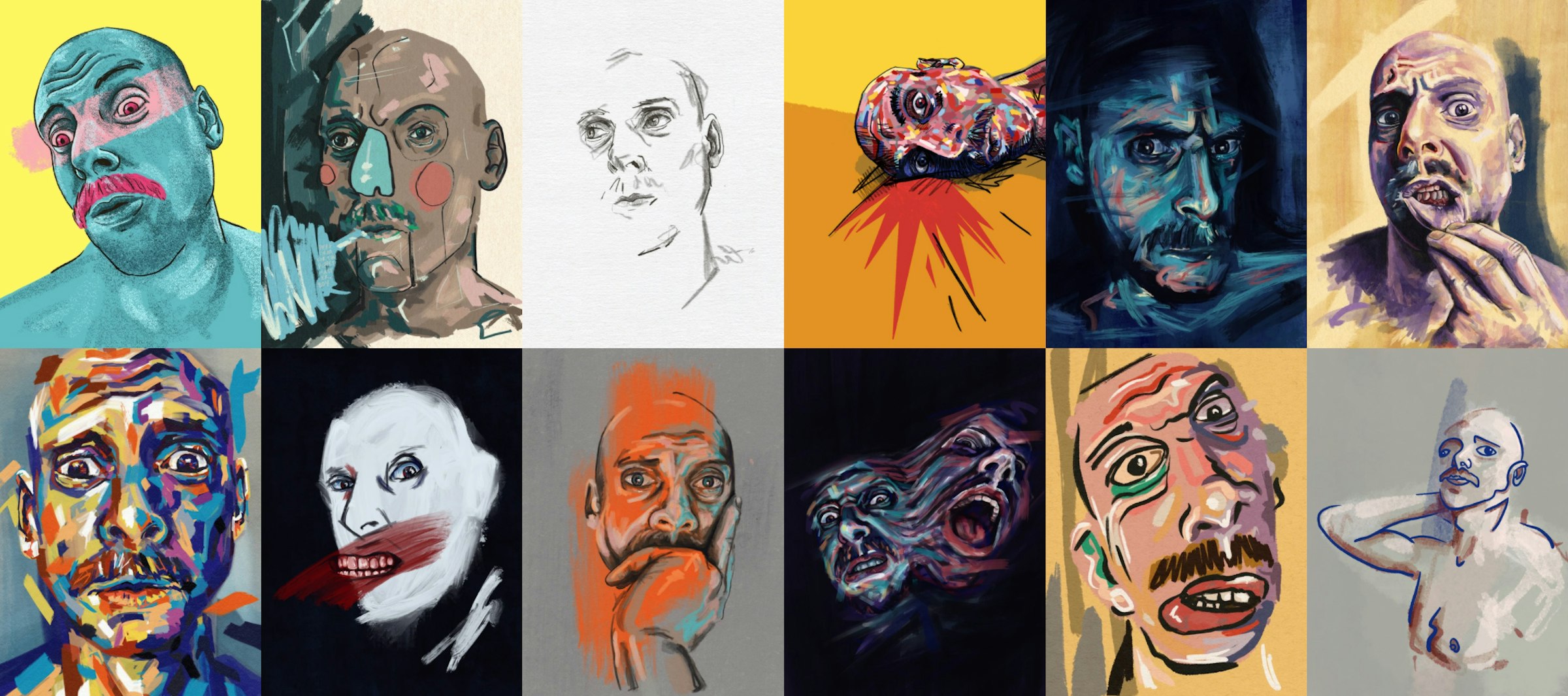 Animation graduate Liam Nunn is on a mission to find 52 artists to sketch his likeness, after painting himself for more than a year.
The Jersey-based artist, who works as an animator, designer and creative strategist for Milk Creative Studios, first began his House of Mirrors self-portrait project during lockdown. With marketing and promotional work in decline during the peak of the pandemic, Liam decided to challenge himself, moving back towards artistry and investing in a new iPad Pro and a copy of ProCreate.
Describing himself as someone who "knows he can draw, but doesn't draw enough", Liam's traditional skills, learned while studying Animation at AUB, helped him to adapt to and embrace a new digital workflow. And soon after, while looking for opportunities to sharpen up his craft and practice, Liam embarked upon an exciting – if unusual – new project.
With COVID-19 guidance in place throughout the Channel Islands, a self-imposed timescale of 52 weeks made sense, but given the nature of the pandemic, good models (in his own house) were hard to find.

After staying at home for extended periods, Liam began to wonder – could he himself be the ideal candidate? As a self-confessed fan of 'unusual and uncomfortable' art, perhaps using his own likeness might allow experimentation, escaping self-critique and overcoming the difficulties of the time.
And no one would be offended either, so it was worth a try.
Liberated by a lack of 'offence taken' and driven by a deeply seated desire for his art to "exist and run free like a nude and fabulous gazelle", the creative started with some simple drawings to brush up his skills, finessing his understanding of a new digital canvas.
Liam's confidence soared: "Suddenly, I could try things in different colours without buying up the whole paint shop!" he explains. "It's not supposed to be narcissistic…but it is. Working across web, marketing, design, and animation, there is always a brief. But this time, I could give true art a go without any pressure."
But soon, self-doubt crept in and Liam's creative bravery faltered. Could he really be that interesting… 51 more times? Ever buoyed by a warm wave of cordial comments from family and friends, the reluctant self-subject battled on. A myriad of colours, styles, motifs, and patterns followed; from the Baroque to the absurd, and the artist, whose own face had become 2020's palette of mixed feelings and emotions, soon unveiled a rich digital tapestry of unlikely self-reflection.
Then, after reaching number 52, the Animation and Designer could finally rest his Apple Pencil. The project was over. Wasn't it? Because while his own portraits now adorned the walls of Jersey's Link Gallery, Liam began to wonder: how well could others actually draw him?
The House Of Mirrors...had begun again.