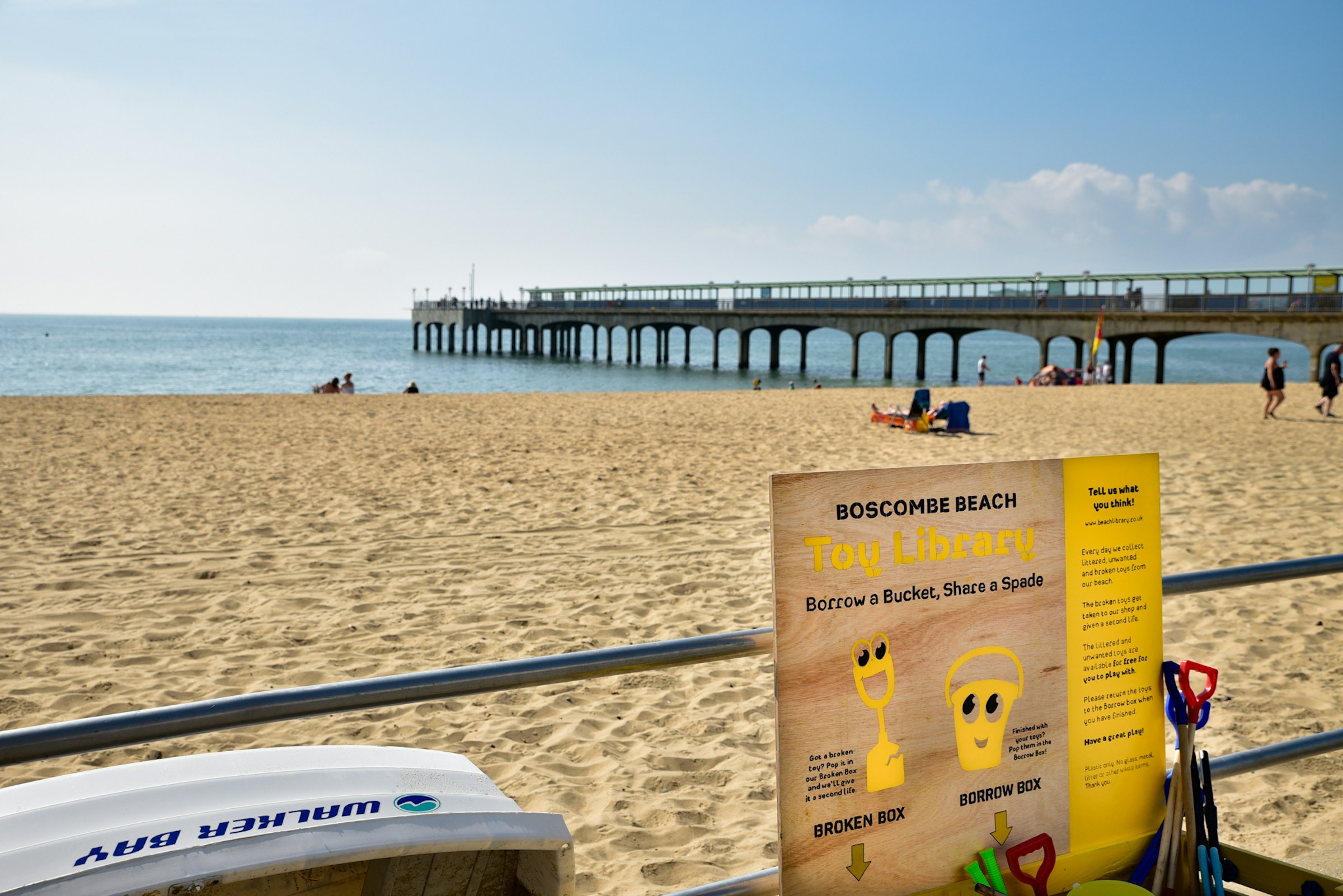 The Toy Library, by Arts University Bournemouth (AUB) student Natalie Carr, allows visitors to borrow beach toys instead of buying them, or to drop-off broken toys that are no longer usable to be recycled into other products.
It is one of several projects that local university students have been undertaking to help towards the council's climate emergency declaration, with £25,000 in funding from BCP Council going towards the development, design and deployment of real world pilot projects to demonstrate the impact a local student or alumni can make in climate, resource and sustainability projects.

Councillor Mike Greene, Portfolio Holder for Transport and Sustainability commented: "This pilot is the perfect example of how the next generation can produce practical solutions to help us tackle complex climate challenges.
"By designing, prototyping and testing products and services that reduce the impact of littering on the environment, they're not only supporting the efforts of locals and visitors to be more environmentally responsible, but they're also helping us lead our communities towards a cleaner, sustainable future that preserves our outstanding environment for generations to come.
"A visit to the beach can be a stressful experience for many, but initiatives such as this toy library, where residents and visitors can come to the beach, borrow a toy from the library and return later that day, highlights the dedication in ensuring everyone leaves only footprints along our beautiful seafront at the end of the day."
The MA Design and Innovation student noticed the design of the existing Litter Free Bournemouth toy library could be improved by making it more accessible to the public, capturing fragments from the broken toys (that cannot go into general recycling bins) and developing a system to recycle these into other products.
Natalie commented: "We're planning to use specialist equipment in AUB's new Innovation Studio to create the designs for beach furniture and play structures made from the recycled plastic. Once these plastics are split or damaged, they are often thrown away and unable to be recycled with the household recycling.
"With the kit available to us at AUB, we can demonstrate how reusing these materials and putting them directly back out to users is a really effective circular economy, with minimal negative environmental impact."
The first toy library is a step-change towards this goal, with an expanded service planned for Bournemouth, Christchurch and Poole's beaches for 2022, with the potential reduction in carbon emissions of 35 kg of CO2 per library.