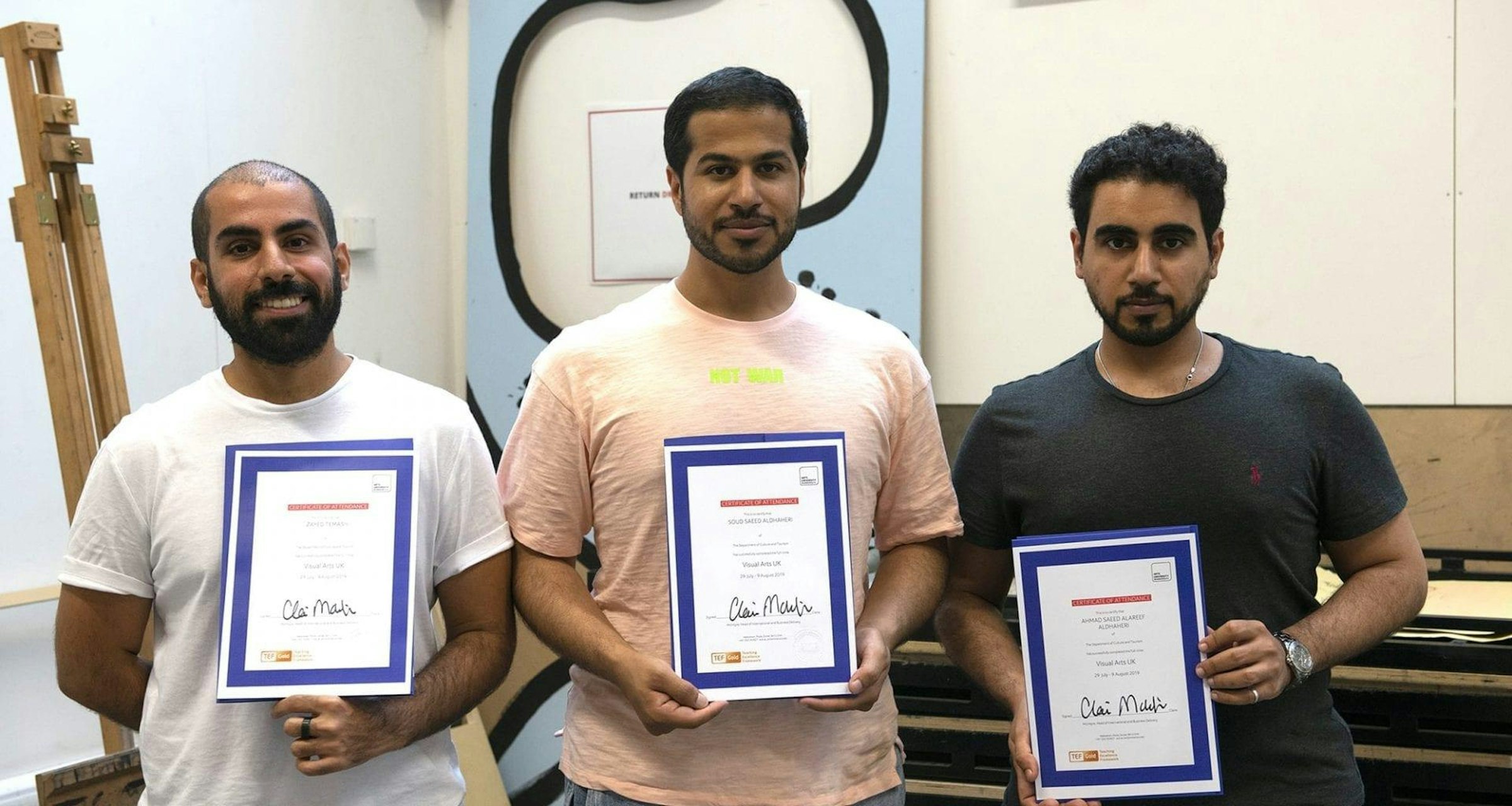 The artists were sponsored by Abu Dhabi's Department for Culture and Tourism, and have now returned to the United Arab Emirates (UAE) to exhibit their work at the Cultural Foundation, a national centre used to inspire the next generation of aspiring artists, from school to exhibition as artists-in-residence.
The students trained on a bespoke course in Arts Opportunities at AUB, developing an understanding of relationships in the creative and visual arts, the significance of creative processes across the arts industry, and business skills needed to develop audiences, exhibitions and galleries.
Sarah Charles, of AUB's Bespoke Courses Team, said: "We developed the course in collaboration with our BA Fine Art Course Leader, Richard Waring. Whether it be the need to reach diverse audiences, write a strong and viable business plan, or understand the commissioning of new works, the programme aims to help students to really get to grips with the elements that go into applying for international arts grants.
She added: "We're so very proud of all of our students, who always go on to do fantastic things, and this group is no exception. The UAE is often seen as a centre for art in the Middle East, and with art-based innovations like the Louvre Abu Dhabi, the country really sees a cultural responsibility to develop and nurture new artists.
In 2018, Vice President and Prime Minister of the UAE, Sheikh Mohammad Bin Rashid Al Maktoum, launched the UAE Cultural Development Fund, providing funds for projects, initiatives and cultural activity that will promote the development of arts and culture in the country.
Speaking at the fund's launch at the Louvre Abu Dhabi, His Highness said: "UAE's drive towards leadership of the future, and its pursuit to be among the most advanced countries in the world won't be realised unless we enhance our cultural heritage. The future of our cultural development should be based on creativity and innovation.
"Economy, culture and politics are components that interact to create a nation, and build a state… The development of our country depends on a well-established and forward-looking culture."