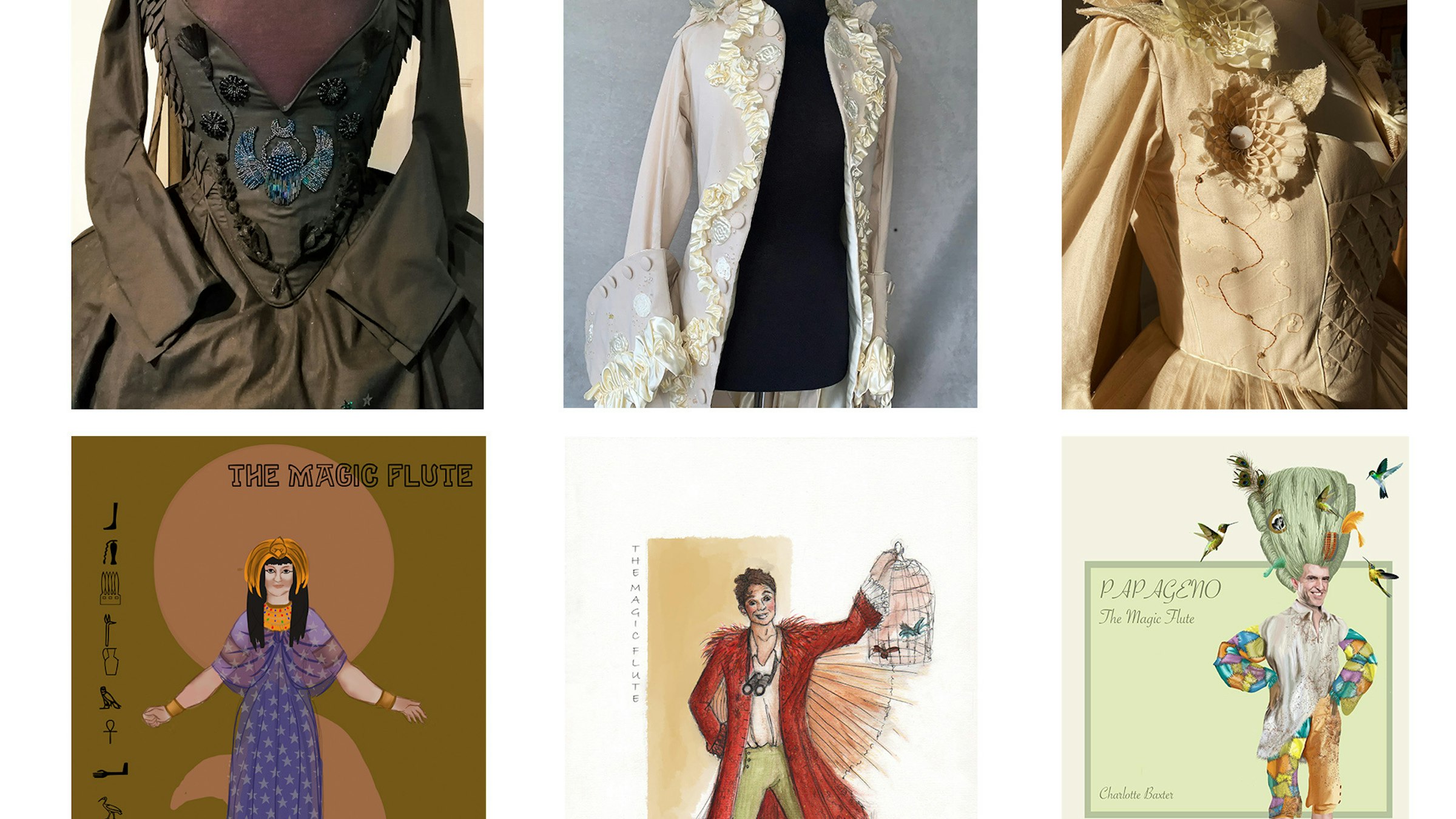 BA (Hons) Performance Design and Film Costume students at AUB have been working to interpret and create designs and costumes inspired by Mozart's The Magic Flute, which will now feature in an exhibition.
The late 18th century work, which explores a fantastical romance between Prince Tamino and Pamina, daughter of the Queen of the Night, is considered by many to be among the greatest operas ever written and features Mozart's most beautiful pieces.
BA (Hons) Performance Design and Film Costume has two pathways being costume interpretation and performance design. The costume interpretation pathways which began with a £150 budget, considered costume designs for three central characters; Papagena, Sarastro and the Queen of the Night, with each design being based on 18th century Egyptian silhouettes with contemporary elements.
The Performance design pathway considered the exploration of both the setting and costumes for the production with a strong emphasis on sustainable design solutions.

Students spent eight weeks focusing on either costume or costume and set, while developing flat pattern drafting, cutting on the mannequin and fitting skills. As part of the creative process, students created mood boards, illustrations and samples, and worked on set modelling to fully realise their designs.
Senior Lecturer Adele Keeley, who has been leading the project, said: "The work produced for The Magic Flute shows creativity resourcefulness and the brilliance of the designers and makers on the Costume and Performance Design course here at AUB.
"In spite of the challenges faced through blending learning and COVID-19, our students have shown determination and commitment, and produced a collection of work to be proud of."
She added: "Mozart's The Magic Flute offers characters such as the Queen of the Night and the earthy bird-like Papageno. These dynamic characters offer the students a breath of exploration with visual language in the Singspiel (singing and spoken dialogue) and creative opportunities to explore and analyse."
Being both contemporaries and fellow freemasons, Mozart composed his opera for writer Emanuel Schikaneder, with the Opera Singspiel being first debuted in Vienna in 1791. The story is at its core a power struggle between good and evil, with morals closely aligned to the ideals of contemporary freemasonry.