You are using an outdated browser. Most of this website should still work, but after upgrading your browser it will look and perform better.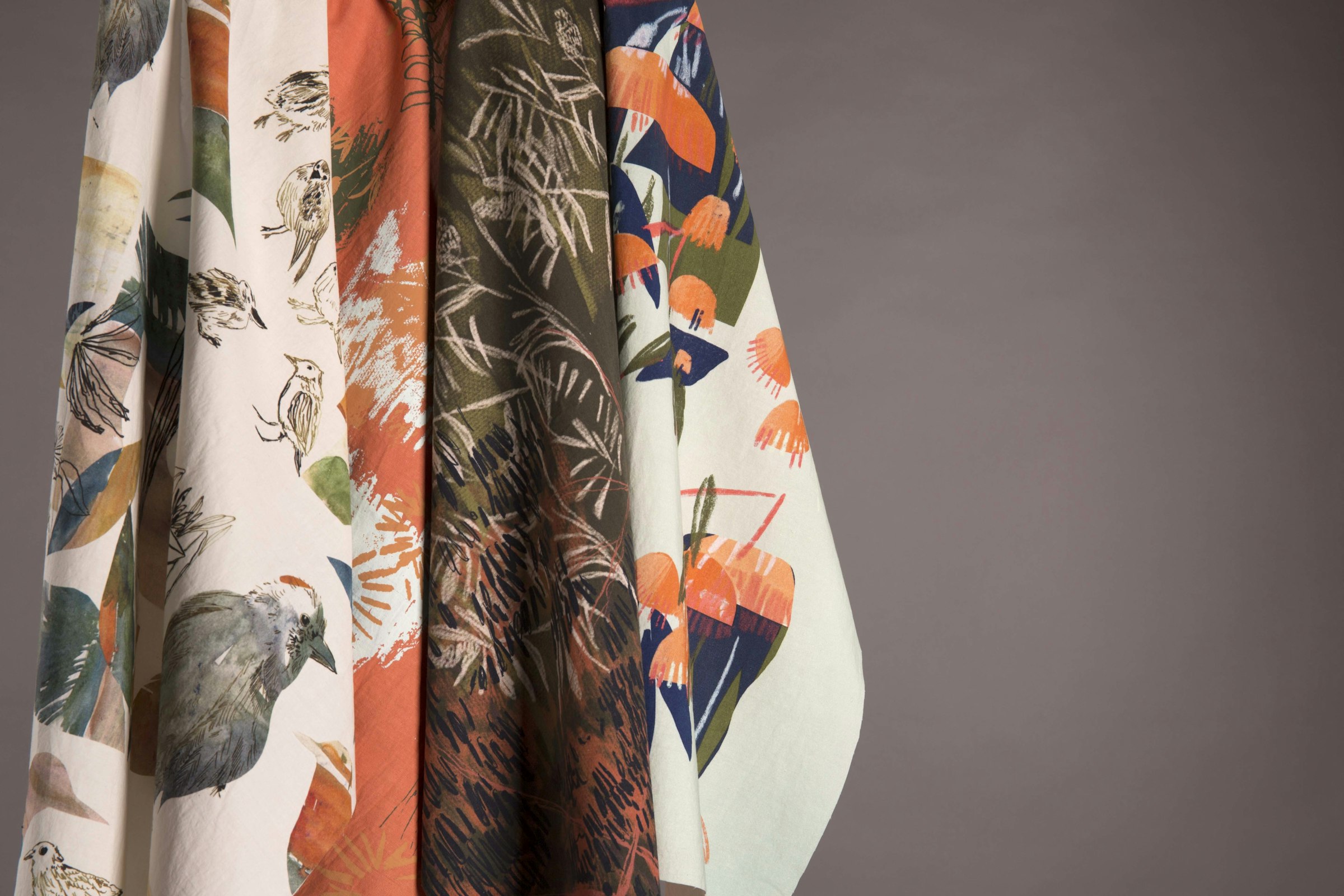 Digital Textile Design for Fashion
Digital Textile Design for Fashion
On this innovative 10-week course you'll explore the creative possibilities that technology brings to textile design for fashion.
To book your place today, simply click the 'Book Now' button to be taken to AUB's secure online store, where you can complete your booking. You can also sign up to our newsletter for short course updates.
When does it run?
Monday 15 January – 18 March 2024
How long is the course?
What time will your classes be?
Where does it take place?
Classes will take place on AUB's campus.
You'll be taught in AUB's industry-standard studios with access to professional resources.
Who's this course suitable for?
This course has been developed for creatives and aspiring textile designers and makers aged 18+.
This course is fashion-focused, but can easily relate to print design for interiors or product pattern design. Perfect for anyone who has a passion to learn, explore innovative technologies, and develop their design skills.
As an introductory course, no previous knowledge or experience is required.

Do you need previous experience or qualifications?
This is an introductory course, so no previous knowledge or experience is required.
If you'd like to discuss if this course is suitable for you, get in touch with us: shortcourses@aub.ac.uk or +44 (0) 1202 363222.

How much does this course cost?
What's included in this price?
Any additional materials and resources not listed in the 'what to bring' section below.
Are there additional costs?
Please be aware you'll need to bring some art equipment with you. This may incur an additional cost on top of your course fee if you need to purchase any equipment. Refer to the 'what to bring' section below for full details.
What should you bring to class?
A4 folder for handouts and notes
Sketchbook
Drawing materials such as pencils, pen, paints, pastels, coloured papers and glue stick
A selection of images, photographs and/or drawing and ideas to work from
Why should you choose this course?
Improve your artistic and design abilities
Come away with the essential knowledge, skills, and confidence to create your own beautiful textile designs using digital tools
Learn how to use specialist technology required to create digital textile designs
Develop your understanding of the design process and the essential elements, including colour palettes, creating motifs, and repeated patterns
Learn how to use Adobe Photoshop as part of your digital design process
Develop your technical skills and unique creative voice
Receive expert support and guidance from your industry professional tutor at every turn
Leave with increased confidence and the skills to continue creating beyond the course
Study in an encouraging and friendly setting alongside 14 like-minded creatives
About this course
This 10-week course has been specially developed to enable you to explore the creative possibilities of digital textiles design for fashion. You'll be introduced to Adobe Photoshop, and will learn the tools, techniques, and processes required to create a cohesive collection of digital print designs.
Throughout this course you'll experiment with a wide range of different techniques and processes that'll enable you to express yourself and hone your skills within the area of digital textiles.
Along the way you'll cover the fundamentals of textile design, including colour, pattern, and texture, all of which will help inform and shape your design collection. Each session will include logical step-by-step exercises, complete with examples, designed to inspire you and develop your skills.
You'll develop your ideas and translate them into functioning designs using Adobe Photoshop. Your designs will then be printed using a sublimation process onto a range of different fashion fabrics, and you will also be taught how to visualise your designs as garments and accessories.
This course is fashion focused but can easily relate to print design for interiors or product pattern design. The concepts, principles, and skills that you will learn and develop are easily transferrable and can also be applied to a vast array of finished outcomes, including interiors products, soft furnishings, wallpapers, ceramics, or framed art works.
Explore and research current trends, colours, themes and concepts
Mood boards and colour palettes
Induction to Adobe Photoshop for textiles print design, including scanning and cleaning up drawings/imagery, using layers, drawing, selection and editing tools
Creating motifs
Placement and engineered prints
Repeating prints such as block, stripe, mirror, half drop, brick, and seamless all over patterns
Design development
Formatting and exporting designs for printing
Sublimation of prints onto a selection of fashion fabrics
Using Adobe Photoshop to visualise your fabric designs on fashion garments and accessories
Possess improved artistic and design skills
Be the proud owner of a collection of digital designs and swatch samples of your printed fabric designs
Have the knowledge and skills to turn your designs into printable fabric designs using the tools in Adobe Photoshop, as well as use the software to visualise finished garments featuring your fabric designs
Be able to create mood boards and devise colour palettes
Have the confidence to design fabric outside of the course setting
Be knowledgeable and skilled in a variety of different techniques to create exciting designs, including creating unique motifs and using repeating patterns
Have increased confidence in your own skills and feel inspired
Have boosted creativity and imagination
Be encouraged to experiment and explore your ideas, remembering that there's no right or wrong way to be creative
Possess the foundations to continue creating beyond this course
All students with 100% course attendance will be issued with an official AUB Short Course certificate of attendance. To request your certificate contact the short courses team: shortcourses@aub.ac.uk or call 01202 363222.
After this course, you could:
Continue to harness your creativity and develop your skills further; explore our full range of Design and Print short courses
Broaden your creative horizons and try your hand at a range of disciplines; explore our full range of evening and weekend courses
Continue to develop your skills at home as a hobby
You'll study at a leading specialist university – we know what we're doing when it comes to providing unparalleled courses
Our tutors are industry professionals, so you'll learn from the best
We cater for all abilities and have no formal entry requirements for this course, so there's nothing holding you back
You'll learn in a safe and encouraging environment where there's no right or wrong way to be creative
You'll learn 'by doing' and always feel fully included and supported
Benefit from our incredible campus and its industry-standard studios, and use state-of-the-art equipment and software to unleash your creativity
Important information about evening and weekend courses