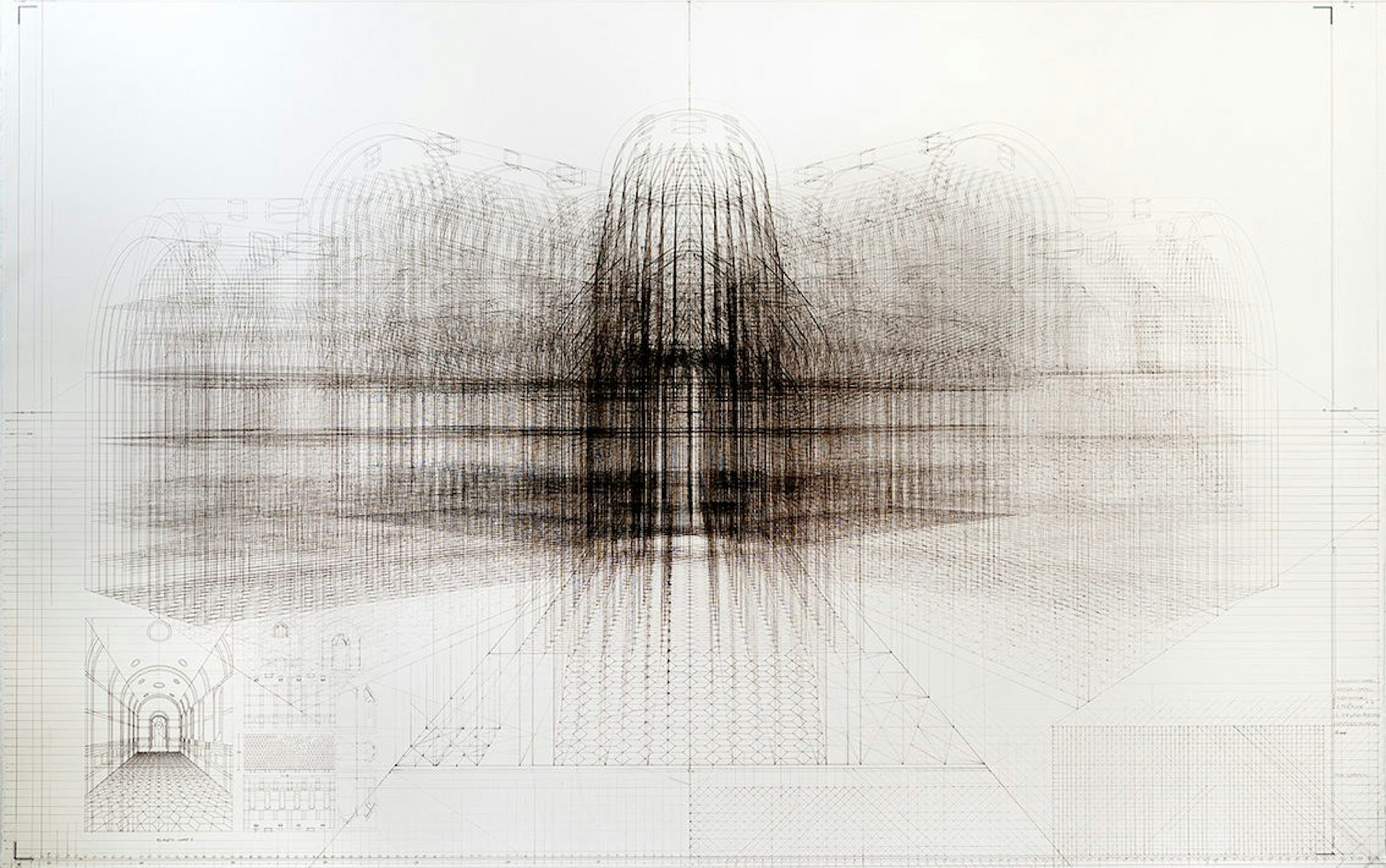 Frances Morris, Director of the Tate Modern art gallery, has joined a host of speakers from across the creative arts sector to discuss the Grammar of Drawing at Arts University Bournemouth.
Arts University Bournemouth has this week welcomed esteemed speakers from across the arts world to discuss 'The Grammar of Drawing' as part of the university's hosting of the Trinity Buoy Wharf Drawing Prize Exhibition 2020.

Hosted by AUB Vice-Chancellor Professor Paul Gough, among those joining the discussion with Tate Modern Director Frances Morris, were M. Lohrum, artist and Trinity Buoy Wharf First Prize Winner, artist Ian McKeever RA, and Professor Anita Taylor, Founding Director of the Trinity Buoy Wharf Drawing Prize and Dean of Duncan of Jordanstone College of Art & Design at the University of Dundee.
The panel were welcomed to the virtual discussion by AUB's Gallery Curators Violet McClean and William Hernandez Abreu, which began with a visual presentation of the physical exhibition at AUB, which opens for members of the public on 17 May.
Among those whose works being exhibited are AUB's Demeter Dykes, a Lecturer in the university's Foundation School, Simon Granell, Post-Graduate Award Leader for MA Fine Art and Sian Bowen, Professor of Drawing at AUB.
Granell and Bowen will be exhibiting their collaborative drawing, Firefly Basket > Tally, which comes from a series of work by the pair which evolved through a process of exchange and reflective response.
A participating installation artist for Bournemouth Emerging Arts Fringe Festival, Demeter's shortlisted work explores the reorganisation of shredded wastepaper, reordered and reconstructed with each shred deliberately laid down to supplant the materials' ordinary role as waste, creating a new mass with meaning.

Violet McClean, Gallery Curator at AUB, said: "This event has really launched our hosting of the Trinity Buoy Wharf Exhibition 2020. The 2020 exhibition marks the third year of support from the Trinity Buoy Wharf Trust, with this year being the 25th annual exhibition held since the award's founding in 1994.
"The exhibition itself includes 71 drawings by 56 participants from all stages of their respective careers, including works by students and established artists and makers from across the world, selected for exhibition from more than 4,000 entrants.
"The selected works create a diverse exhibition that reflects a broad scope of contemporary drawing practice, and Arts University Bournemouth are delighted to say that three of our colleagues are represented here."
Frances Morris, Director at Tate Modern, said: "One of the interesting aspects of drawing prizes like this is that this is an open prize and that's very important because occasionally someone like me is able to be on the selection panel. This means that I get to see not just the works that are selected and beautifully installed, but also a cross-section of what a generation defines as drawing in their own practice.
"There is a relentless expansion in the language of drawing, and what was so clear to us as selectors was that we didn't have to throw out any work that wasn't a drawing - the open submission meant that we were very open in response and very elastic in our approach to the practice.
She added: "There are drawings that speak to a particular kind of practice, but you can also see learned skills, methodologies of composition, traditional techniques. All of that is brilliantly manifested in the selected exemplars, but for the most part, works we selected intersected with other types of practice; works that could also be positioned as paintings, collage, sculptures, performance and moving image works.
"This is highly indicative of the way that artists have been instrumental in challenging the boundaries of media, geography, and time."
The panel also explored the performative elements of First Prize winner M. Lohrum's work, and how research behind the artist's current studies for her PhD, which looks at cave paintings as the first documented manifestation of performative drawing.
The artist said: "There are so many drawing precedents set in the 20th century, like Jackson Pollock's work, but especially in the 21st century, there are a lot of people working around this idea of mixing performance and drawing.
"Because my practice is interdisciplinary, it has many faces that might potentially work. I arrange settings for people to do a live performance, but also for example when we made You Are It back in 2019, we made the performance prior to the exhibition period and then what I decided to exhibit was the final drawing along with the video of its making."
Professor Anita Taylor, Trinity Buoy Wharf Drawing Prize Founder, said: "The call for entries for 2021 is now open, and this year we have an additional award to support a mid-career artist with a solo show.
"I'd like to say how wonderful it is to be back at AUB; it matters to us to show the exhibition in an educational context as well as in a public context. I'd like to thank all of the artists, exhibitors, selectors and everyone for supporting this project - it's always a fantastically humbling experience to see all of the drawings and the work from people with a real commitment to thinking about drawing and its continuing importance for everyone in society."
Professor Paul Gough, Vice Chancellor at AUB then thanked a large online audience after praising Professor Taylor's Trinity Buoy Wharf Prize work, referring to the artist and academic as a 'totem in the world of drawing internationally', and recognising the participation of audience members in the discussion.