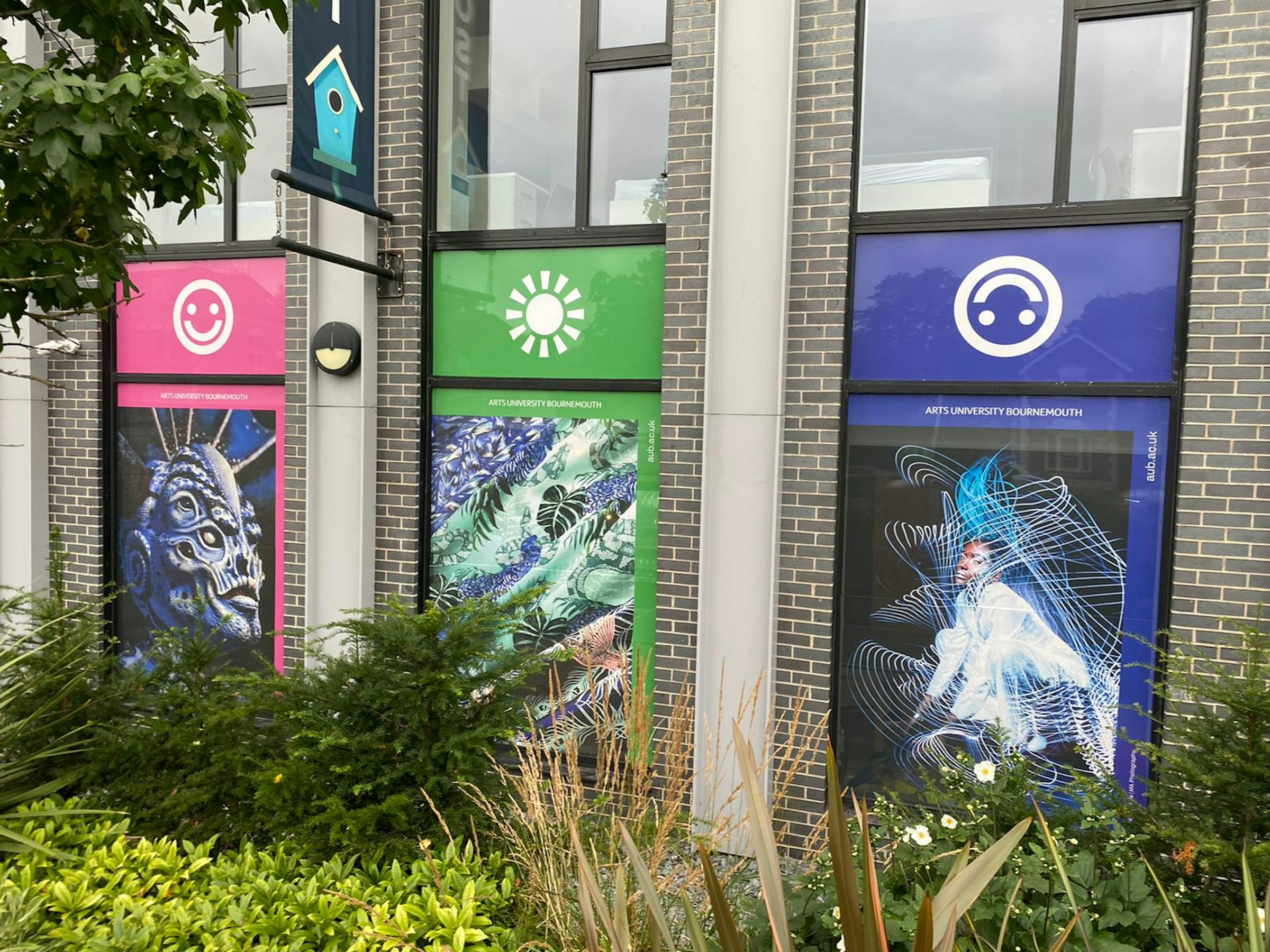 AUB's Foundation, Undergraduate and Postgraduate students will now be able to take advantage of exclusive Halls at the popular Home Park residence, located in Bournemouth.
The Halls, which are owned and managed by Student Roost, have recently undergone an extensive refit, offering students a striking sense of community, with an exciting new fully-furnished lounge space adorned with AUB student artwork.
A brand-new cosy corner and book exchange also feature, together with an extensive student gym, cinema room and creative space 'Work Room' which has been designed to AUB's exact specifications. The Work Room offers AUB students an off-campus facility where specialist arts considerations ensure that residents requiring equipment like an illuminated workstation, cutting table and flexible lighting and sound systems are fully catered for.


Outside its 437 rooms and 17 studios, Home Park is also newly decorated with AUB's signature style and flair, featuring large exterior vinyls that showcase a range of student work. Local shops, rail connections and seafront are less than 10 minutes walk away, with staff available 24/7.
Located just three miles from AUB's Wallisdown campus on Fern Barrow, regular bus routes ensure easy access to university, which can also be reached in around 20 minutes by cycle. Bournemouth, Christchurch and Poole widely offer Beryl-bike cycle hire, and are currently hosting a trial of rental e-scooters that can be hired for use on public highways with a valid driving licence.
Sarah Parr, Bournemouth and Poole City Manager at Student Roost, said: "In readiness for the arrival of new students we have spent the last two months refurbishing the social spaces at Home Park and have created some very exciting new spaces.
"Home Park is a real 'home from home' where community and student wellbeing are top of the agenda, and we are delighted and excited to be partnering with AUB to deliver their student accommodation."
Carrie Packer, Senior Student Services Officer, said: "With student numbers increasing exponentially over the past year, we have seen a trend across the country towards universities shifting their student accommodation further and further from inner town and city areas due to demand.
"At AUB, we believe that students should be able to choose centrally located student accommodation as they start their studies with us, and Home Park represents an outstanding offering, located less than ten minutes away from all that Bournemouth town offers; award-winning beaches, amenities, entertainment and dining."
She added: "We're pleased to partner with Student Roost to offer this unique accommodation, and to expand further our accommodation options for the forthcoming year."
Home Park joins a roster of accommodation options for AUB students, including the newly-opened Campus Halls and fellow town centre accommodation block Madeira Road.