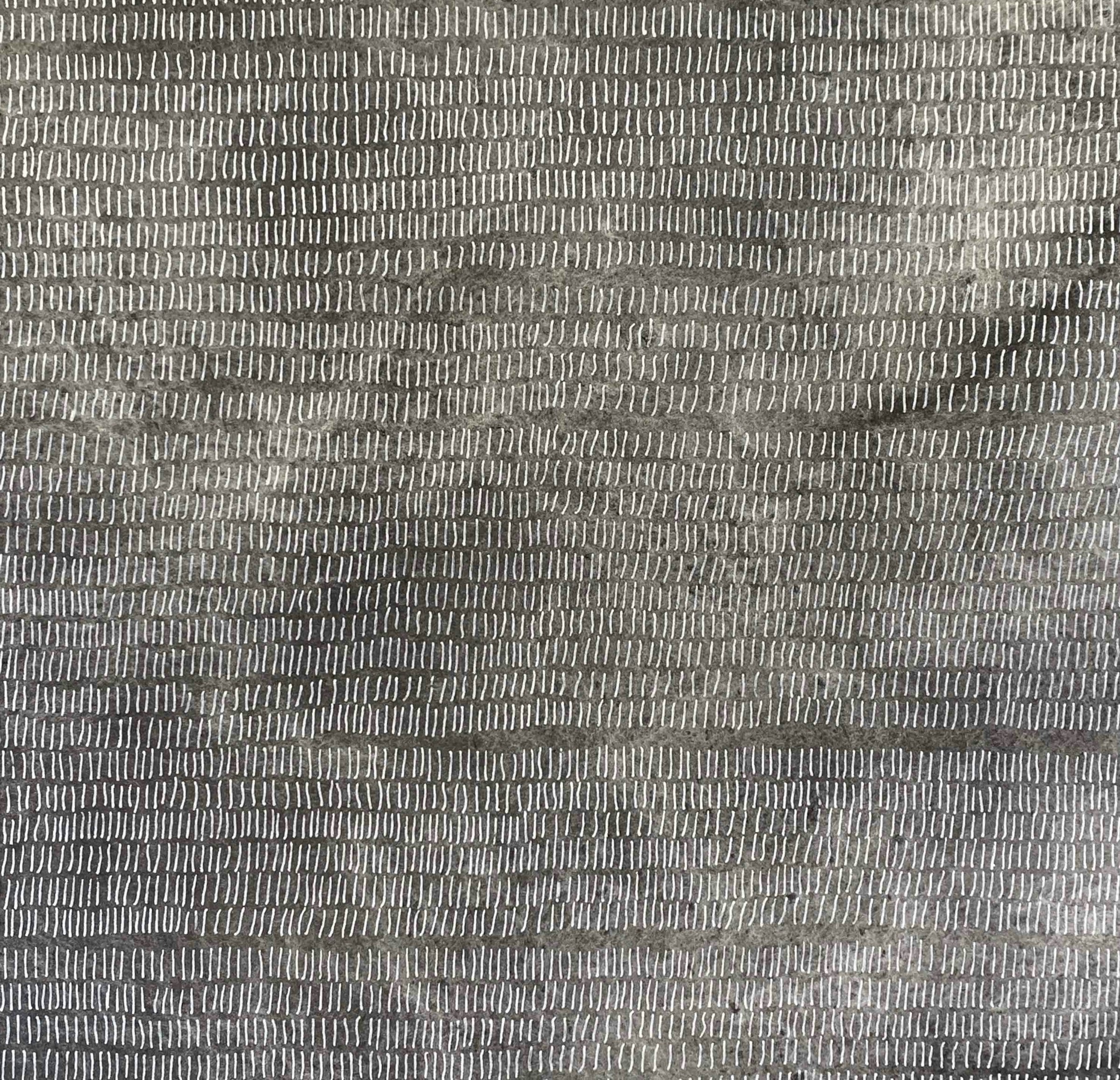 The exhibition, titled Being in Time, will be showcased for six weeks, and will be the first of its kind. Something which artist Carrie calls an honour, but also quite daunting.
"It's really exciting that there's going to be more opportunities for contemporary visual art to be seen in Dorset," she says. "At Mowlem's space, they want it to show contemporary work and new artists. It's not a massive space, so it lends itself to people like myself that are putting on their first solo shows."
On how she secured the exhibition in the first place, Carrie explains: "When I graduated from AUB, I was conscious that I was losing my immediate network, and so I joined Dorset Visual Arts (DVA), so that I could start building a network of people that are still working in arts in Dorset. I saw the call for artists in the DVA newsletter, but I also received a message from an artist in Swanage who I'd met previously encouraging me to apply. That was probably what gave me the final prompt to go for it."
So, what is Being in Time all about? Carrie details that the exhibition will consist of eight drawings produced at various points over the last couple of years, including the lockdown periods.
"The work is inspired by our relationship with time," she says. "Time is perhaps the most precious of all things. Once it's lost, it can never be recovered. And there are so many demands on our time and so many distractions. We never seem to have enough time. It's something that I think about a lot in my work, and during lockdown, I became really interested in exploring our relationship with time through my work."
Carrie explains that keeping a daily diary during lockdown led to a series of four drawings, at least two of which will feature in the Being in Time exhibition.
"They're large, circular drawings that relate to experiencing time in the present moment. Like a meditation. They bear witness to just being with time and in time over a set period.
"It's the solstice series: two were made on the summer and winter solstices, the other two on the spring and autumn equinoxes. They're durational drawings, so I started to draw at sunrise and continued until sunset. All in one sitting. The longest one – the summer solstice – was a real test of endurance. I was drawing for 16.5 hours."

Being in Time will also feature two other pieces that Carrie describes as made with cross marks, made using a similar process but not in one sitting. In addition, some smaller works from a series called Fragility of Time. These are inspired by research showing how our attention spans have reduced since the advent of the smartphone. Carrie explains these drawings were created by piercing the paper with sharp tools, with each hole representing a second of time.
Carrie admits that it was a lifelong ambition to study fine art but did not have the opportunity to go to university following school. However, following a career of more than 20 years in local government, she enrolled as a mature student on AUB's BA (Hons) Fine Art course. Carrie says this move was "a shock to the system" but loved the course.
"It gave me a really good grounding in different disciplines and allowed me to experiment. I went to uni thinking I was a painter, and I didn't paint the whole time I was there. It became much more about print making and drawing."
After graduating from the BA in 2016, Carrie was offered a scholarship to stay on for an extra year to complete her MA in Fine Art. And her career has hardly been uneventful since her Master's graduation in 2017. While freelancing as a visual artist, Carrie has done performance art pieces, commissions, and residencies for venues and events as local as Bournemouth Emerging Arts Festival (BEAF) and as far afield as the prestigious Print International Exhibition at the Tŷ Pawb Gallery in Wrexham. One residency in 2021 even took her and 12 other artists to a decommissioned Victorian prison for two weeks.
This year, Carrie's work has taken her to London, for an exhibition relating to drawing performance, as well as residencies in Brighton and Cornwall. But for all that, Carrie still admits it has been a hard slog to get her career to where it is now.
"It was just starting to feel like it was paying off when lockdown hit. We then had two years of no work and finding that opportunities were much more competitive. And this year, I felt like I might have to start from scratch again, but the London exhibition came out of a residency that I did in Brighton in 2018. So I think it was more like 'pressing pause' for two years."
With this in mind, Carrie emphasises the importance for students and graduates to practice their skills in real-world environments.
"It's absolutely essential. On the BA course, you have to do CVs, artist statements, mock gallery interviews, and that is invaluable to trying to get work when you graduate. And the MA course does that in even more detail. It really encourages you to apply for opportunities while you're studying.
"You've got to put yourself forward and be prepared to push yourself outside of your comfort zone. I think a lot of the work that I've got coming my way has come through taking that first step. But I would say the most important thing is to keep making. The more you make, the more opportunities you'll have to get that work out there and build your practice."
Being in Time opens at the Mowlem Theatre in Swanage on 9 September and will run until 19 October.
Read more about BA (Hons) and MA Fine Art