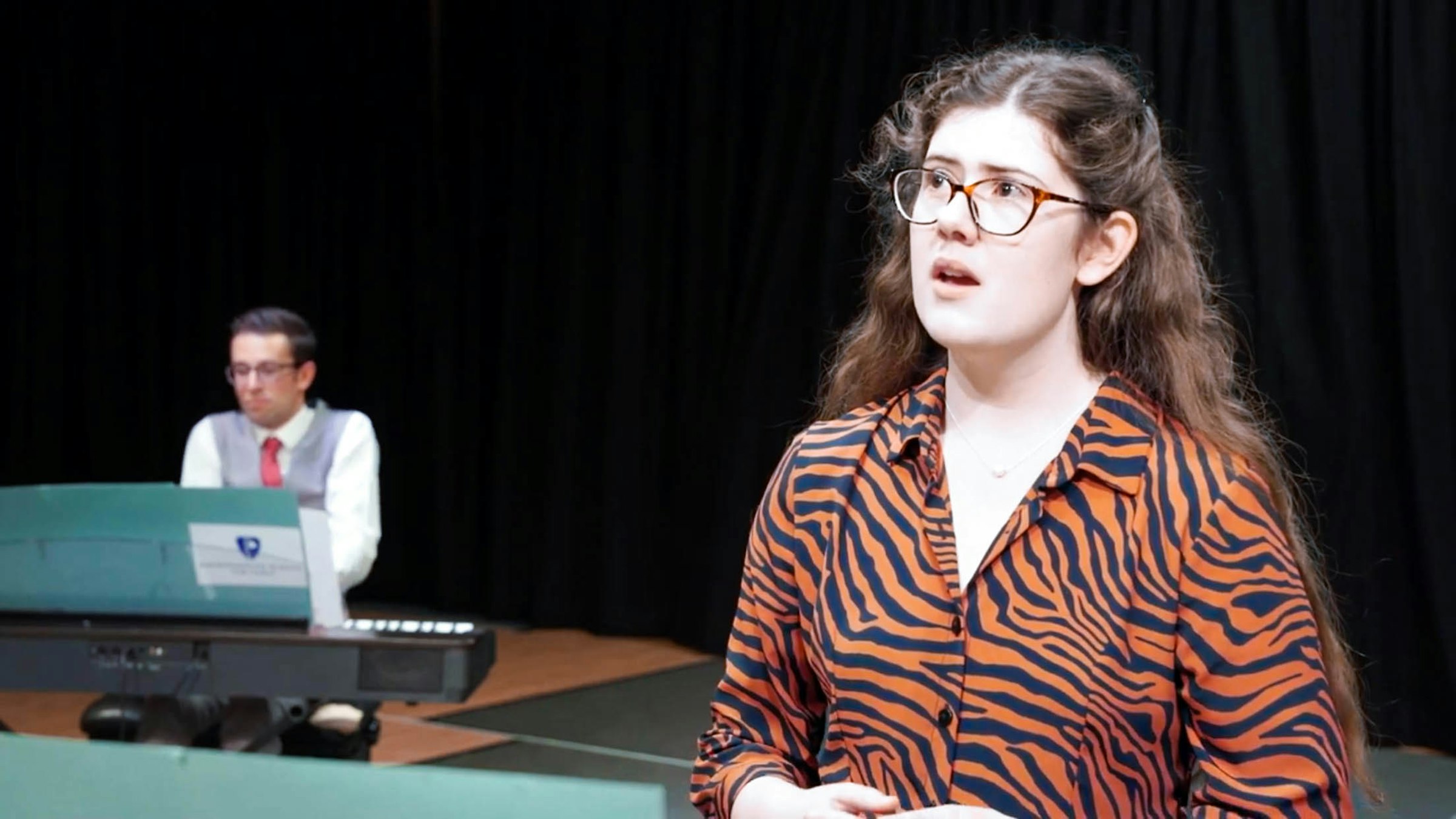 First-year undergraduate BA (Hons) Costume student Verity Joy has impressed examiners with an outstanding score in her Grade 8 singing examination.
The budding Mezzo Soprano and University Music Scholar had the distinction of scoring 97% in a recent Grade 8 singing exam, after University Music funding helped her with lessons, training and examination costs.
Verity, who decided to study at AUB after completing her A-Levels at Bournemouth School for Girls, chose AUB because of the university's arts focus and musical scholarships.
The institution's University Music programme, which is shared with neighbouring Bournemouth University is designed to help experienced and training musicians to continue their musical development while studying.

Verity said: "At secondary school, music was a big part of studies for me. Going on to university studies, I was so worried about whether there would be a music community, but I feel really fortunate that there's such a fantastic community here. AUB is very much its own bubble; it's funky and laid-back, and I've met so many new friends from both universities through our shared love of music.
"I've sung in Chamber Choirs since about year seven, and I considered pursuing music after my school studies. As a Mezzo Soprano, your voice improves during the latter part of your twenties, but I didn't want to just stop music while I focused on other things. I'm currently working with musician and tutor Jonathan Prentice and my lessons are fully funded by the university – it's made such a difference to me in the past few months."
University Music is also currently funding Verity's Music Diploma, a degree-level qualification from Trinity Laban Conservatoire of Music and Dance, which will see her study alongside her undergraduate degree in BA (Hons) Costume.
Verity added: "The reason that I chose my AUB degree is not only does it interweave with my love of music and arts, I think it's really important to do something with your life that you really enjoy. Costume has always been a huge part of my life, and I've loved sewing since I was tiny."
"My mum studied at AUB and when I was about four, she took me into the darkrooms here. Ever since then, I've come to know the campus really well. I did Saturday Art School here, and despite people asking if I wanted to study farther afield, AUB has always been a no-brainer for me."
And top marks are never far from the multi-talented singer, who recently took part in the Bournemouth Music Competitions Festival, winning the Hubert Parry Young Vocalist Award with an impressive score of 90.
Verity learned about the University Music scheme from an older school friend, who had been part of the University Music Chamber Choir during her studies at BU. She contacted Ian Davis, Head of University Music, who explained how the scheme could develop her musical studies.
Ian says: "Verity's examination result in her recent Grade 8 exam is the highest I've ever seen, and her recent winning of the Hubert Parry Young Vocalist Award only further showcases her superb musical talent.
"University Music is here to help nurture and support developing musicians throughout their studies at AUB. We offer a variety of opportunities, from bursaries to choirs and trips to events across the country. It's incredibly important that students are given the option to continue their musical endeavours, in many cases with funding and assistance from University Music.
Verity, who now works as an Assistant for the University Music programme alongside her studies will be taking part in a number of University Music events in 2022, including Choral Evensong with the University Music Chamber Choir in Winchester Cathedral on Wednesday 23 February, and Bernstein's Chichester Psalms with the University Orchestra on Saturday 5 March.