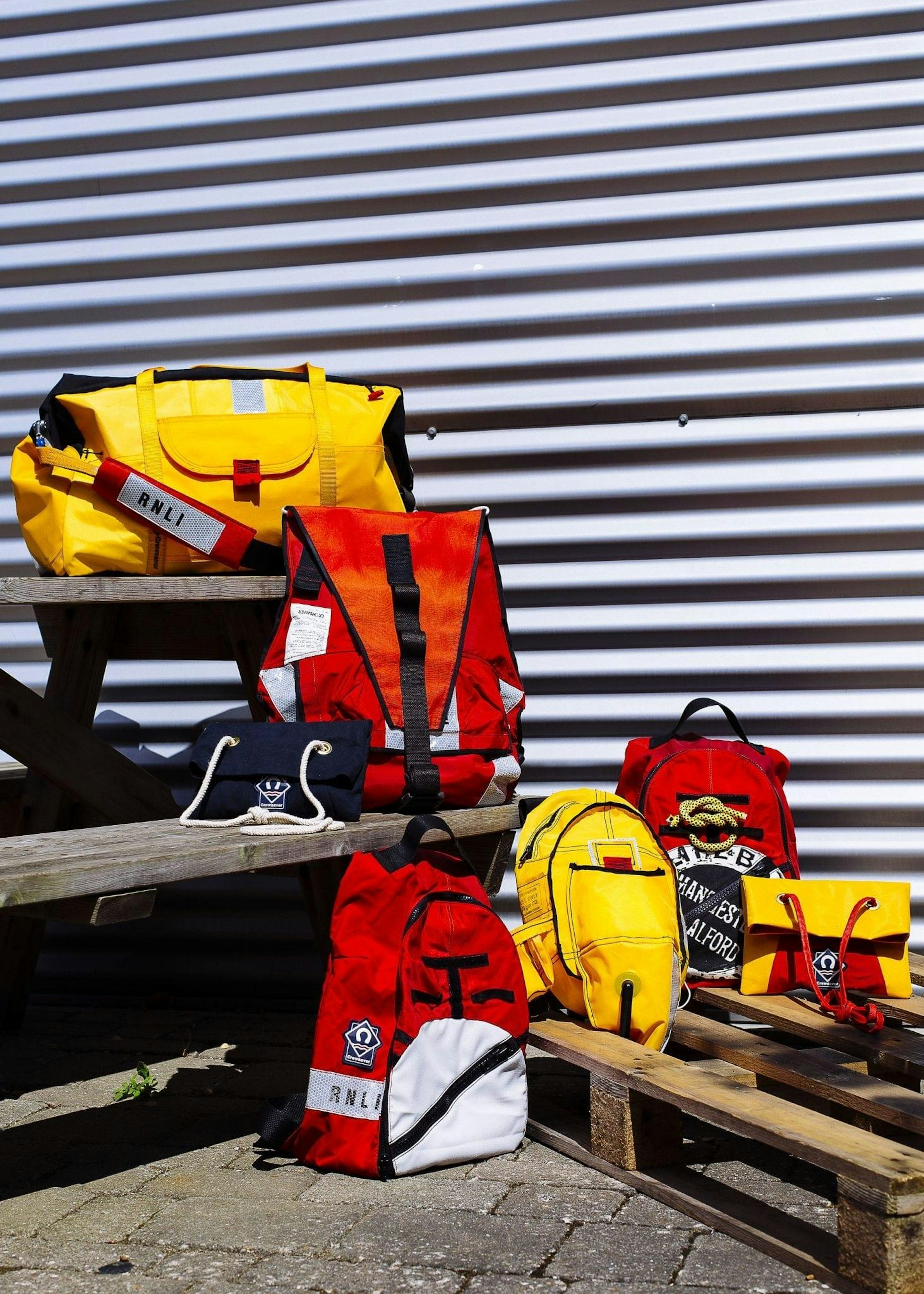 Earlier this year, second and third-year BA (Hons) Fashion students were offered an exciting opportunity to work in collaboration with the RNLI, upcycling life jackets that had once saved lives. Using the original features, each garment has its own history.
The RNLI are best known for their lifeboats, the search and rescue life-saving charity. It's the boats we instantly think of, but what about the jackets?
Speaking about how the project came about, BA (Hons) Fashion Course Leader, Iain Archer, explained;
"Life jackets are really expensive to dispose of, and the RNLI were looking at ways to recycle the jackets. Part of being a charity is looking to save money, and the RNLI were looking for an alternative way to do so. They approached the University to see if there was any scope to support the idea."
The students were tasked with designing and making accessories from the original life jackets and entered a competition in which the final products would be judged. Firstly, the students visited the RNLI base in Poole, which houses an amazing archive. The students were able to study the items and gain a deeper understanding of what the RNLI do, to influence their designs.
The brief was then to design accessories, accessories specifically so the RNLI could generate sales and fundraising from the garments. Each garment was upcycled keeping the life jacket provenance tag, often made into a feature of the final product, maintaining its unique purpose it had served in its previous life. The students made accessories ranging from large holdalls to children's rucksacks and smaller-scale leather bags. After the students had completed their designs and prototypes, they travelled to Wolverhampton to a factory that helped with the manufacturing process; here the students assisted with taking the original test pieces and putting them into production patterns.
Two students also created designs inspired by items they had seen in the archive, creating digital prints that were made into silk scarves. The RNLI particularly liked the idea of gift product – items that could be sold in the gift shop and online. Conversations have also taken place with department stores who are interested in stocking such products.
An exhibition displaying the student's work was held in April at the RNLI Museum in Poole, judged by AUB Governors, and the work is maintained in the RNLI Poole Lifeboat Station Museum archive.
The winning student will be offered a two year paid apprenticeship at the RNLI to work in their marketing department, a fantastic opportunity for any student looking to begin a career in the charity sector.
Meet the students behind the designs:
Lois Bosatta, 2017 BA (Hons) Fashion Graduate:
Lois was interested in connecting heritage and culture, and adding emotive content to her design. She found this easy to connect with, with the RNLI having such a strong heritage, she found there were a lot of interesting things in the archive to inspire her.
"I wanted to encourage the kids to get outdoors, to prepare them for who they are going to be."
The shape and design of Lois' bag was inspired from watching a team training exercise in the water.
"I wanted to include lots of the original features that kids would love to interact with, such as toggles and pull tags, reflective strips and a whistle, from the jackets that children could play with".
Marko Kis, 2017 BA (Hons) Fashion Graduate:
"I had never made accessories before, so it was amazing to make a bag for the first time."
Marko took his inspiration from cycling, and designed his accessory with purpose in mind. An experienced cyclist with a previous cycling career in Budapest, he ensured his cycle bag was both comfortable and streamline.
Marko made his bag completely from one life jacket, including as many of the original features he could from it.
Dan Rynne, 2017 BA (Hons) Fashion Graduate:
Dan decided to branch down a marketing campaign route.
"I wanted to mix it up and hit a different demographic, a lot of my research went a lot more bright and colourful."
"I came up with the idea of fashion to preserve life. I took this element and my tag line was this bag saves lives'.
Image credits: Harry Cooke.