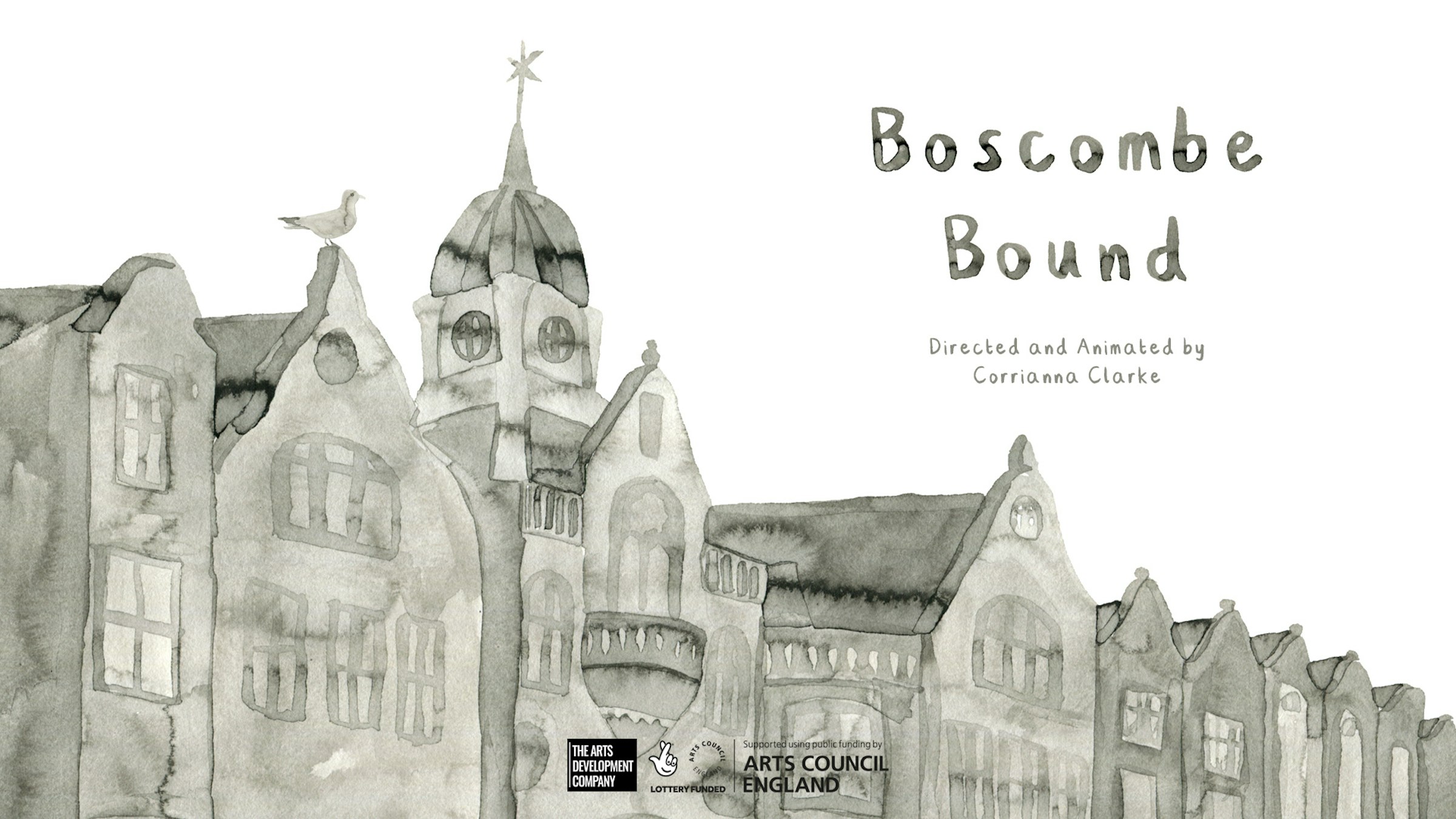 BA (Hons) Illustration (Animation) graduate and current MA Illustration student Corrianna Clarke will later this month be hosting a limited behind-the-scenes chat to showcase her new animation documentary, Boscombe Bound.
The filmmaker, documentarian and animator had previously worked as a Project Manager for a creative retail company whilst freelancing before deciding to continue her university animation studies through AUB's MA Illustration course.
Speaking about her journey in animation, Corrianna says: "Throughout my Foundation studies in Leicester, AUB was recommended to me and at AUB's Open Day, the area, course and campus really stood out.
"University is a privilege, and we have to really treasure it. Joining AUB's BA (Hons) Illustration course a little older, I could see the luxury of going into lectures and studying. Rather than working nine to five in the wrong job, I was instead learning about and doing the thing I loved best - animation.
But Corrianna's connection to the area and Bournemouth's creative groups meant that soon after graduating, she felt a strong desire to return to the area and university: "I moved back home to Leicester after my BA, but I really noticed that as well as AUB's own culture of confidence, encouragement and support, I'd become part of a fantastic creative network in Bournemouth that was at an exciting turning point. I wanted to return to the growing network here rather than have to build it from scratch again."
"There were so many more interesting things happening down in Bournemouth. The town just had a very real feeling of everyone being invested in making the area more creative. There are a lot of networks in Dorset that are connecting up these pockets of creativity with festivals and goings-on, and I'm really optimistic about the next few years."
Corrianna, who didn't start animating until she arrived at AUB, soon discovered that the combination of art, tech and mechanics was something she found really rewarding and soon after she felt that the work she was producing could become more than just art – it could become a career too.
"We all create so we need to shake off the feeling that our creative work and artistry doesn't have career prospects or that it's 'just for fun'. My first thought was around financial stability and self-employment as I thought I was one of those people that just didn't have the discipline to keep going, but I discovered that I do have the right confidence; I do have that ability and I do have work."
Corrianna also knew that if she was going to start up her own business with an interest in social commentary and community engagement, she was also going to make sure that a deeply seated desire to draw attention to what many people might perceive to be difficult or sensitive subjects wouldn't be left out either.
"There are lots of issues that definitely interest me – I've always been thinking about what I can say about female empowerment, mental health and the natural world. They're all talking points, but it's not about wanting to change someone's opinion as much as it is about wanting to draw someone's attention to something."
Lockdown ensued, and work reduced, but circumstances also proved to be just right, as The Arts Development Company put out funding call for Dorset-based artists to pitch their creative responses to Lockdown and Corrianna decided to apply.
"Work did slow down during that first lockdown, and with some extra availability, I thought I'd put something forward for the project and it'd be self-directed. I wanted to pitch something conscientious, discursive and interesting.
"I'm really interested in the Boscombe community. I started working here a couple of years ago and moved here not long after that. I'm really invested in what's going on here and how things in Boscombe are changing. There's a big £20million town improvement fund, and there's lots of discussion around that at the moment; around the strain of COVID-19 on shops, the identity of the location and how people feel about the changing area.
"I see how passionate and invested many others are about Boscombe too. There are a lot of people that worry about gentrification and they're just not comfortable with it. Now is a very relevant time to look at what could be lost or gained, to discuss what we love about Boscombe and think about how we can preserve these things. All I've wanted, positive or negative, is conversation and that's the measure of my work."

Three artists were selected for the brief, two of these were AUB graduates. Corrianna's pitch, which revolved around a traditional animation process, showcased a very analogue look and feel. Ideas grew from sketches made on-site in Boscombe's town centre before heading back into the studio where Corrianna conducts line testing and paints each and every piece by hand.
"Unusually, I actually really like to start with the audio and then build out from there. I wanted natural and organic speech, which is a little more spontaneous. I recorded the audio myself through a callout I put to local community leaders, and I then interviewed people for around half an hour and spent a couple of months cutting it down. The project took four months, with two months of actual animating for a four-minute short.
"A lot of people would think this is very laborious and perhaps question whether it was commercially viable, but the aesthetic is important. Frame to frame, the ink never behaves the same, and I don't have to do anything for that to happen. A frame takes a minute or longer to paint, but the way the ink dries is entirely left to chance – it's unique."
When asked about what words of advice she might give to an aspiring animator interested in using the medium to provoke discussion and conversation, Corrianna adds: "Something I always keep in mind is advice given to me from a tutor long ago – if you don't love it, don't do it. If something isn't resonating even after getting further into it, don't just carry on. If you're not passionate about something – a project or a discipline – it's not going to go anywhere.
"Find that thing that keeps you going and surround yourself with those from the community that has the same love and values that you do, which will really drive everything."
Interviewed by producer Laura Mulhern of PLAN MAKE DO, Corrianna's event will take place on Thursday 8 April at 19.00, and participants can register for tickets via Eventbrite.
Read more about BA (Hons) Illustration (Animation) and MA Illustration at AUB.