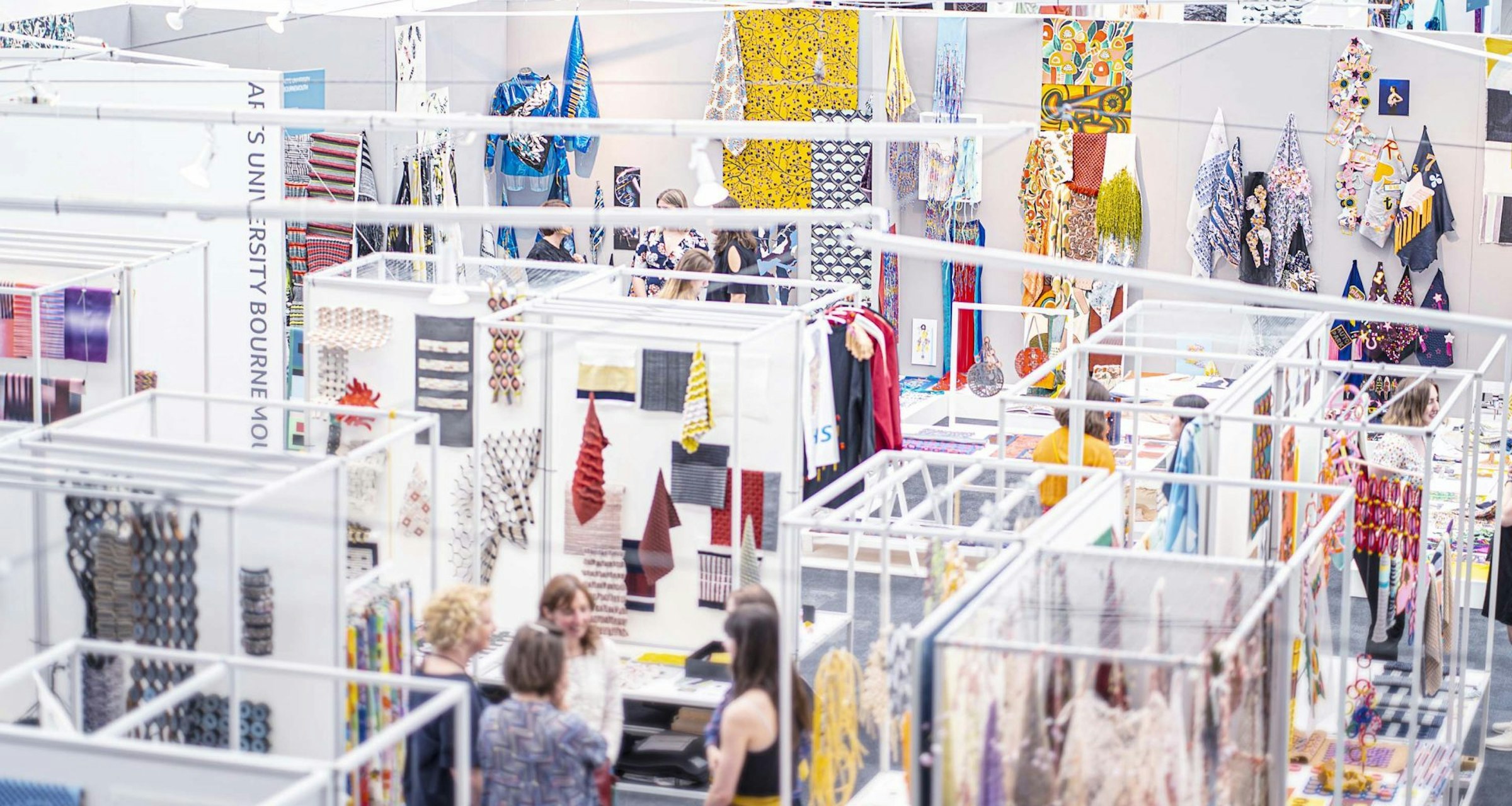 New Designers is an annual show that aims to present the work of more than 3,000 hand-picked creatives across a two-week programme of discovery, discourse and design excellence. BA (Hons) Textiles graduates will be exhibiting their works from 26-29 June 2019 at the Business Design Centre in Islington, London.
Two AUB BA (Hons) Textiles alumni, Brooke Wakeman and Aiste Karnisaskaite, have won awards at New Designers, with Brooke winning the 'Wilko W'innovate award' and both Aiste and Brooke being joint winners of the 'Lucienne Day prize'.
We caught up with them at the event:
BROOKE WAKEMAN
Could you tell me about your work?
This project is called 'A clouded View' and it's based on aerial views of landscapes. I used a drone to take some initial photos, developed that using collages, mark making and different freestyle painting methods to create a geometric collection of furnishing fabrics and blankets.
They're intended for domestic interior spaces. There's a different range of both placement and designs, using a colour palette from my initial photos.
Can you tell us about the award you won at New Designers today?
It's the Wilko W'Innovate award, which is really exciting. I got to meet some of the designers from Wilko and as part of the prize I get £1000 to help start my career, I'll also be going to work in their office for two weeks with the home wear designer.
Can you tell us a bit about your time at AUB?
I've had a great time, I've loved it. I think the textiles course, in particular, has been great to me, you're not limited to one discipline. Although I consider myself a printer, I've been able to incorporate different aspects of stitch and embellishment within that, which has been really great.
I've loved the community feel and the small aspect of AUB, I've made some really amazing friends on the course, it's been fantastic.
What are your plans now you've graduated?
I found out earlier today that I've got into TexSelect, so I will be exhibiting in London with them. Over the summer I will be developing more work ready to go to Premiere Vision in Paris in September.
AISTE KARNISASKAITE
Could you tell me about your work?
My final grad collection was titled 'Wonderous Woodlands' and it was created to raise awareness of the woodlands of Lithuania, which are currently undergoing a lot of deforestation and loss because companies are coming in for the wood because there's so much dense woodland.
It's something I used to see as a kid and it's a place of calm for myself. It was something I really wanted to preserve and I wanted to highlight it for other people that might not get to experience it.
How did you find your time at AUB?
It's been amazing, I've loved it so much. It's been a lot of hard work and it's been a lot of stress, but I feel like it's really paid off. I've definitely found myself as a designer, it's been really, really nice.
Can you tell us about the award you won at New Designers today?
Brooke and I are joint winners of the Lucienne Day prize, which is absolutely amazing. It's someone I have looked up to for so long and it's very surreal. I didn't expect it at all, so it's such a nice surprise.
What are your plans after graduating?
I'm applying for jobs at the moment, looking into the industry, as that's where I want to start and then eventually go into freelance, and do my own thing.