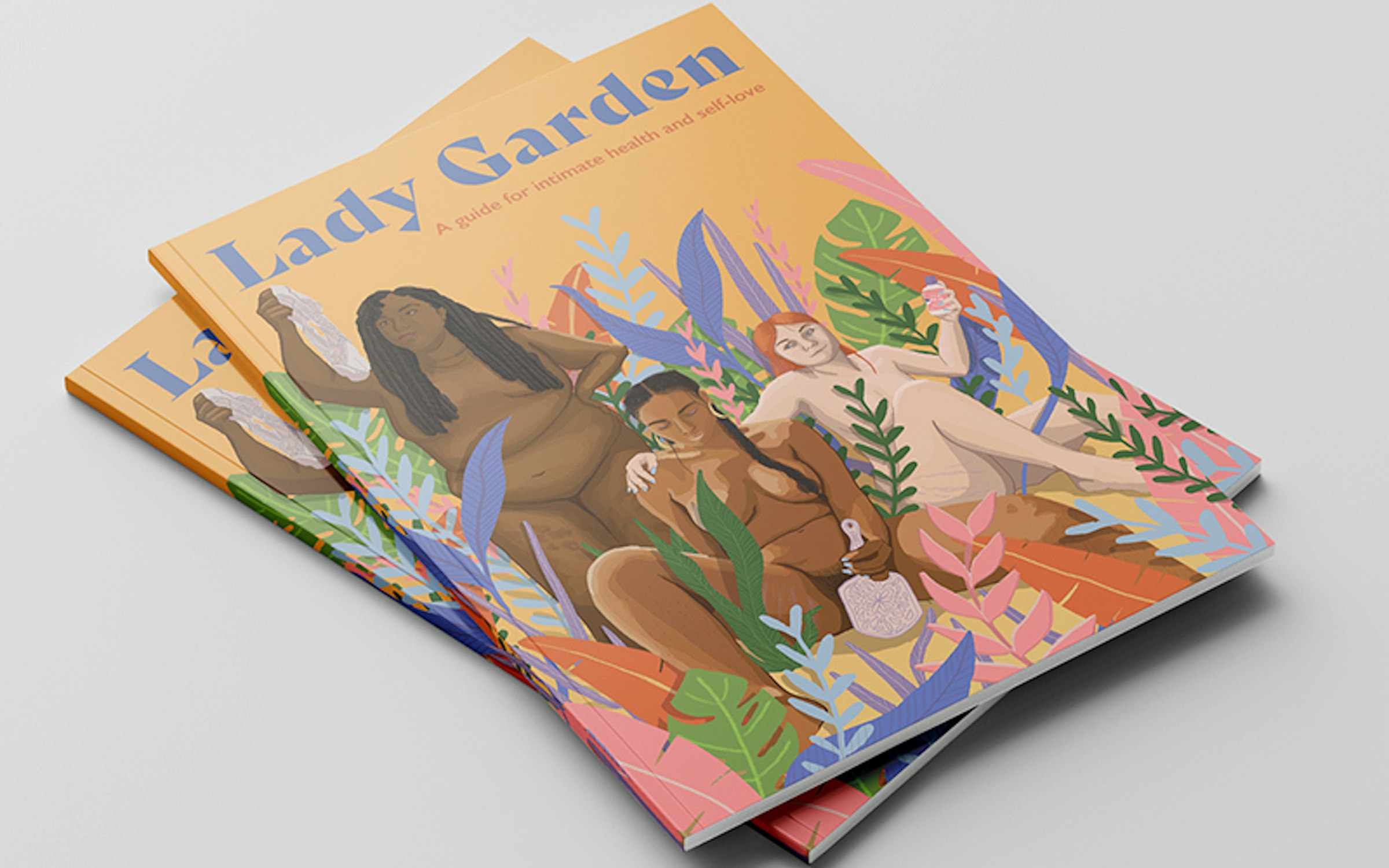 11 AUB students from Graphic Design, Architecture, Visual Communication and Fashion Branding and Communication courses have won top awards at this year's Creative Conscience Awards, alongside 16 other AUB students recognised for their outstanding work.
Hosted by Creative Conscience founder Chrissy Levett and environmentalist Sir Jonathon Porritt, The Creative Conscience Awards is a platform for new and innovative ideas that encompass and encourage world-changing creativity.
Entrants from across fields including Design, Fashion, Architecture and Animation took on briefs looking at a range of key themes like mental health, equality and the climate crisis.

Fashion Branding and Communication student Sophie McPherson's illustrated publication, The Lady Garden, created for her Final Major Project at AUB, picked up Bronze in the Illustration category at the awards. The graduate, who now creates retail campaigns as a Marketing Executive, collaborated with three other AUB students; Mary Hart, Stella Bonova, and Neisha Rendel to create the publication, which highlights the importance of female intimate hygiene and self-care.
She said: "I was absolutely delighted to win an award as Creative Conscience awards stands for everything I believe in as a creative. Forward thinking creative ideas that make an impact in our world. Throughout this project I collaborated with a team of inspiring, young women who all shared the same belief and we quickly found our mantra for the project, we wanted to inspire women, but particularly the next generation of young women to not be ashamed of embarrassed of their bodies but instead to love and respect them.
"I hoped for my project would be a realistic and engaging approach on understanding what women's bodies do and to shine some light on the reality of 'vagina norms' and face these 'issues' straight up in order for it to be understood and normalised."
Esther Yarnold, Level 6 Lead for BA (Hons) Fashion Branding and Communication, said: "Central to the philosophy of the Fashion Branding and Communication course is engagement with industry and the relevance of collaborative and collective practice in the creative industries. This is embedded throughout the course through a variety of activities and initiatives designed to assist students with their future career aims. Students are also encouraged to address issues of inclusive and sustainable practice throughout their studies, and to consider the impact their work has within their local and global communities.
"During her final year, Sophie embarked on a project for renowned Dorset-based company Lush, creating a diverse body of work. We are so proud that this work has been recognised with a Bronze award at such a high profile event."
Architecture students Anna Freiesleben, Aaron Naish, and Charlotte Harvey also won Silver and Bronze awards for their entries. Anna's The Glassworks, which took Silver in the Architecture, Engineering & Interior Design category, explores contemporary narratives on migration. The concept uses flexible glass sliding screens to invite visitors and artists to cross boundaries and experience personal narratives from across the world.
The Typology, created by Bronze-winning second year BA (Hons) Architecture student Aaron Naish, presents permeable mid-rise typology as a sustainable alternative to high-rise tower buildings, bringing forth a new ideal for dense urban living that confronts the issue of future sea level rises as a result of global warming.
Charlotte Harvey's Urban Chine, which won a Silver award, explores the idea of a co-housing self sustaining intervention in Bournemouth's town centre, improving human and planetary health through the inclusion of the natural world. Made from predominantly Cross-Laminated Timber, the building is fully recyclable and has a low carbon footprint, using natural materials and greenery envelope within a timber-grid shell housing solar panels and 'eco-drape' algae curtains.
AUB second year students Josh Papps, Ben Gage, Dan Trend and Michael Rozen, received the Creative Conscience Bronze award for their project Refill, which aims to reduce the problem of food packaging waste by adapting community driven zero-waste systems for use in busy supermarkets. Fellow Graphic Design students Olivia Simpson, Holly Gray, Sophie Corbin and Katie Bridge also received the Bronze award for their project Purity in the Graphic Design category. Purity is a unique rainwater harvesting and filtration system that aims to reduce water wastage.
Katie said: "I am so happy to have collaborated with very talented designers on this project; seeing our work winning an award is such a huge achievement and very inspiring for the future. Our project was focused on creating a change within the environment and having others see this as a success is a huge step forward to designing more for change. Thank you for this opportunity."

Final year student Tom Cornwell received the Highly Commended award for his shoe-leasing project Sneakarma in the Service Design category, with fellow Graphic Design student Alina Mendoza Lopez receiving the Highly Commended Award in the Film & Photography category for her short animated sequence, When Sadness Finds You, which was inspired by a poem by Erin Hanson. Architecture student Maxwell Wootton also won the Highly Commended award for The Water Campus, a university campus vision where residents and students interact closely across island spaces, providing a physical platform for cultural and social exchange.

With more than 20 AUB Graphic Design students and graduates recognised for their work at the ceremony, Marion Morrison, Graphic Design Course Leader at AUB, said: "We've seen a brilliant set of results for AUB Graphic Design; current students and recent graduates included.
"In line with our course ethos, you can see evidenced across all projects a passionate desire to use our creative skills as a force to help create a fairer, healthier and more inclusive and sustainable world. A big thank you to Chrissy Levett and Paul Barlow for their great work at Creative Conscience and for promoting the annual Global Design challenge for positive change."
Senior Lecturer and AUB Human Founder Alice Stevens, said: "The philosophy of Creative Conscience is similar to that of AUB Human, so we feel very proud that students from courses across the AUB campus have achieved so highly in these awards that aim to benefit the environment and communities in which we live and work"
AUB Human is AUB's creative space for social, ethical and sustainable creative practice, connecting designers, architects, filmmakers and other creative practitioners who share a desire to bring about positive change for global good.