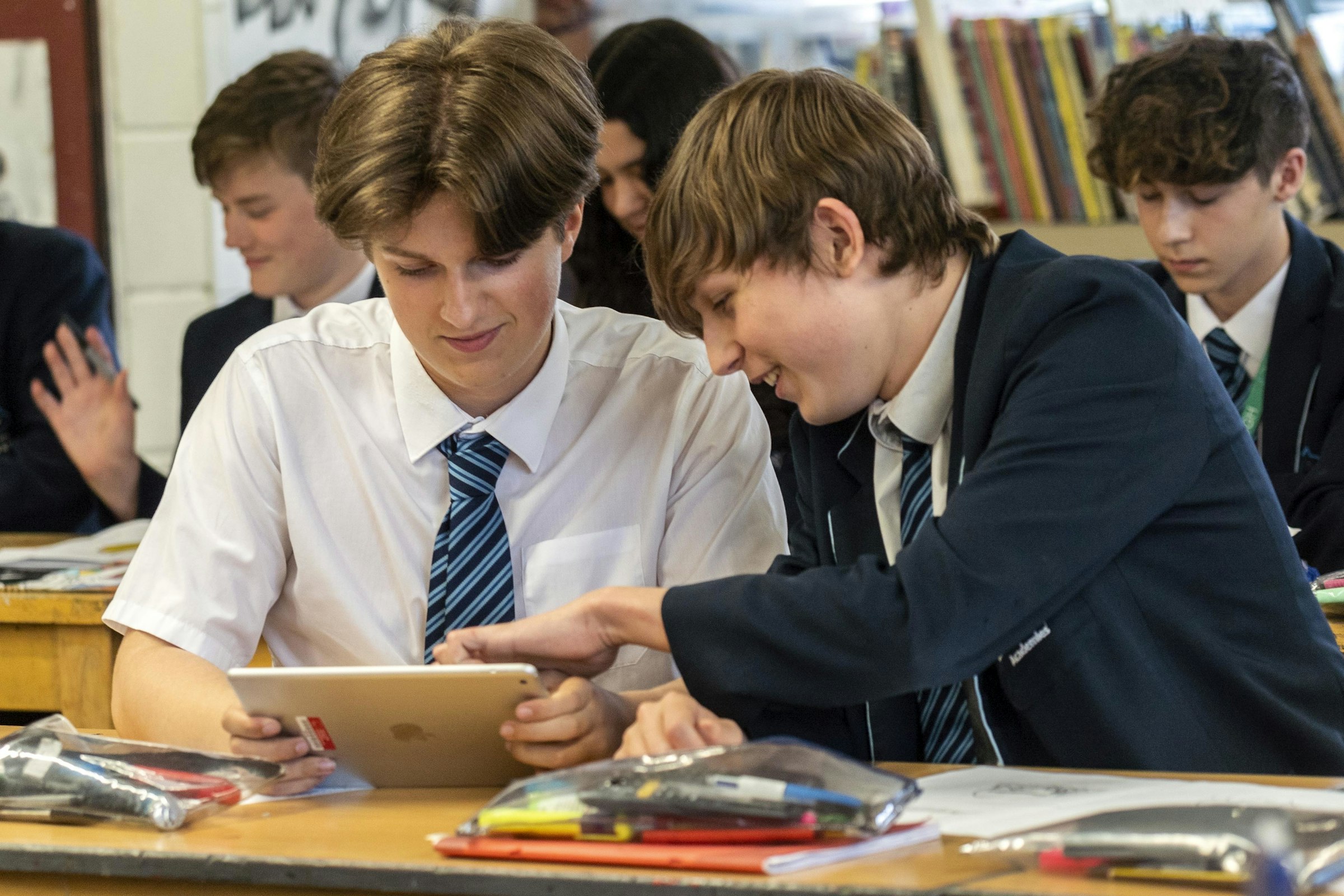 A group of educators and design specialists are working with Global Teacher Prize winner Andria Zafirakou to launch a new app designed to tackle the UK's creative skills gap in schools.
Arts University Bournemouth (AUB) and creative design agency Bond & Coyne have worked with the award winning textiles teacher to address the creative industries employment gap after seeing a decline in school provision for those choosing creative careers.
The group have come together to design and launch WonderWhat, a new web-based app designed to help 'bridge the gap', connecting students with a future careers prospect in the creative industries.
Despite more than 1.2million creative industry workers being needed to plug a national skills gap over the next decade, the number of students now studying Creative, Art and Design subjects at university has also fallen by more than 3.5 percent, according to UK university data published in 2020 and 2021.
More than 73 percent of creative businesses also now struggle to recruit new creative talent, with Department for Education figures published in September 2020 demonstrating a 4 percent decline in arts teachers and a 3 percent decline in arts-based teaching time.

Simon Pride, AUB's WonderWhat Project Co-ordinator, said: "The creative industries have famously been one of the UK's economic success stories of the last 10 years, growing at five times the rate of the total UK economy, adding £119 billion to the GVA in 2019 and supporting 3.5 million jobs, but the success story of the creative industries depends on the supply of talent from schools, colleges and universities. And that's the problem, that supply of talent is drying up.
"Working with our design agency, Bond and Coyne, and inspirational art teachers like Andria Zafirakou, we identified that all the existing web and app-based careers advice resources have one major drawback – they are word-based search engines - if you don't know what you're looking for, how are you going to type into a search engine?
"WonderWhat is the first image-based careers app – students pick images that interest or excite them, then get career options based on those choices. On behalf of the creative HE sector and the creative industries we serve, AUB is proud to bring this innovation to schools throughout the UK."
Global Teacher Prize Winner Andria Zafirakou has also been working to connect the app with school children. She said: "Unfortunately there's definitely been a decline in students opting to choose creative careers, which is having a stark and immediate effect on the workforce available to the creative industries. Areas such as film, TV, modelmaking and design are now struggling to fill key roles in.
"WonderWhat inspires students to consider new possibilities and how their skill sets might sit within the creative industries. This tool is exactly the kind of motivator needed to propel creative talent forward and to support schools and colleges strategy and approach to careers advice and guidance"
Developers Bond & Coyne were approached by AUB to look at how, by working with the University and schools across the country, a creative solution could be found.
Laura Brown-Little, a Designer at Bond & Coyne, said: "An image driven search engine is a no brainer for a generation brought up in a digital world and we're proud to have been part of the team behind the WonderWhat initiative and platform – I wish I had something like this to help me when I was choosing my GCSEs.
"As a creative design agency, our success depends upon exciting and dynamic creative professionals, and our industry is directly affected by a skills gap in this area. Our intention with WonderWhat is to deliver a seamless and captivating experience for school leavers who are looking to consider what their first steps towards creative careers might look like."

The team drew upon focus group findings from across a broad range of schools, before adopting an app-based approach amid a growing body of US and international research into visual learning aids and the use of social media as a teaching and learning tool.
The platform guides users through a series of selectable tiles of interest that generate a user profile. From this data, the platform then suggests creative careers in areas that relate to the imagery, across sectors including Textiles, Photography, Film, Modelmaking and Design.
Dr Alex Blower, Access and Participation Manager at AUB, said: "The development of WonderWhat provides an easy-to-use, interactive mechanism in which careers in the creative industries are demystified.
"As an institution, we're committed to driving a creative sector that more fully reflects the society it serves. The creation of this app is a tangible step forward in us realising that commitment."
AUB Vice Chancellor Professor Paul Gough has previously lobbied the Government to address the skills gap on behalf of the creative industries as Chair of the UKADIA, a national organisation representing art, design, media and performance institutions.