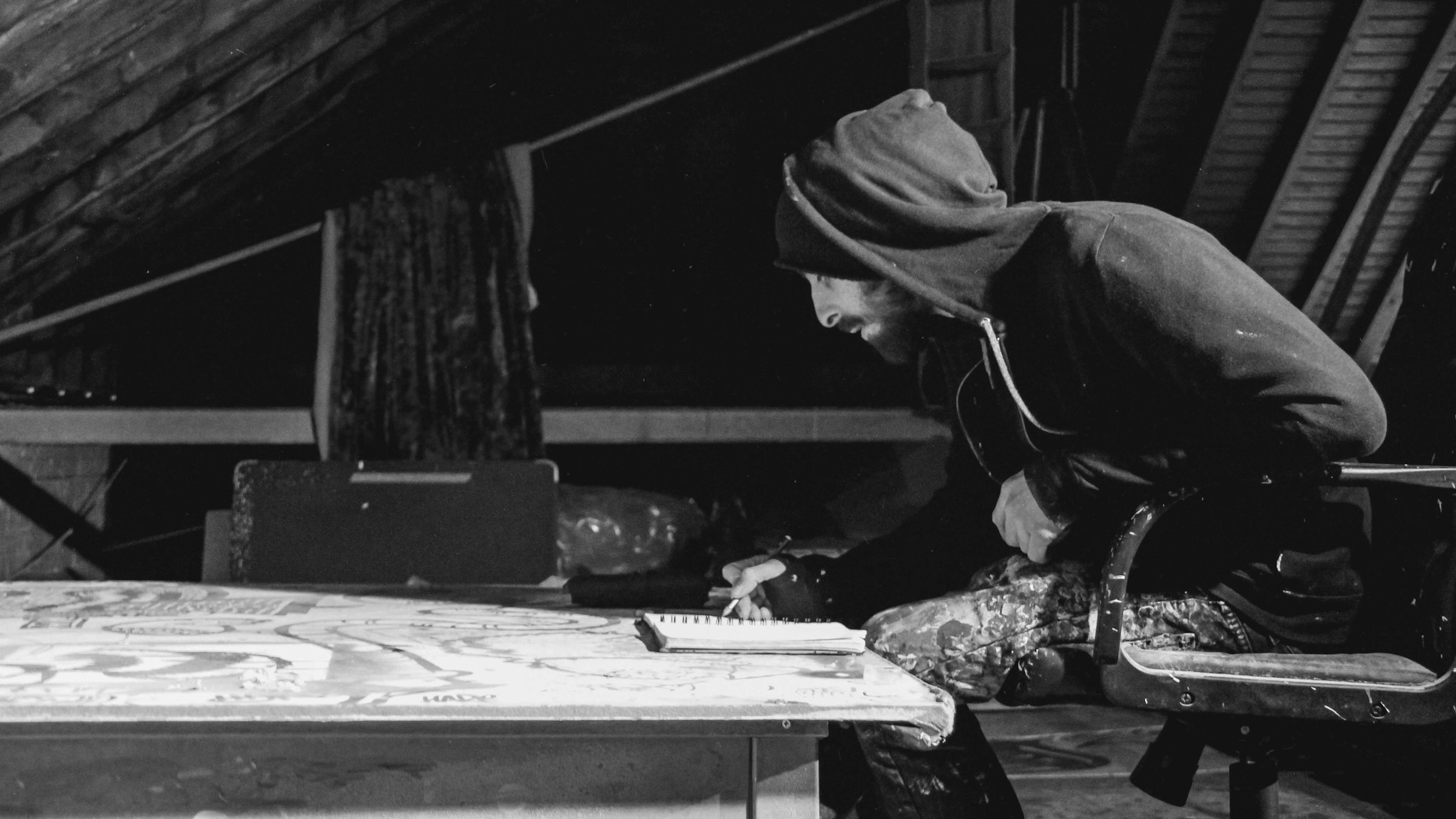 Amid the backdrop of a global pandemic, Boscombe-based street artist Tech Moon has transformed areas across Bournemouth and Poole with his captivating style of colourful graffiti work.
Krishna Malla is an Arts University Bournemouth (AUB) graduate, who studied BA (Hons) Illustration from 2006 before becoming AUB Students' Union President in 2009. Krishna. Originally from Cornwall, Krishna decided to study at AUB after a recommendation from his A-Level Art Teacher.
"I was definitely thinking about moving to London before I'd seen AUB", he says. "But there was less street art in Bournemouth, and I thought that perhaps I could do something unique here. There were great artists coming out of this town, but they weren't staying local. I always have the sense that Bournemouth is a thriving place that aspires to so much, and I felt like there was a real niche here."
Visiting Spain as a child, Krishna dabbled with sketches and Illustration after being inspired by the country's avid love of street art, with internationally-famed artists like Belin and Saturno transforming the streets of Barcelona with their iconic work.
And perhaps with that same openness in mind, some UK councils and local area authorities have become more open to working with artists like Krishna. After seeing potential in working with the local council in Bournemouth, Krishna started to develop community-based artworks that enhance areas and reflect their sense of identity, like the nautical blues of Southbourne's new mural, Gods of The Sea.

Adorning a set of public toilets beside a clifftop coastal view, Gods of The Sea was initially met with some distrust by locals, explains Krishna. "The thing is, when I started the job, I'd white emulsioned the building, and had begun sketches on the plain walls. Sketches rarely look good initially, as you attempt to work your drawn ideas onto a physical space.
"But over the course of six weeks, the same people that had come over to complain to me started to really like the work. The Southbourne mural really demonstrates how much more Bournemouth has embraced street art in the past 10 years. The more people see it done well in public, the more they love it. I have no ownership of the work so, once it's out in public it belongs to the public, which is what makes street art so unique."
As well as creating more public works like the fly in an underpass near St Stephen's Road, recently commissioned by Upside Gallery, Krishna has also taken on private commissions for local clients too, including filmmaker Steven Murphy, who tasked him with a huge six-foot painting of Sylvester Stallone's Rocky character for his new tour bus.
The popular freelance artist, who was able to turn his artistry into a full-time career in 2013 now has a four-month waiting list for work, and identifies his mural of an owl on Boscombe High Street, commissioned by Bournemouth's Emerging Arts Fringe Festival (BEAF), as his favourite piece to date.
Though it's been more than a decade since he graduated, Krishna still fondly remembers his time at AUB; the place where he also developed essential business skills like marketing and networking. He adds: "I have many things to thank AUB for; from the huge range of course projects I took part in, to working in other environments like music video shoots and on product illustration work.
"Straight after uni, I set up a series of live art battles which pitched opponents against each other with a live audience and scoring, it was a first for Bournemouth and it went down really well. They don't run any more, but it was an experiment in taking a risk, and I think that success is very much about 'keeping the faith' with your own ideas.
"Sometimes you can be trying so hard to establish yourself that you almost lose track of motivation – you're constantly looking at how to make this passion a full-time job. For me, it's about being brave enough to make mistakes. Embrace them and make them part of your journey."
Krishna has been a Visiting Tutor for AUB's BA (Hons) Graphic Design course, and graduated from BA (Hons) Illustration in 2009. Visit Tech Moon's website and instagram.