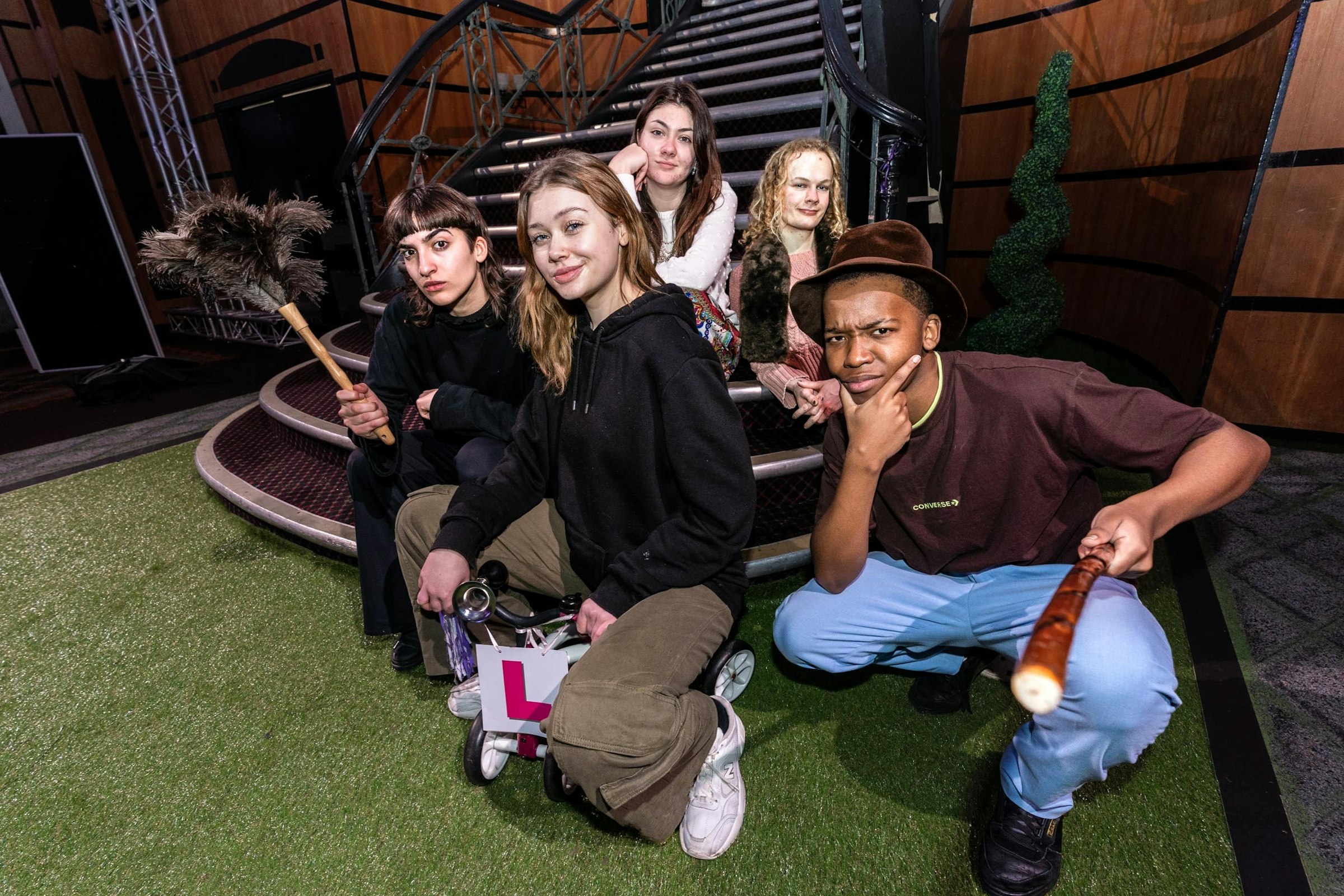 "It's definitely Shakespeare… But it's not as you've seen it before!" describes Royal Shakespeare Company Theatre Director Aileen Gonsalves, who is at the helm of AUB Productions' glittering iteration of romantic comedy classic Strictly Twelfth Night!
And certainly the scene does seem to be a little different: a huge winding staircase winds its way between audience and gantry, and a large room-spanning lighting rig sits high above a cluster of set designers, riggers, and costume designers.
If the world's most famous bard had been around in 2023, perhaps the master manipulator of love, tragedy, and comedy might've been set for a career in TV production, and that's how Aileen's vision for the play unfolds.
"I've done a lot of immersive theatre for the Royal Shakespeare Company, and I've created Shakespeare pieces in caves, castles, and unique woodlands… But the iconic Royal Bath Hotel, and this 1920s art-deco world our Set Designers have created is amazing!
"In reimagining this play, we had some interesting ideas around gender and how it's become a big topic in society, but when does our modern world just get over it? Twelfth Night sees cast reversing gender, with women playing men, so our version, Strictly Twelfth Night! imagines a world where this happens a lot quicker!
"What if Twelfth Night were a reality show? And what if Bournemouth's audience are a reality TV audience viewing the filmed finale of a reality series? It's got a duo of presenters, the crew are Floor Managers, Runners and Camera People, and the audience are watching a combination of Love Island, Sex on the Beach, Married at First Sight – an experiment in love, with Orsino, Olivia and Viola."

Final year BA (Hons) Acting students Gabriela Chanova, Beatriz Saramago and Kevin Pako play Olivia, Maria, and Sir Toby Belch; a trio of love-spurned, energetic, and dynamic characters set amid an unfolding love triangle within the Ilyrian court of handsome nobleman Duke Orsino.
Kevin says: "The show is just so immersive and amazing! We are really playing with the audience and the performance space – it's a whole new play now, and it's working really well. It's been challenging in different ways; but I found my character really fun!
"Aileen's vision has been so clear; the audience is a huge part of this show, and every performance will be completely different – the show is the audience!"
Beatriz says: "I really cannot think of any other way to do Shakespeare now; immersive theatre and Shakespeare together brings new freedoms to the work we're performing and actors can be bolder and speak to the audience, fully bringing them into the performance.
Famed for its rich characters and unfolding love story, Strictly Twelfth Night! includes some interesting twists, including a shipwreck VT rolled to a live studio audience to kick off the show.
Gabriela says: "At first, I just couldn't imagine it [in this modern style], but now I can't unsee it, it can't be anything else but this, but Twelfth Night makes so much sense as a spectacle. Today is the first time we've seen the finished set – it's phenomenal, and it's exciting."
"Giving up control is difficult, but Aileen's acting method [The Gonsalves Method] teaches you to live in the moment, to react to what's in front of you. Now, it's how I imagine my approach to acting.
Beatriz adds: "For me, English is my second language, and perhaps Shakespeare is even my third language; so I'm learning a new language. How do I know what I am saying and physicalise it for my audience? Going into the headspace that Shakespeare is part of me now, and that I know what I am doing, has helped me overcome my phobia."
After graduating AUB in July, Gabriela, Kevin, and Beatriz hope to continue their careers in London, expanding their work acting and modelling experience further.
Strictly Twelfth Night! opens at Bournemouth's Royal Bath Hotel on Thursday 2 March, Friday 3 March and Saturday 4 March (evening and matinee).