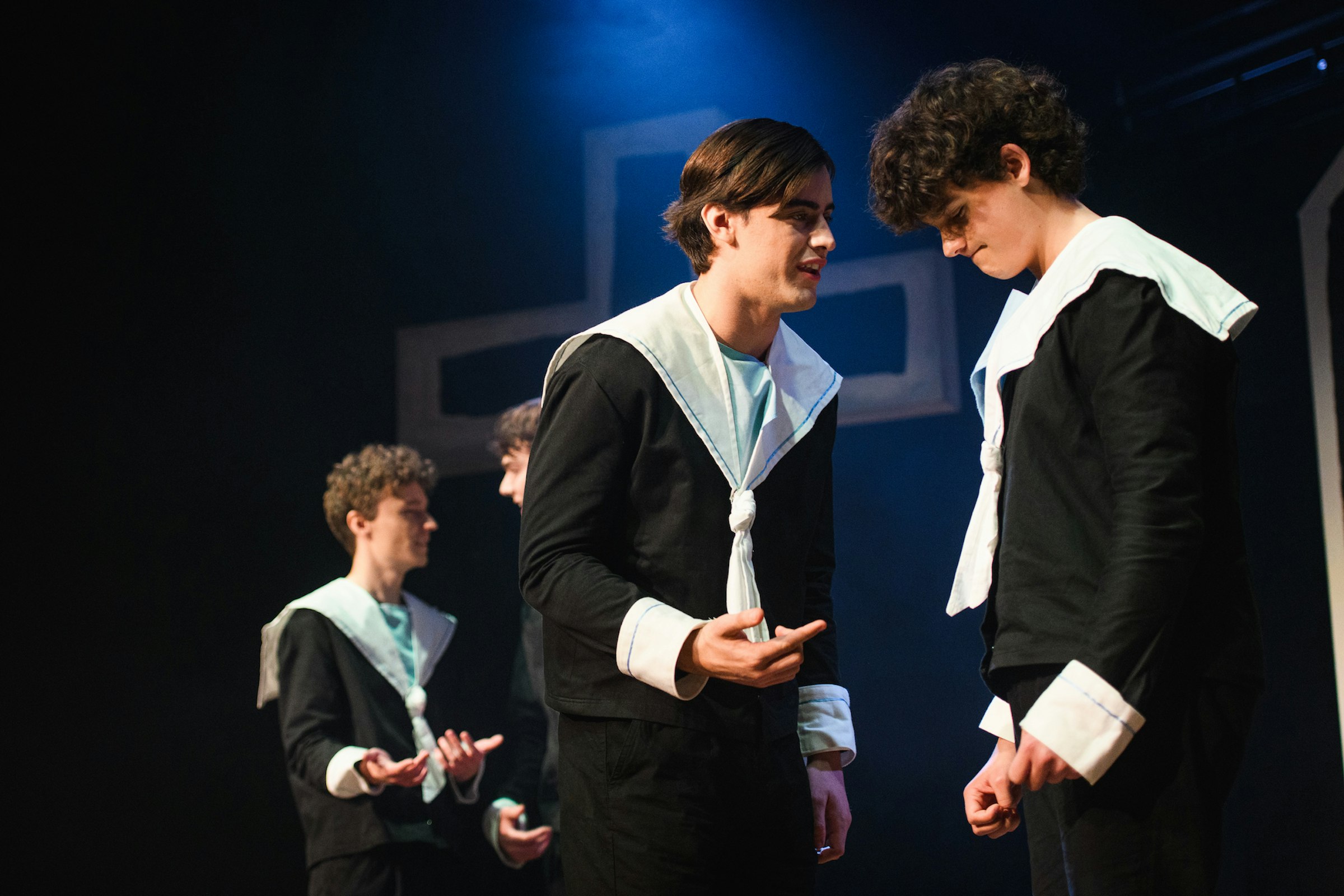 The brand-new season of AUB Productions shows kicked off with an adaptation of Frank Wedekind's Spring Awakening.
Highly controversial and groundbreaking at the time of its completion in 1891, the play, later translated by Ted Hughes, follows adolescents in Germany and the discovery of their budding sexual feelings within a society that tries to silence and control them. Ultimately leading to tragedy.
"A key theme of the play is education, and the writer is critiquing the education system of the time, in which the young people had heaps of homework put upon them," explains director Craig Norman, also a Senior Lecturer on the BA (Hons) Acting course at Arts University Bournemouth (AUB).
"They were under immense pressure to achieve. During my research I discovered that at the time, the son's occupation reflected the family's social status.
"Wedekind is ridiculing society in terms of the adults' inability to communicate with their children. The majority of the adult characters in the play are written as ridiculous. I wanted to, as a director, highlight the idiocy of the characters."
Craig says these themes, and the pressure that young people are under, are just as prevalent today as they were in the 1800s, and deliberately wanted to draw these parallels.
And while he notes that while audiences can expect a challenging piece with very strong characters, it's not entirely a play of dark and depressing material, with some moments of comedy.
Craig also commends the actors on how well they responded to the challenging content.
"[They've] been sensitive… they've been confident. We've created a safe space for this play, and we've worked with an intimacy director.
"These themes are present in a lot of drama. During my training, I was taught 'no conflict, no drama', and this very much holds up in this play."
"Themes like this need to keep being discussed and portrayed, especially through art," adds Renia Sevastaki, who plays the role of Frau Gabor in the show. "It could create a stimulus; it forces people to take a step back, allows them to think and to make a change."
In this production, the actors will multi-role, with the cast of 13 playing a total of 36 characters.
Ethan Lewendon, who plays three parts – Hans, Gaston and Knuppeldick – explains the contrast between the roles:
"The two characters Gaston and Knuppeldick were light and comedic so not too intense. Hans is weird as he's dark and an antagonist – he has an intimate side and an aggressive side. He touches on themes of being dominant over women, but he's also sombre and sweet, which was a challenge. There was a struggle to understand his dimensions because he has no solid form."
Fellow actor Fraser Humphrey also tackled challenges while playing the roles of Otto the masked gentleman, Ruprecht and Herr Gabor.
"I've come in with an open mindset willing to test out different ways a character may behave," he says.
"One of the challenges I faced is the range of ages I have to play – a 14-year-old boy, a married man, and the masked man (who doesn't really have an identity)."
Overall, all three performers say that working on Spring Awakening has been a positive experience.
"It's so moving to see everyone grow as people and as actors," says Renia. "We've known each other for three years now, and it's very sentimental to see us all evolve as artists."
After graduation, Renia says she'd like to keep in touch with the theatre but would also love to work behind the scenes on a project. Meanwhile, Fraser's plan is to move to Bristol, get an agent and work as much as possible, with auditions on the side. Ethan plans to move home too, but hasn't ruled out coming back to Bournemouth, perhaps to work on more university films.
AUB Productions' Spring Awakening ran from 2–4 November 2023.