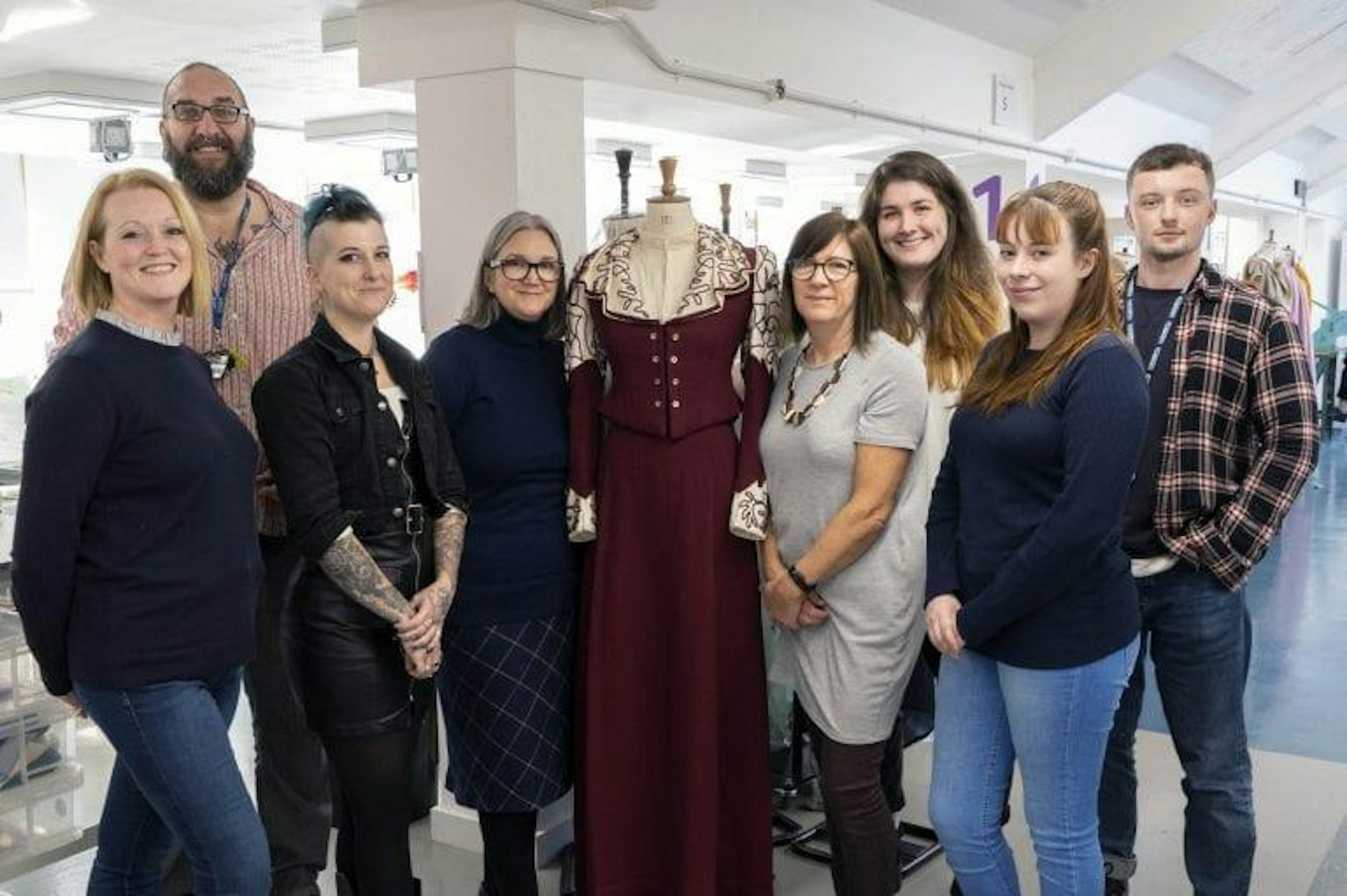 AUB's MA Historical Costume programme launched earlier this year, with its first cohort of students developing ideas and research topics across a diverse variety of areas, including hat and dress making, industry sustainability and the politics behind monarchic fashion.
Led by Course Leader Rebecca Pride alongside Dr Jon Croose and Mandy Barrington, the course supports and develops advanced practitioners who have an ambition to explore, challenge and redefine the relationship between historical artefacts and contemporary costume.
Shelley Venables had been looking into Elizabethan dress while studying BA Costume and Performance Design at AUB and after exploring the area in detail, decided to shift towards Victorian dress for her MA studies. "I'm looking into the fabrics they used and the progression from silhouette shapes, there's just so much to discuss, and it changes subtly yet quickly through this period."
"When I was at school, I used to remember the eras by what people wore and that's why it's always been a fascination for me. I'm a performer in musical theatre, and had always helped with costumes there, so it just seemed a very logical progression. The more I do, the more I want to discover, and I'd like to teach in historical fashion and construction after university."
AUB BA Costume and Performance Design graduate Alex White had been considering an MA, but couldn't find a course that would help him to further develop and consider his research into Korean ceremonial dress.
Alex said: "It's such a broad course, where you can look at some many areas. I'm a designer rather than maker, so I wanted to look at writing a historical play centring on the Korean historical costume at the time of fall of the last Korean dynasty, just before the start of the 20th century.
"People usually think of Asian design as Japanese or Chinese, but there's something more unique about Korean costume and how it's perceived. It's also about a shared affinity between Korea itself, both in the North and South, and how they both relate to their past.
"By studying MA at AUB, I'd really like to produce my play, and have it performed. Through my research I'm already seeing other historical stories that could be told similarly."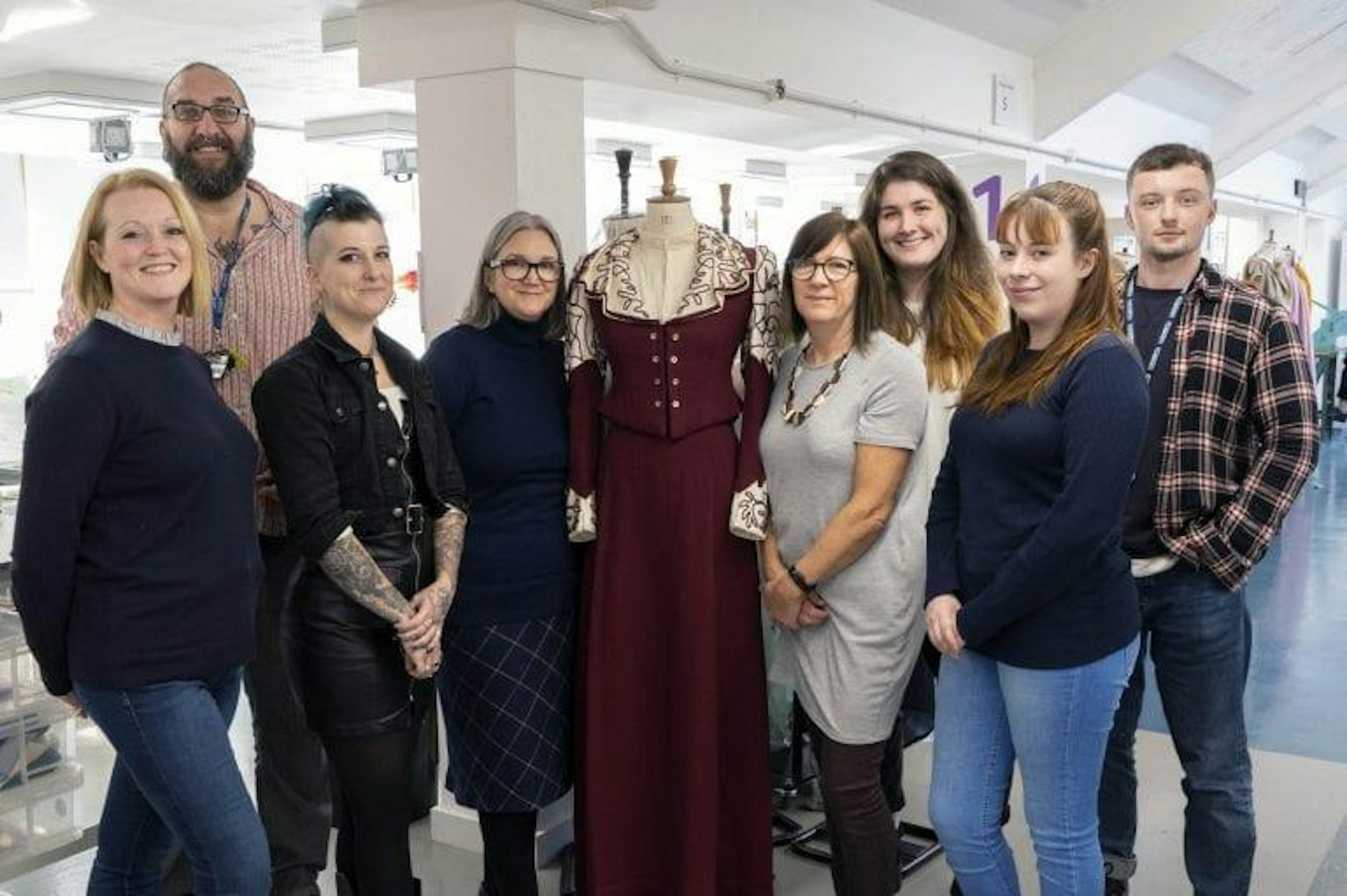 Anne Thomson travels from Reading to study at AUB, having graduated from Rose Bruford College in 2013. Her studies aim to look at sustainability in the costume industry, being informed by her own observations while working on both theatre and film productions.
"I was looking for an MA that I could use to further my knowledge, while also being able to take make some of my ideas; I wasn't looking for something that would be solely academic and theoretical. I've worked in low-budget theatre, which is more sustainable, but also higher budget film, where I saw more of a 'throw-away culture'.
"Sustainable materials could be 100 per cent natural, but they can still create pollution through manufacturing, so I'm very much interested in how we can reuse and adapt things. I'd like to continue my sustainability work in my industry practice and add to research in this area. "
Senior Lecturer Wayne Martin, who teaches on AUB's BA (Hons) Costume and Performance Design programme is researching symbolism in royal dress across the British royal family, inspired by his brother Tony, who served for 20 years as the Queen's Flag Man at Windsor Castle.
"I really wanted to further my knowledge in royal dress and bring this into my practice as a tutor. My area is historical dress and I wanted something that would pique my interest. I met people at Windsor through my brother and they showed a real interest in my project.
"Initially, I was worried that I wouldn't be able to gain access to specific collections that I would need for my research, but I've reached out to a number of people who have been interested in helping. People don't realise that royal dress actually does help in a diplomatic sense – for example, the Queen has worn dresses inspired by the flags of a number of countries she's visited."
Senior Lecturer Mandy Barrington, who teaches on the programme, said: "MA is very much based on self-directed study in that students are able to focus on their own area of research interest supported by our staff.
"Historical Costume is a really varied course, but that is what makes it so interesting. Costume is so varied as a subject, including roles as diverse as scenic artists, armour makers and puppeteers."