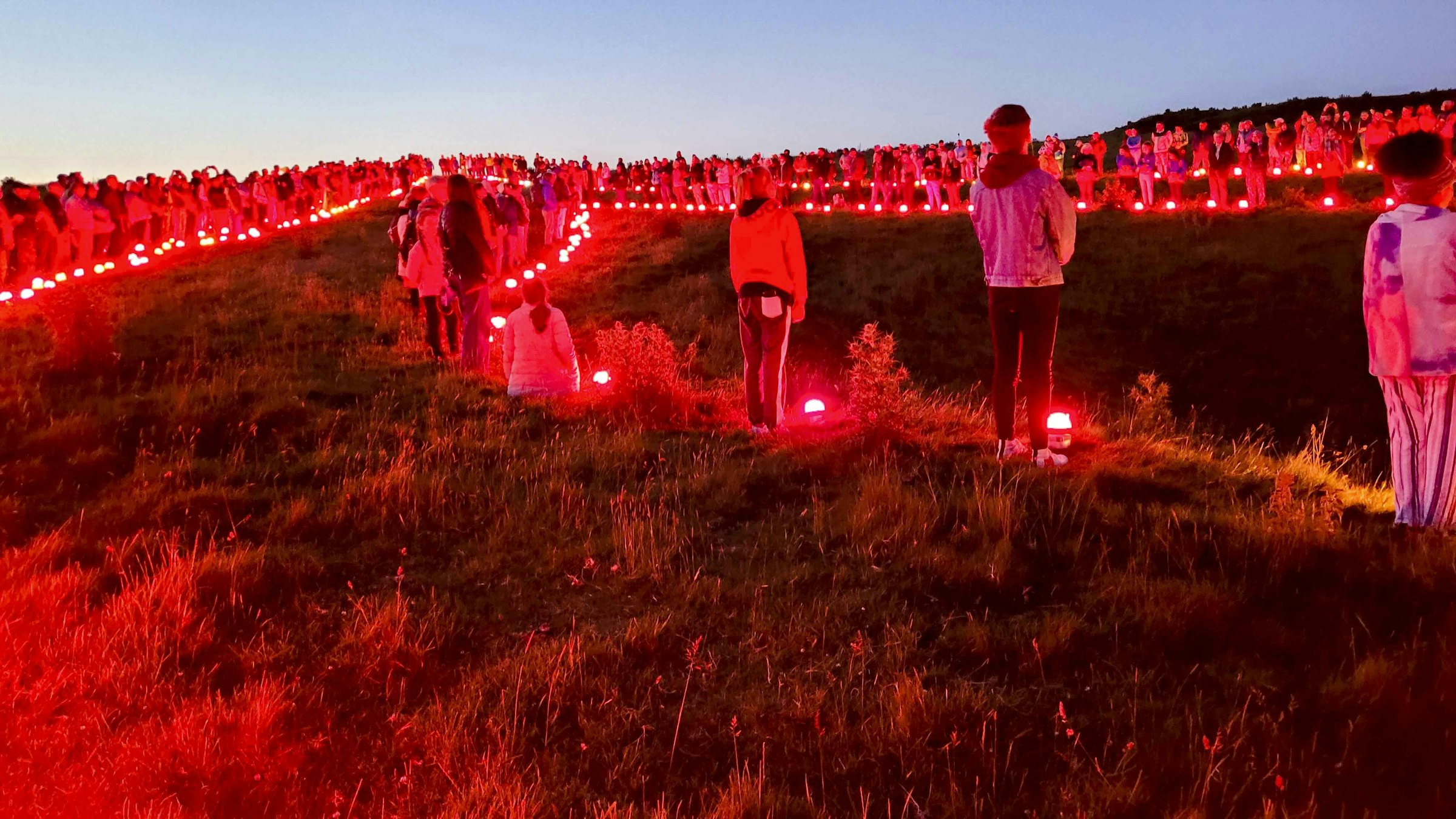 Second year BA (Hons) Interior Architecture Design and BA (Hons) Graphic Design students have worked together to respond to a live brief from Activate Performing Arts and the Green Space Dark Skies project.
Green Space Dark Skies is one of 10 major creative projects commissioned as part of UNBOXED: Creativity in the UK, and is produced and created by Walk the Plank, with the Dorset event being produced by Activate Performing Arts in partnership with Dorset AONB.
The Graphic Design students were tasked with proposing speculative responses that enable people to build a deeper connection to the living world, thus enabling them to become future ambassadors of the environment and behave more sustainably.
An aspect of each of the projects has been displayed in poster form. Projects range from interactive concepts based on the Wood Wide Web that explore how we might communicate with trees to how gamification might help develop new communities and sustainable behaviour to design activist approaches that uncover the environmental cost behind much of the food we eat.
The Interior Architecture and Design students have co-designed this installation to showcase speculative projects around themes of ecology, the climate emergency and human-computer interaction represented as pop-up engagement experiences using Dorchester's Maiden Castle as their site.

The short projects varied in scale, such as robotic sunflowers that connect with users from across the globe informing of climatic conditions, to butterfly enclosures to promote the wildlife of Maiden Castle. Students have co-designed this installation in three emergent groups (structure design and build, Augmented Reality (AR) and interaction).
Kate Wood, Director of Activate Performing Arts, said: "We were delighted that students and staff joined us for the Green Space Dark Skies project at Maiden Castle on 11 June and were especially pleased with the creativity of their workshops, their interactive installation and the engagement these attracted.
"Their brief was to help people build a deeper connection to the living world, enabling them to become future ambassadors of the environment and help them to live more sustainably, and the students delivered this exceptionally well. As ever, it was an enriching experience for Activate to partner with Arts University Bournemouth and AUB Human."
Dr Alex Blower, whose team led workshops with the public and community groups, said: "The Access and Participation team at AUB were delighted to work with our partners at Activate Performing Arts and Bournemouth, Christchurch and Poole Council in providing funded transportation to the Green Space Dark Skies event for young people in foster care and their families.
"We are very proud of the connection we have with our local community, and this was a fantastic example of us working in partnership to provide opportunities for young people which may otherwise have been unavailable."
Students were encouraged to consider the second life of their work and exhibition stand. Utilising scaffolding and recyclable or biodegradable materials, components can be reused for other projects or disposed responsibly.
Elements of the exhibition provide a rich and immersive experience, utilising AR to enhance and expand upon the physical work with additional information and animations, using augmented reality (AR) and Quick Response (QR) codes.
Support for the project has been provided by AUB staff including Edward Ward, Jamie Yeates, Asha Ward, Mark Osborne, Ben Parker, Natalie Carr, Marten Sims, Dr Emilie Giles and Alice Stevens.