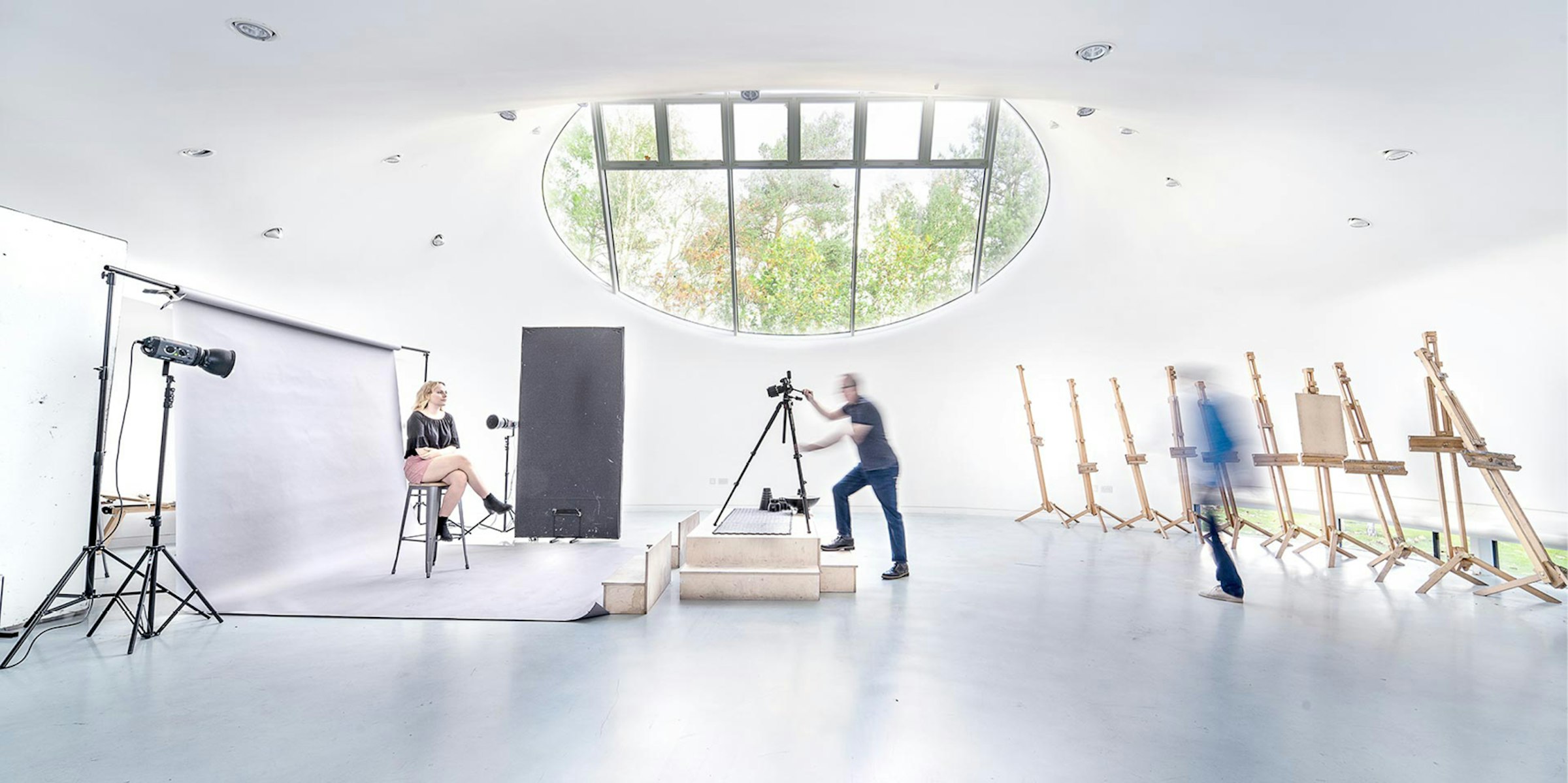 Do you want to work in the creative industries but keep getting put off by the negative press? AUB's Careers Service is here to bust a few myths.
You've definitely heard it all before. "It's quite difficult to get a job in those industries." "They're very competitive areas". After all, creative careers are some of the most sought-after jobs in the world. Isn't that the problem?
"There's a lot of negativity in the media around the difficulties of getting a job in the creative industries," explains our Senior Employability Officer Emily Rogers. "Nevertheless, research by the creative industries policy suggests that creative graduates are just as likely to be in work 3.5 years after their degree as any other graduate group.
"The creativity industries continue to contribute heavily to the UK economy and new graduates are needed to keep the sector going."
It's reassuring to know it's not all doom and gloom, and that you as creative graduates, aren't really at any disadvantage. But what can you expect from your chosen industries following graduation? And are some areas of the industry harder or more competitive to enter than others?
Emily reveals that, according to the Creative Industries Federation, the creative industries are made up of 95 percent microbusinesses, and around one third of workers are freelancers.
"Graduates should think about how they can be flexible to meet the work demands of smaller businesses," she says. "For example, as well as being able to plan and manage events, could you also market these events and work to a budget?
"In smaller companies, you may be required to do a variety of things rather than sticking to your main creative practice. So, considering your skills and how you can sell these to employers is an important part of successful job hunting.
"70 percent of jobs in the creative industries aren't advertised, so graduates need to be prepared to network and reach out to connect with potential employers. Some industries are more competitive to enter than others, but once you know the right person to contact things become a little easier."
Other effective tools that Emily recommends include LinkedIn and phone calls, both of which will help you find the right people to talk to in studios, organisations, and companies.
Just like the price of petrol or a tin of baked beans, job vacancies rise and fall, and they're affected by the world around us, too. But after COVID-19, is it any easier for graduates to take their first steps into creative careers?
Emily said that ultimately, it's still too early to tell. However, she also revealed that while the pandemic had a heavy impact on the creative industries, it also opened several doors. Doors that could be entered by you as new graduates.
"The pandemic has opened opportunities for new ways of working and new creative programmes. It has demonstrated that in times of need, many people have turned to the arts and cultural sector to help them to process what's happening. Now that the industry is mobilising quickly to fill job posts and create new ones, there's speculation around whether post-COVID recovery could, in fact, be powered by the creative industries.
"During the pandemic, many creatives moved onto different work areas which has left skill gaps and new opportunities for highly skilled graduates. Post-pandemic skills gaps reported by Screen Skills included sound, camera operators, producers, and script editors. Over in the design sector, Creative Boom have highlighted the recent demand for digital designers with skills in Graphic design, Motion Design, UX and UI."
Being qualified for a job you want is often only half the battle. The ability to network, to sell yourself and your skill set also play a massive part. As a final point, Emily highlighted three things that you should take on board to stand out.
"Firstly, the creative industries have a hidden job market, so be curious, make connections and start perfecting your approach. Speculative cover letters are brilliant for contacting employers, but sometimes phone calls can be even better. So, if you're feeling brave pick up the phone.
"Next, when reviewing job descriptions, highlight the skills that you think the employer is asking for. Consider whether you have these skills. If there are gaps, is there a way you can upskill yourself? You could try LinkedIn Learning, a skill swap with other graduates or asking to do some work shadowing with an employer.
"Then finally, perfect your interview technique by practising answering potential questions. You could record yourself and listen back, practice with a friend, or book a one-to-one appointment with the AUB careers team."
If you need any help with your transition into work, please don't hesitate to email careers@aub.ac.uk. Graduates have access to AUB's Careers Service for up to three years upon graduation.