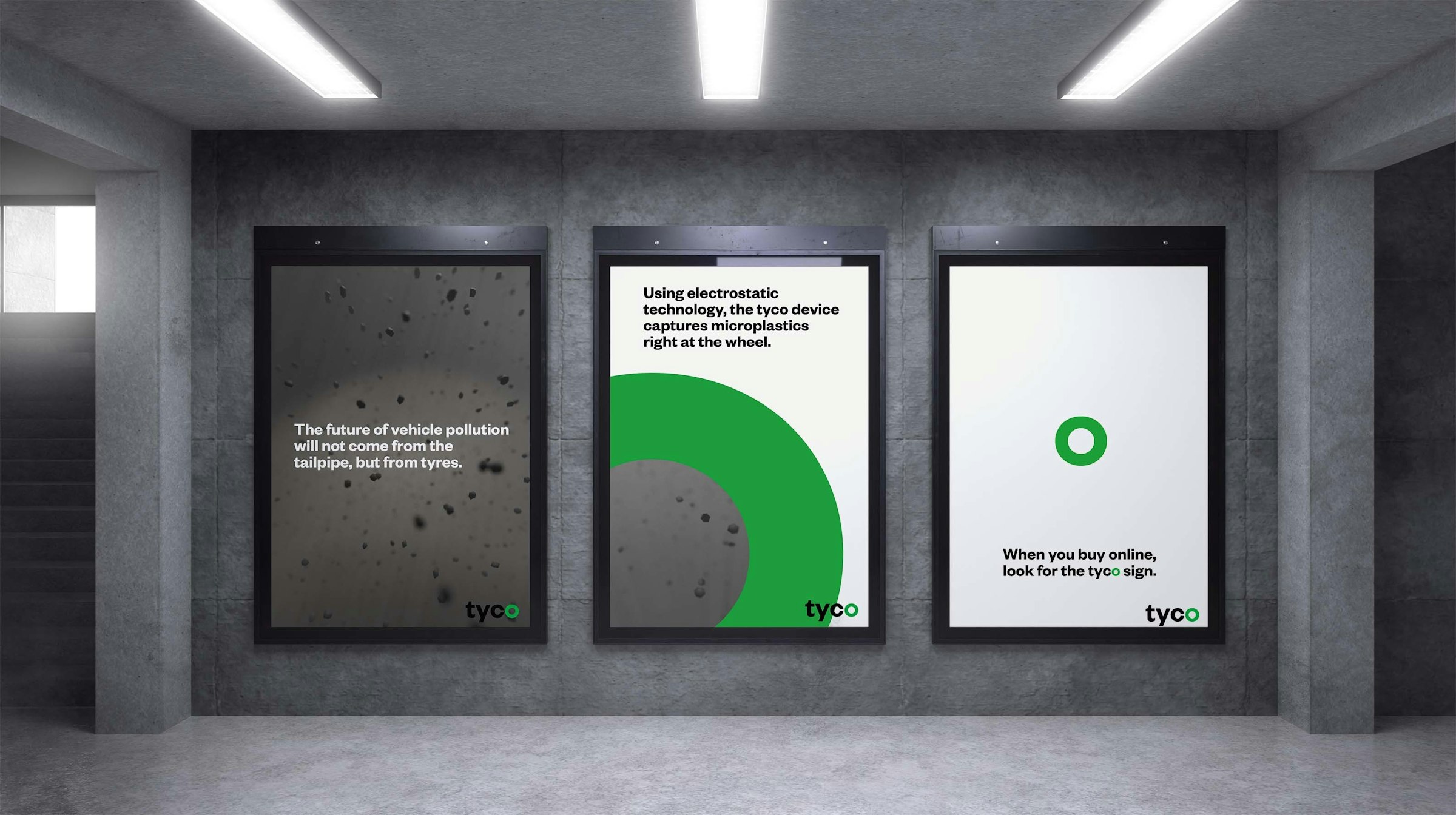 AUB's BA (Hons) Graphic Design course has been selected to take part in the Dyson Creative Challenge 2022, one of just four universities in the UK.

This year, the project is a partnership between the Dyson Creative team and The Tyre Collective, who were the 2020 UK winners and global runners-up of the James Dyson Award. The Tyre Collective is a clean-tech start-up spearheading the capture and monitoring of tyre wear, accelerating the shift towards true zero-emission mobility.
The two-week creative challenge tasked final-year Graphic Design students to create a visual identity to support the new 'Capture- to-reuse' product along with campaign materials to build awareness of the tyre pollution problem. In addition, students needed to establish a naming strategy and coherent information hierarchy.
The course have been delighted to welcome Dyson's creative team; Chris Roberts, Steve Key and Lola Martin, to the AUB campus to launch the project and provide feedback as the student teams developed their concepts.

Steve Key from Dyson explained more about the collaboration: "Despite this being the second year for our collaborative project with AUB, in many ways it felt like the first; our first time meeting Alice and Marion in person, first time on the campus and first time sitting with the students face-to-face rather than behind a Google Meet or Teams call.
"The experience is exactly what we hoped it would be when this project was conceived, with talented and enthusiast students, supported by a superb teaching team, really engaging and taking the time to think through the brief we set. As with last year, the quality of work that came back from all the participating students was excellent, challenging the perception of the problem put before them and trying to find innovative and challenging solutions. Thank you to everyone involved and we are already looking forward to coming back next year."
Student team member Harriet Yea said: "It was great to work on a collaborative project that focused on sustainability, specifically in the context of non-exhaust emissions, which was a new topic for me. Working with Dyson and The Tyre Collective offered opportunities for professional insight, which enabled us to create a meaningful and well-rounded presentation that we were all proud of."
Fellow Graphic Design student Euan Hutton explained how insight from the Dyson creative team helped the process: "Learning about Dyson's creative approach really helped our ideas get off the ground. Having a strong understanding of what it is you are marketing in order to develop a clear brand mission enabled a smoother and concise team collaboration, which was especially handy in the short time frame."
Olivia Allen explained how the project benefitted her portfolio: "Working with such a well-known brand as Dyson, is a distinct addition to our portfolios. The quick turnaround of this project seemed daunting at the start, however we were very happy with what we managed to produce in the time frame.'
Finally, Jacob Colvin added: 'Collaborating with Dyson provided us with an opportunity to really push our work and create professional and effective branding. This opportunity to work with Dyson has been brilliant for all of us, so thank you again!'
Alice Stevens, AUB Human Founder and Senior Lecturer said: "This has been another great collaboration with the Dyson creative team and we were delighted to have them working with us in the studio. It has been a fantastic learning experience for the students, not only in receiving insightful feedback on their work, but in learning about new issues in relation to sustainability such as this problem of microplastics pollution caused by tyre wear. It also enables students to see the importance of sustainability in relation to industry, their future and how they might use their own skills to tackle global problems."
Marion Morrison, BA (Hons) Graphic Design Course Leader, summed up the project: "We continue to establish authentic links with industry. The Dyson and The Tyre Collective project provided an excellent creative challenge for final year Graphic Design students. We would like to acknowledge the positive commitment to design education that Dyson demonstrated by providing in-person guidance and insights into professional perspectives.
"The 'real' brief provided a complex environmental problem which the students tackled with clarity of strategic objective, visual imagination and a professional standard of realisation. The project facilitated discussions about collaboration in teams especially working across disciplines and we look forward to future connections and collaborations."
Student credits:
Tyco team: Harriet Yea, Euan Hutton, Olivia Allen, Jacob Colvin
Eeve team: Jess Hancock, Gauri Uttam, Soumi Issa, Eva Embleton
Flek team: Christiano Fassoli, Laura Nguyen, Maggie Thomas-Ellis, Thorsteinn Gardarsson